Congratualtions, Leadership and Service Award Winners!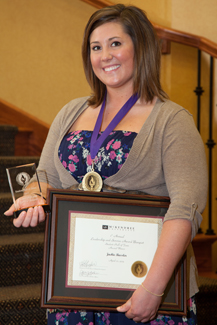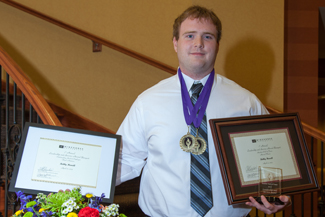 McKendree University recognized several of its finest leaders and organizations for their inspirational contributions to the campus and community at its inaugural Leadership and Service Awards Banquet on April 21, 2013. Over 150 nominations were submitted for consideration.

Jackie Bassler '13, an occupational therapy major from Belleville, Ill., and Bobby Howell '14, a history education major from Makanda, Ill., were the first inductees into the Student Hall of Fame. Jackie was involved with the leadership program and served as a student ambassador and president of Kappa Sigma Tau sorority during a transformative year. Bobby has spent countless hours tutoring other students, co-coordinated Into the Streets, served as president of the history club and is a member of the Community Action Team.

Jessica Tieman '13, an English and history major from Lincoln, Ill., received the Newman Civic Fellow award from the Illinois Campus Compact.

The ACES Award, sponsored by the Lyn Huxford Center for Community Service, went to Courtney Motl '13, a psychology major from Glen Carbon, Ill., and Natalie Ernst '13, a psychology major from Peoria, Ill., for volunteering 400-plus service hours, coordinating special events and demonstrating social activism.

Other individual and group awards were given in the following categories:

Bearcat Pride: C.J. Clarizio '14, an athletic training major from Pawnee, Ill.

The Spark: Tim Rose '14, a history major from Highland, Ill.

Country and Community Award: Air Force Technical Sergeant Rondale Chapman '15, a computer science major at the Center for Scott Air Force Base.

Outstanding Student Intern: Zachery Turpen '13, a computer science major from Highland, Ill., who interned for two semesters at Centene Corporation in St. Louis, Mo.

Outstanding Student Employee: Austin Vuichard '14, an accounting, economics and finance major from Coulterville, Ill., who has worked for the University Communications and Marketing Office since 2011.

Advisors of the Year: Sarah Klucker, director of leadership and student development, and Craig Robertson, director of campus activities.

Outstanding Registered Student Organization: Alpha Phi Omega, national service fraternity.

Outstanding Social Fraternity/Sorority Chapter: Sigma Sigma Sigma sorority.

Outstanding Service Project: The Emerging Leaders Organization's second annual Chili Cook-off raised over $800 for the Wounded Warrior Project.

Outstanding Collaborative Program: "McKendree Idol" talent competition hosted by Kappa Lambda Iota and the Campus Activities Board.