Directions to the Lebanon Campus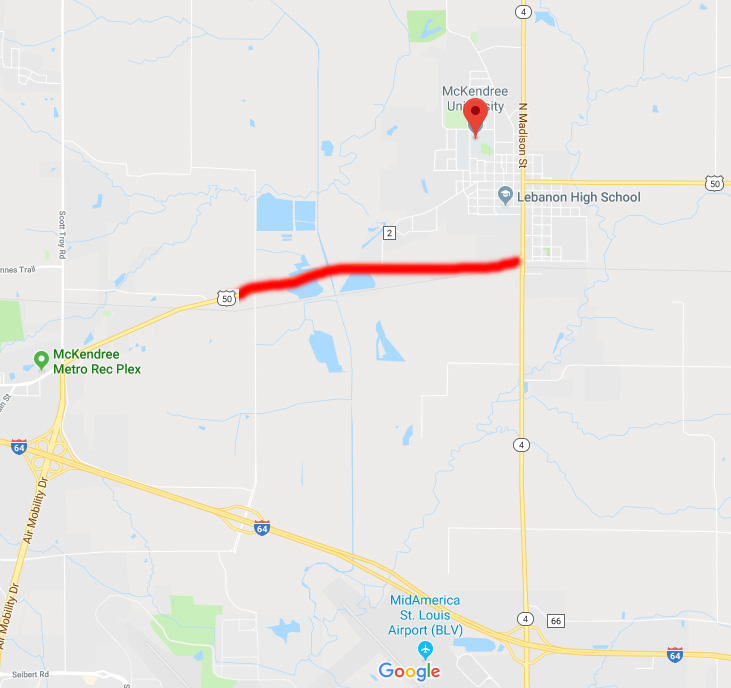 LANE RESTRICTIONS: Road construction is planned for Route 50 coming into Lebanon, which will affect travel to and from the McKendree University campus (including the Hettenhausen Center for the Arts). Drivers who take Route 50 between IL Rt. 4 and O'Fallon can expect lane restrictions. We have been informed of an anticipated start date of Wednesday, Oct. 10.

Please plan ahead and use alternative routes of travel. Contact the McKendree University Department of Public Safety Office for additional information or assistance at: (618) 537-6911.
Directions from St. Louis

1. Take I-64 East

2. Exit IL Rt. 4 North (# 23)

3. Turn left onto IL-4 North

4. Proceed approximately 4 miles

5. Turn left onto St. Louis St. (stoplight at top of the hill)

6. Turn right onto Alton St. at stop sign

7. After 1 block campus will be on your left
Directions from Northern Illinois

1. Take I-55 South or I-57 South to I-70 West

2. Exit IL-4 South exit (# 33 from I-55 or exit # 21 from I-70)

3. Turn left onto IL-4 South

4. Turn right onto St. Louis St. (stoplight at top of the hill)

5. Turn right onto Alton St. at stop sign

6. After 1 block campus will be on your left
Directions from the Southeast

1. Consult your map. You may need to access I-57 North if you are located in the southeastern corner of Illinois

2. Take I-64 West towards St. Louis

3. Exit IL-4 (# 23)

4. Turn right onto IL-4 North to Lebanon

5. In Lebanon, proceed to flashing light at the 4-way stop

6. Turn left onto St. Louis St.

7. Turn right onto Alton St. at stop sign

8. After 1 block campus will be on your left
Directions from the East

1. Take US-50 West

2. US-50 meets with St. Louis St. at the flashing light at the 4-way stop

3. Turn right onto Alton St. at stop sign

4. After 1 block campus will be on your left