Outstanding Faculty Recognized at Honor's Day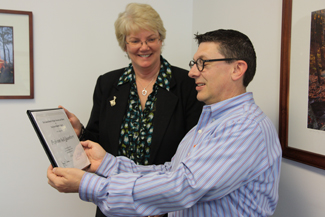 Dr. Christine Bahr, provost and dean, congratulates Dr. Neil Quisenberry, associate professor of sociology, and recipient of the 2013 Exemplary Teacher Award, given by the United Methodist Church Board of Higher Education. "Neil is widely considered to be an effective instructor, a helpful colleague and a supporter of students," said Dr. Bahr at Honors Day on April 19. "By all accounts, he embodies the criteria that this award represents - excellence in teaching, civility and concern for students and colleagues, commitment to value-centered education, and service to students, the institution and the community." Neil has taught sociology and criminal justice at McKendree since 2003.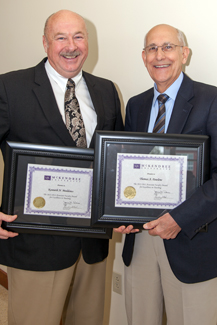 Two Associate Faculty Awards for Excellence in Teaching were also given on Honors Day. Tom Pawlow, a retired Air Force officer, has taught human resource management and other management courses part-time at the Lebanon campus and at Scott Air Force Base for more than 20 years. He is the associate dean of McKendree's Center at Scott Air Force Base. Kenneth Meddows '79 has taught management courses at the university and on base for 17 years in the undergraduate and MBA programs. He is a business and planning analyst manager at Boeing.