Technical Specifications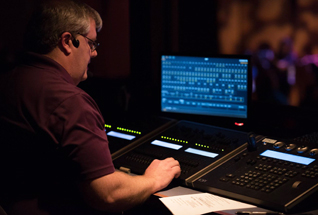 The Hett is a fully functioning, state-of-the-art theater space.  On this page you can download documents pertaining to all the Hett's systems.

Proscenium width: 46'
Depth (plaster to back wall): 36'
Seating capacity: 479

Dressing Rooms: 2 Chorus rooms + Green Room
Fully equipped scene shop
Loading dock, shop and stage all on same level.
No laundry on-site, no "star" dressing rooms, no production office.
Yamaha C-6 piano
Access to music department's percussion equipment, music stands, chairs and rehearsal space.

720P, 6,500 Lumen Projector and 24' X 22' screen.

House Light Plot and Plan View of the Stage   

Tech Specs 

Section View of the Auditorium   

For more information please contact: Douglas S. Magnussen, Technical Director Russel E. and Fern M. Hettenhausen Center for the Arts telephone: (618) 537-6551, fax: (618) 537-6570