Campus Activities Office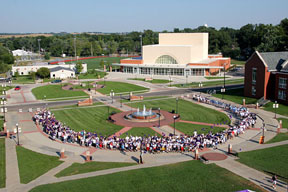 The Office of Campus Activities offers numerous opportunities for students as well as their parents and families to become invested and connected to life at McKendree University.  The office serves as a resource center for campus involvement through various programs and services.  It strives to engage students in exploring their co-curricular experiences, beginning at admission and continuing through graduation.  The Office of Campus Activities sponsors programs for the entire campus community and provides leadership development opportunities for Registered Student Organizations.  Our campus community is enriched through student involvement and each student's willingness to create and follow their experiences.
CAMPUS ACTIVITIES BOARD (CAB)

The McKendree University Campus Activities Board (CAB) plans and implements a wide variety of alternative and diverse social, recreational, multicultural, and educational events for both the campus and community.  Activities may include events such as concerts, films, comedy, Student Homecoming, and special events. If you are interested in joining a committee or attending a CAB event, check out their website.

REGISTERED STUDENT ORGANIZATIONS

McKendree University has numerous opportunities available for students to get involved on campus. There are over 70 student organizations covering a diverse range of topics.  Students with similar interests may also be able to start new organizations.  Unsure where to start?  Browse our pages to learn more about our organizations.  

The Office of Campus Activities provides and supports a number of programs and experiences which promote educational, cultural, recreational , social and personal growth for students and their families. 

The Office of Campus Activities is located in Lower Deneen Center and is open from 8:00am to 5:00pm.  We can be reached by phone at (618) 537-6856, or you can email the director at croberts@mckendree.edu.  Please feel free to contact our office with any questions you may have.