Campus Activities Office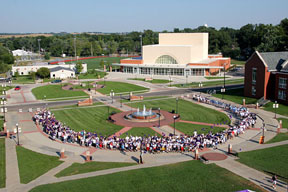 The Office of Campus Activities offers numerous opportunities for students as well as their parents and families to become invested and connected to life at McKendree University.  The office serves as a resource center for campus involvement through various programs and services.  It strives to engage students in exploring their co-curricular experiences, beginning at admission and continuing through graduation.  The Office of Campus Activities sponsors programs for the entire campus community and provides leadership development opportunities for Registered Student Organizations.  Our campus community is enriched through student involvement and each student's willingness to create and follow their experiences.

The Office of Campus Activities provides and supports a number of programs and experiences which promote educational, cultural, recreational , social and personal growth for students and their families.  Among them are:

•   Registered Student Organizations
•   New Student Orientation
•   Fall Family Weekend
•   Student Homecoming
•   Leadership Resources
•   Spring Fling
•   Campus Activities Board

The Office of Campus Activities is located in Lower Deneen Center and is open from 8:00am to 5:00pm.  We can be reached by phone at (618) 537-6856, or you can email the director at croberts@mckendree.edu.  Please feel free to contact our office with any questions you may have.