Bearcats Unleashed: NCAA Division II Approved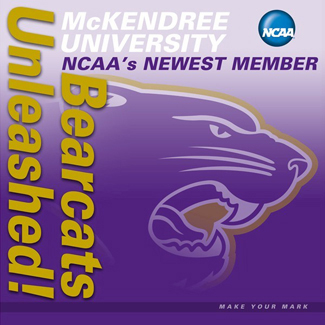 By Angela (Grossmann) Roewe '98

On July 12, the McKendree Bearcats were approved for active Division II status in the National Collegiate Athletic Association (NCAA) and are eligible to compete for regular-season conference championships and qualify for postseason play effective Sept. 1.

"McKendree University is delighted to become full members of NCAA Division II," said Dr. James Dennis, president. "We are honored to be a part of this organization. The competitive challenges will be great and our student-athletes will have the advantage of competing at a high level."

"Our coaches, staff and student-athletes have worked hard to make this moment a reality," said Chuck Brueggemann '88, director of athletics. "This is the beginning of a new era in the long and storied history of McKendree athletics."

Brueggemann added that a lot of planning and changes have gone into making this historic moment happen, which promises to bring a whole new level of attention to the University. "As an alum or student, you and your school are defined by who you play with, so the NCAA Division II designation has increased the status of the University," he said. "Everyone knows the NCAA brand. We will begin to draw students, athletes, coaches, and staff from all over the country. Every day is a great day to be a Bearcat and today is particularly special."

The three-year transition process, which began in July 2010, required a number of conditions be met, starting with the hiring of a full-time NCAA compliance officer, who played a key role in guiding the coaches through the ins-and-outs of the NCAA rulebook. All the coaches had to pass tests regarding NCAA rules before they could start recruiting. Several new NCAA-related committees were created, most notably a Student-Athlete Advisory Council, which is comprised of one student athlete from each of the institution's sports and a gender equity committee. McKendree also designated a senior women's administrator, produced a compliance handbook, updated the existing student-athlete handbook, produced an annual report, initiated a graduate assistant program for coaches and officially began competing as a member of the Great Lakes Valley Conference (GLVC) in 2012-13.

The University has invested in several facility upgrades, including a makeover to the softball field that features playing surface improvements and new lights; the installation of new wireless scoreboards on the football, baseball and softball fields; the addition of new locker rooms for basketball; and the renovation of office and teaching spaces in the Melvin Price Convocation Center and Bearcat Hall. "We also have hired a full-time strength and conditioning coach to assist in the development of our student-athletes," said Brueggemann.

Bearcats also continued their tradition of academic excellence in the classroom. Nine teams were recognized on the 2012–13 Team Academic All-GLVC Award list, with the men's and women's tennis programs sharing the honor as the top academic teams in the conference with each boasting a 3.77 grade-point average. Other teams on the list included volleyball (3.55), women's basketball (3.50), women's golf (3.48), softball (3.33), women's track and field (3.31), women's soccer (3.31) and men's golf (3.30). The women's bowling squad was also honored by the National Tenpin Coaches Association as an All-Scholars Team with a team GPA of 3.34.

A total of 159 student-athletes were named to the Academic All-GLVC squad for 2012–13, the fourth-highest number in the GLVC. In its first GLVC season, McKendree led the conference by earning the most honorees in four sports—volleyball (11), men's golf (10), women's golf (10) and women's tennis (8). Eighteen women bowlers, wrestlers and lacrosse players were also honored for their outstanding academic efforts by their respective organizations.

With the move to Division II and the GLVC, McKendree is pleased to be part of one of the strongest athletic and academic Division II conferences in the country.

On the following pages are quick facts about all 16 of the member conference schools. McKendree will play in the east division for seven sports (baseball, men's & women's basketball, softball, men's & women's tennis, and volleyball), along with Bellarmine University, University of Illinois Springfield, University of Indianapolis, Lewis University, Saint Joseph's College, University of Southern Indiana and University of Wisconsin - Parkside. The West division is comprised of Drury University, Maryville University, Missouri University S&T, University of Missouri - St. Louis, Quincy, University, Rockhurst University, Truman State University and William Jewell College.

---

SPORTS EXPANDED & NEW COACHES HIRED
By Nick Watt '13

McKendree has seen amazing growth in the amount of intercollegiate athletic sport offerings over the past 20 years. In 1993, the Bearcats had six teams, compared to 24 teams today. Four new sports have been added since the Bearcats wrapped up membership in the National Association of Intercollegiate Athletics (NAIA) in 2010–11. The women's lacrosse team completed its inaugural season this spring under the leadership of former U.S. Lacrosse team member Brittany Poist. Men's volleyball, women's wrestling and bass fishing will all begin their first season of competition in 2013–14.

The men's volleyball team will be led by Nickie Sanlin, who in 2012–13 served as an assistant coach with the McKendree women's volleyball team. She is no stranger to the world of men's volleyball having coached the boys' volleyball team at Althoff Catholic High School in Belleville, Ill., the St. Louis High Performance volleyball team and the USA High Performance team, which is a part of Team USA Volleyball. A member of the Midwestern Intercollegiate Volleyball Association, the team will be playing at the NCAA Division I level. "We will be playing great competition such as Ball State and Ohio State," Brueggemann said.

The women's wrestling team is a member of the Women's College Wrestling Association. Twenty to 25 women wrestlers are expected to be enrolled this fall. Sam Schmitz was hired as the Bearcats new head coach, after serving a dual role as head women's wrestling coach and assistant men's wrestling coach at Lindenwood University in Belleville, Ill.

Bearcat athletics added its name to the list of one of the fastest-growing collegiate sports in the nation with the addition of co-ed bass fishing. Led by new Head Coach Jon Rinderer, long-time bass fishing competitor and former head coach of the 2012 state championship Highland High School program, the co-ed team will train at Carlyle Lake.

In addition to Nickie, Sam and Jon, four more new coaches were hired to lead men's hockey, men's soccer, men's and women's tennis and football. Garry Henson was hired as the full-time head hockey coach. He gained collegiate hockey coaching experience as an assistant coach at Washington University in St. Louis, Mo., from 1995-98. In addition to his hockey coaching duties, he is also the head coach for the Bearcats women's and men's golf teams.

John VanBuskirk will take the helm of the men's soccer program. He served a two-year stint as an assistant coach for the men's soccer program at The University of Missouri in St. Louis, Mo. From 1995–2006, he played in more than 200 games during his professional playing career in Germany, including one game in the German Bundesliga league, 78 in the Bundesliga 2 league and 193 in the Regionaliga league.

Adam Reeb will lead the men's and women's tennis teams. He was the head coach of the men's and women's tennis team at Lindenwood University in Belleville, Ill. in 2012–13 and assistant coach for the Bearcats men's team in 2009–10. In his initial coaching experience with the Bearcats, he helped lead the squad to a 20–5 record.

A new era for Bearcat football will kickoff in September under the direction of new Head Coach Mike Babcock. Mike comes to McKendree after spending the last five years as an assistant coach at Colorado State University - Pueblo, one of the top NCAA Division II programs in the country. Mike served as the Thunder Wolves' quarterbacks coach and passing game coordinator. Under his leadership, CSU - Pueblo registered back-to-back undefeated regular seasons and claimed Rocky Mountain Athletic Conference championships.

Check out McKbearcats.com for season previews and upcoming schedules.



---

SPORTS WRAP-UP
By Nick Watt '13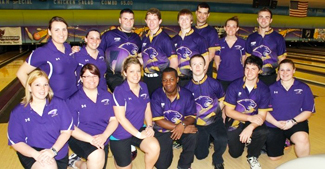 Bowling
The women's and men's bowling teams both qualified for the United States Bowling Congress (USBC) Intercollegiate Team Championships in April. The men's team, led by new Head Coach Dennis Knepper, who served as assistant men's coach from 2008–2012, advanced to the nationally televised finals finishing second to Robert Morris University. This is the highest national finish for the men's program, which was started back in 2001. The women's team, led by new Head Coach Danielle Belobraydich '11, advanced to the third round in the tournament.
Wrestling
The men's wrestling squad won the Great Lakes Regional Championship and had 11 members qualify for the National Collegiate Wrestling Association Championships in March, where they ended the season with a runner-up finish. Brenden Murphy '14 defended his 133-pound national title and earned his third All-America honor with an 8–5 decision. Julian Smith '15 earned his first collegiate All-America honor with a national championship at 197 pounds by a 3–2 decision.
Track and Field
The track and field program competed strongly in the Great Lakes Valley Conference (GLVC) Indoor and Outdoor Championships this spring. In his first season at the helm of the men's and women's track and field and cross country teams, Mike Mendez '10 coached four of his indoor and outdoor track and field athletes to conference championships. LaTia Jefferson '14 soared to an indoor individual championship in the triple jump by clearing a distance of 11.54 meters. She was the first McKendree female track and field athlete to collect All-GLVC first team accolades. Jordon Henderson '14 made it a clean sweep of the conference's sprint titles for 2013. After taking top honors in the 60-meter dash with a time of 6.75 seconds at the Indoor Championships, he raced to the 100-meter dash title with a time of 10.55 seconds at the Outdoor Championships. Jordon was the first Bearcat track and field athlete to earn first-team All-GLVC honors in both indoor and outdoor track and field. Chris Willhite '14 won the outdoor javelin throw title with a winning toss of 51.89 meters. Andrew Ellison '16 won the discus throw with a toss of 52.99 meters. Earlier in April, Andrew was named the GLVC track athlete of the week after turning in a school record-setting performance with a toss of 54.31 meters.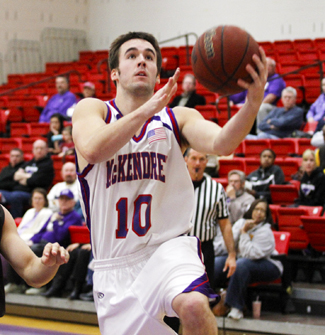 Basketball
The women's basketball team was awarded the GLVC Sportsmanship Award, as voted on by the conference's Student-Athlete Advisory Council (SAAC) members. The team finished the season with an overall record of 8–18 and a 3–15 mark in GLVC play. Guard Caty Ponce '13 was named an All-GLVC second team selection, the first for the women's basketball program. She led the Bearcats with 16.6 points and 3.2 assists/games. Her 62 three-pointers also tied the single season mark set by Jacque Clark '04. Men's basketball forward John Steppe '13, an All-GLVC second team selection, averaged 17.8 points per game, led the team in rebounding at 7.4 per game and in assists with 91. He was second in the league in minutes played, third in scoring, sixth in rebounding and 10th in assists. A member of the Bearcats' 1,000-point club, John closed his McKendree career with 1,462 points. He was also named the 2012–13 GLVC Men's Basketball Scholar-Athlete of the Year for his solid performance both on the basketball court and in the classroom. The biology major graduated with a cumulative grade-point average of 3.68, including a 4.0 in his final semester.
Baseball
Rob Beatty '13 and Kyle Rutledge '15 earned second team All-GLVC East Division accolades. Rob, first baseman/designated hitter, led the baseball squad with four home runs, was third with 24 runs batted in and tied for the team lead with 13 doubles. He paced the Bearcats with a slugging percentage of .551. Kyle, outfielder, hit .297 with 22 RBI's, led the baseball team with 22 walks and was third with 26 runs scored and eight stolen bases.
Tennis
Adriana Gonzalez '13, Guiliana Gonzalez '13 and Gabor Toth '13 were the first Bearcat tennis players to earn All-GLVC honors. Adriana had a 13–6 record overall this season. Her sister Guiliana was 15–4 overall. The sisters combined for a 14–4 record as a doubles team this season and led the women's team to a 9–7 record. Gabor posted a 16–1 record this season and had a 13-match winning streak. On March 20, he became the first player in Bearcat history earn an Intercollegiate Tennis Association Midwest Region ranking, coming in at No. 19 in the singles rankings. He led the men's team to a 14–4 season record.
Lacrosse
Six women's lacrosse players earned Western Intercollegiate Lacrosse Association All-Conference honorable mention accolades. Goalkeeper Kelly Eastman '16 recorded 139 saves and led the team with 40 ground balls. Defender Sadie Delashmit '14 recorded 11 ground balls and tied for fourth on the team with seven caused turnovers. Attacker Rianne Holtzmeyer '16 led the team with 26 goals scored. Attacker Bree Suter '16 was second on the team with 24 goals scored. Midfielder Shirley Boland '16 led the Bearcats with 47 draw controls, tied for a team-high eight assists and was second with 34 ground balls. Midfielder Sarah Collins '16 led the team with eight goals on free position shots, tied for a team-high eight assists and was second with 13 caused turnovers.
Golf
The women's golf team wrapped up its season with an 11th place finish at the GLVC Championships at Annbriar Golf Course in Waterloo, Ill. The squad finished its 36 holes of play with a team score of 695.



---

FOLLOW THE BEARCATS ONLINE

Can't attend the game? Tune in to listen to live audio play-by-play on the Bearcat Sports Network.

Want to stay on top of what is going on with Bearcat Athletics? Sign up online for special fan emails from the AD, including insider updates, breaking news, weekly schedules and pre-season/post-season updates. In addition, 'Follow Us' on Twitter and 'Like Us' on Facebook.