Faculty Excellence
May 2023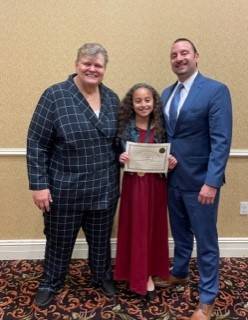 Dr. Kelly Stewart was the speaker at the Illinois principles Association, Southwestern division, student recognition, breakfast. Pictured is Gabby Cotto, O'Fallon District 90, her father, Gustavo Cotto, current EdD student at McKendree University and Dr. Stewart. 
 Dr. Stewart was also the speaker at the Southern IllinoisSociety for High School Achievement award banquet at SIUC. Thirty-one southern Illinois high schools seniors were honored for excellence in academics, community service, leadership, and music.  
Students in Dr. Shelly Lemon's HIS 271/371: US Women's Historycreated a timeline of McKendree Female Athletes as a collaborative group project. They scoured the McKendree yearbook collection in the University archives and then worked together to create a visual representation that is currently installed in the stairwell of PAC.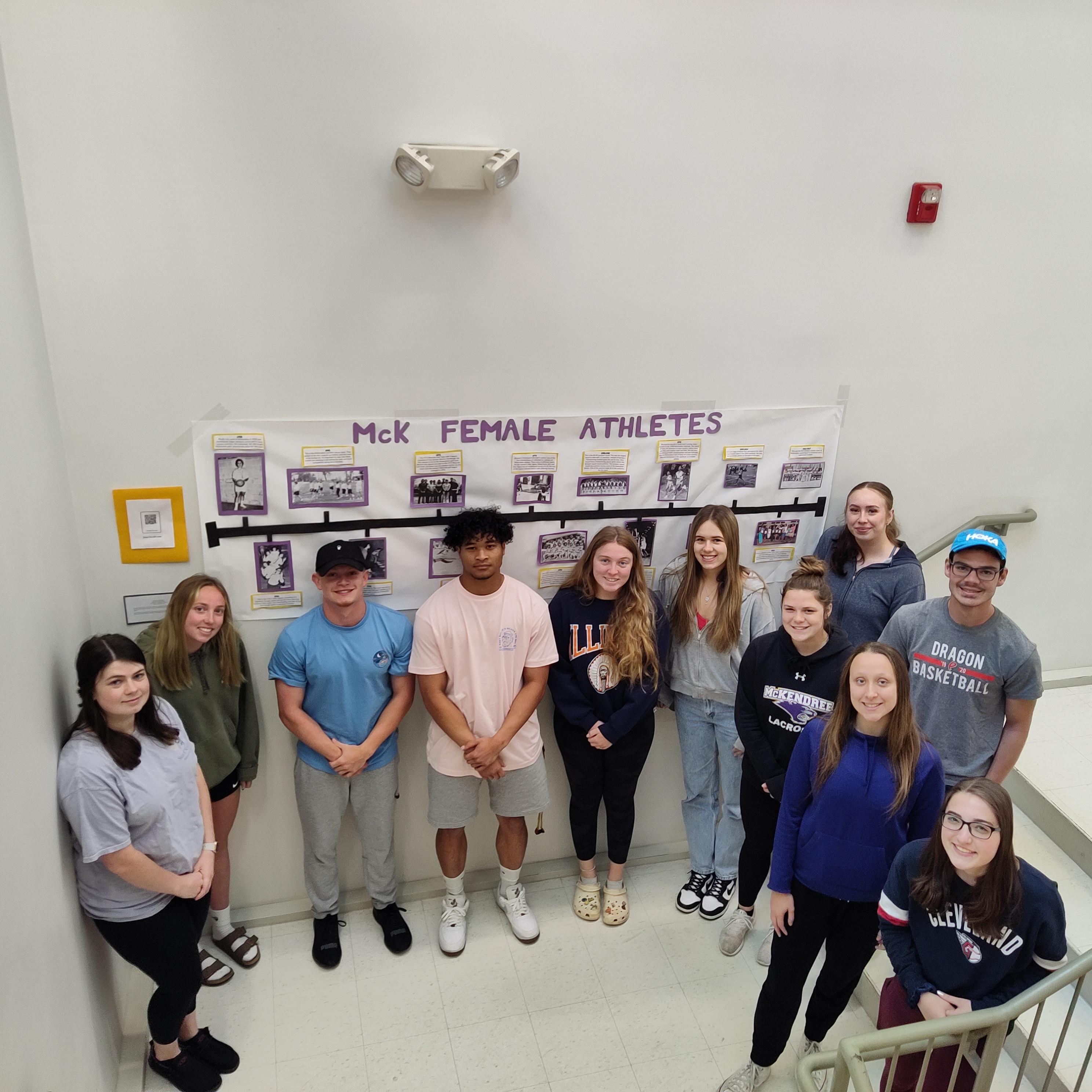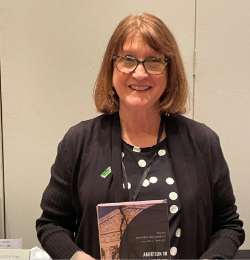 Dr. Brenda Boudreau recently published a co-edited book with Kelli Maloy called Abortion in Popular Culture: A Call to Action with Lexington Books, part of Rowman & Littlefield. The picture was take at the Popular Culture Association conference in San Antonio in April. Boudreau moved into the position of President Elect of the Popular Culture Association at the conference as well.
April 2023
Dr. John McDonald conducted the St. Louis Children's Choir Young Men's Chorus on Show Me St. Louis. Watch the show here: https://shorturl.at/pRYZ1.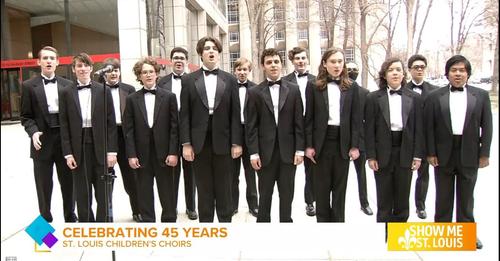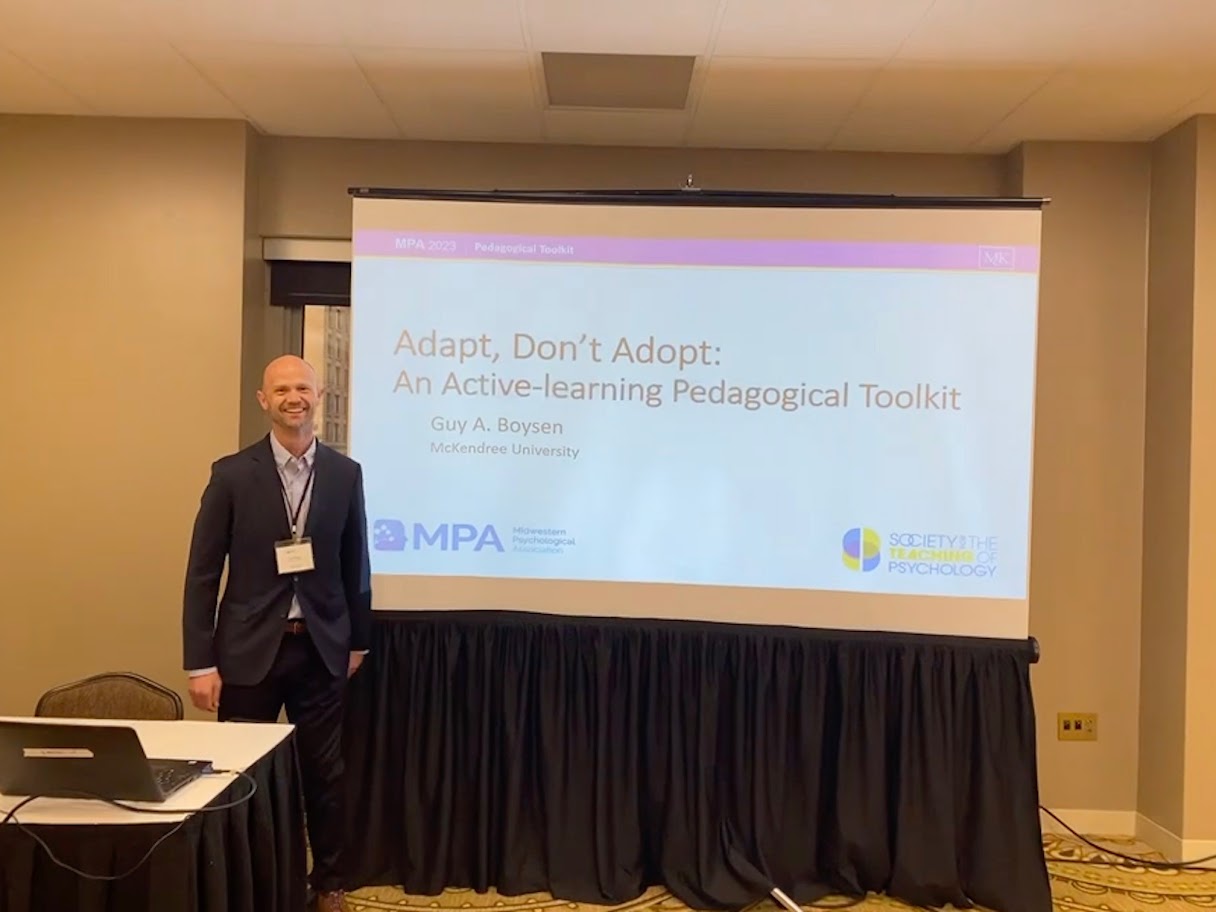 Dr. Guy Boysen, Professor of Psychology, gave an invited keynote address as part of the Society for the Teaching of Psychology programming at the Midwestern Psychological Association's Annual Convention on 22nd in Chicago, IL. His address, entitled "Adapt, Don't Adopt: An Active-learning Pedagogical Toolkit," outlined the key points in his teaching career that led him to emphasize active learning in the classroom. He provided attendees with techniques they could use to guide and motivate student learning outside the classroom. He also outlined active-learning techniques that allow class time to focus on the application of higher-level application of course topics.
Three McKendree students published research with Dr. Guy Boysen in the psychology journal Stigma and Health. Peyton Osgood (Psychology, 23) Marissa Barauskas (Biopsychology, 24), and Shelby Nash (Biopsychology, 24) were coauthors on the paper entitled "Affordance Management and Stereotypes About Schizophrenia, Sex, and Age." The students completed the research as part of a Psychology Research Practicum course with Dr. Boysen.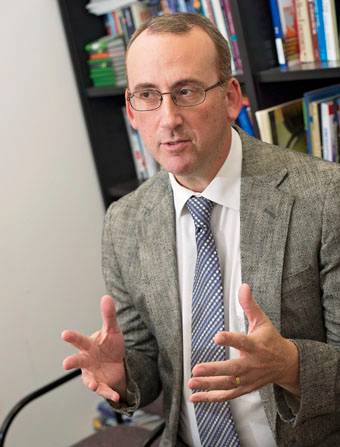 Dr. Brian Frederking is currently doing research projects with three McKendree students. All are helping to expand Frederking's Collective Security Dataset on post-cold war practices of the United Nations Security Council. Katelyn Rodrigue and Amazing Grasle are adding references to to international law and specific war crimes treaties to the dataset to ask the question whether the Security Council is more likely to authorize enforcement measures when it refers to international law in a resolution. Naya Busbea is analyzing language in Security Council resolutions that authorize uses of force to determine if UN peacekeeping missions are still distinct from collective security operations.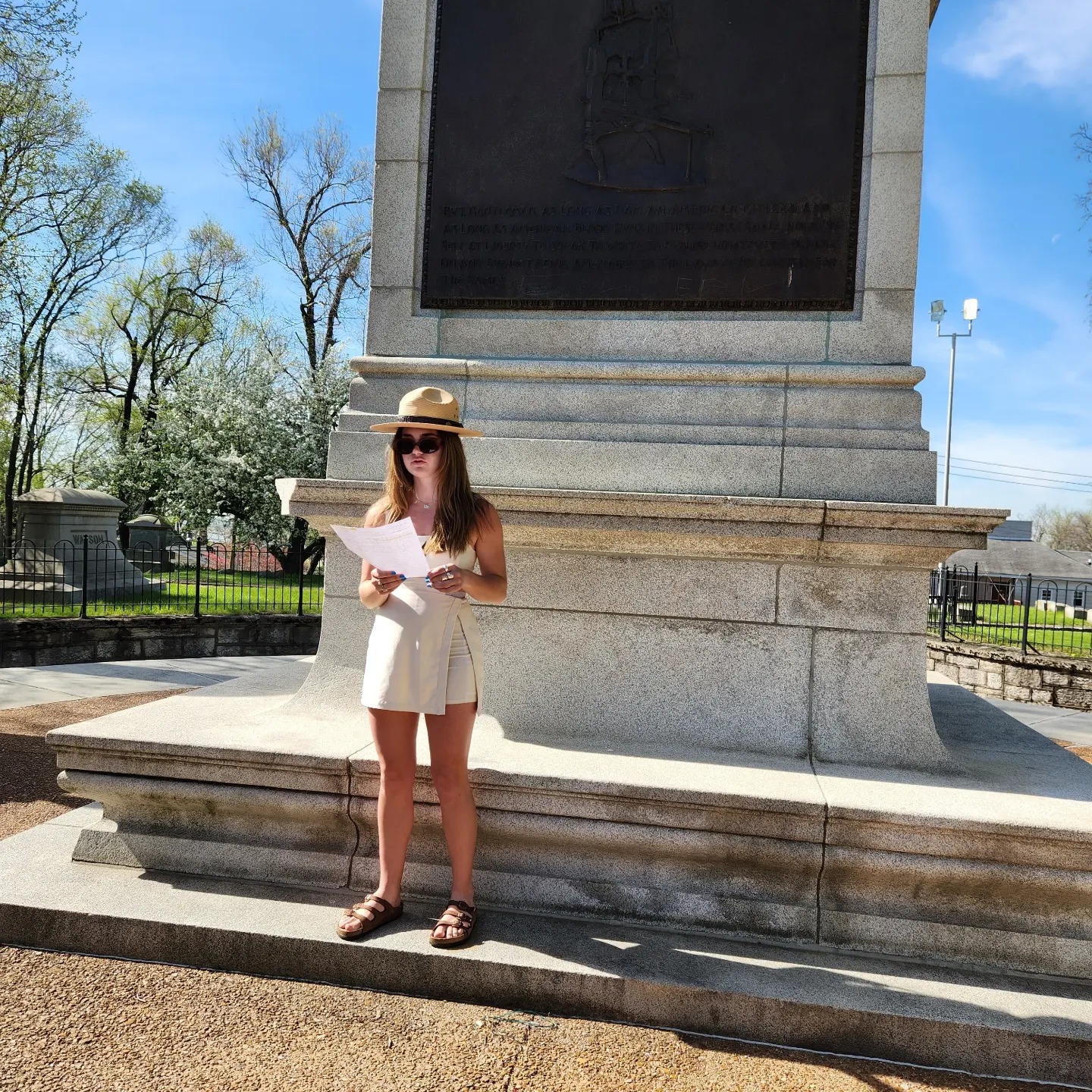 Dr. Lauren Thompson's Civil War Era course conducted
 research on Civil War History in St. Louis. Students visited multiple sites of memory & mourning including Elijah P. Lovejoy Monument (pictured), Dred Scott's gravesite, and Francis McIntosh Lynching Site. Students focused on why some sites are very famously memorialized, while others are hidden under some of our most popular leisure sites.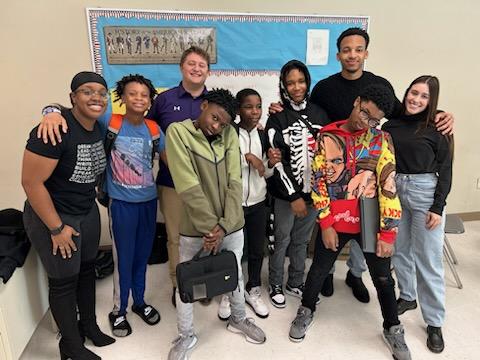 Dr. Thompson also took 4 students to Southeast Middle School in Jennings, MO. Dr. Thompson's former student, Kenny Spisak ('21) teaches 8th grade there. MCK students,Dominique Donegan, Darrwin Perkins, Emilie Steele,Connor Thomason and LT talked to 100 students about black excellence for Black History Month. They covered the topics of black entrepreneurs, military heroes, musicians, fugitive slaves, innovators, the Black Panther leaders. and black beauty standards.
March 2023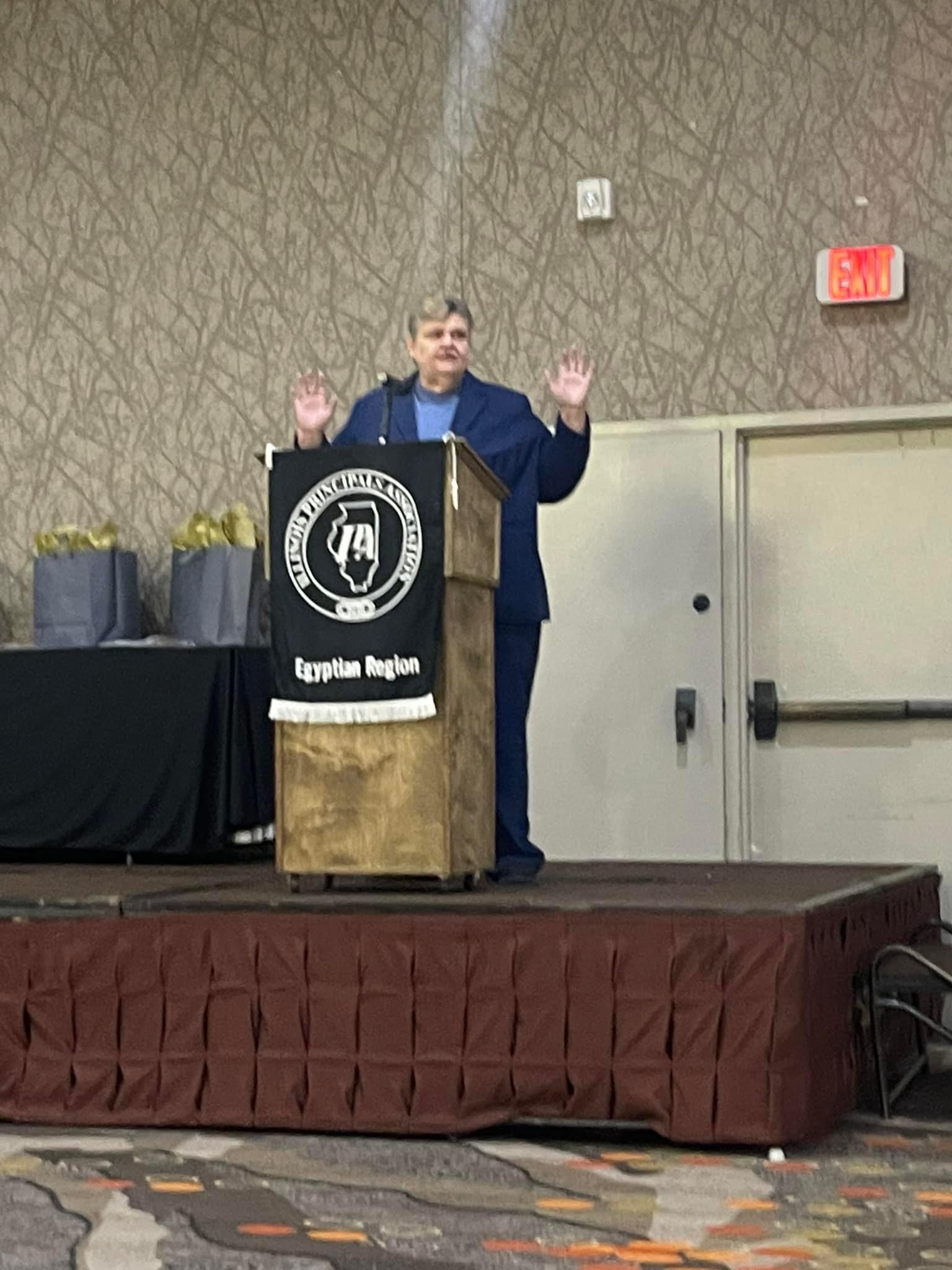 Dr. Kelly Stewart was the keynote speaker for the Illinois Principals Association Egyptian Division's Student Recognition Breakfast.  She shared her 5 Factors of Success (Mindset, work ethic, determination/grit, supportive environment, and purpose) with 300 principals, students, and parents.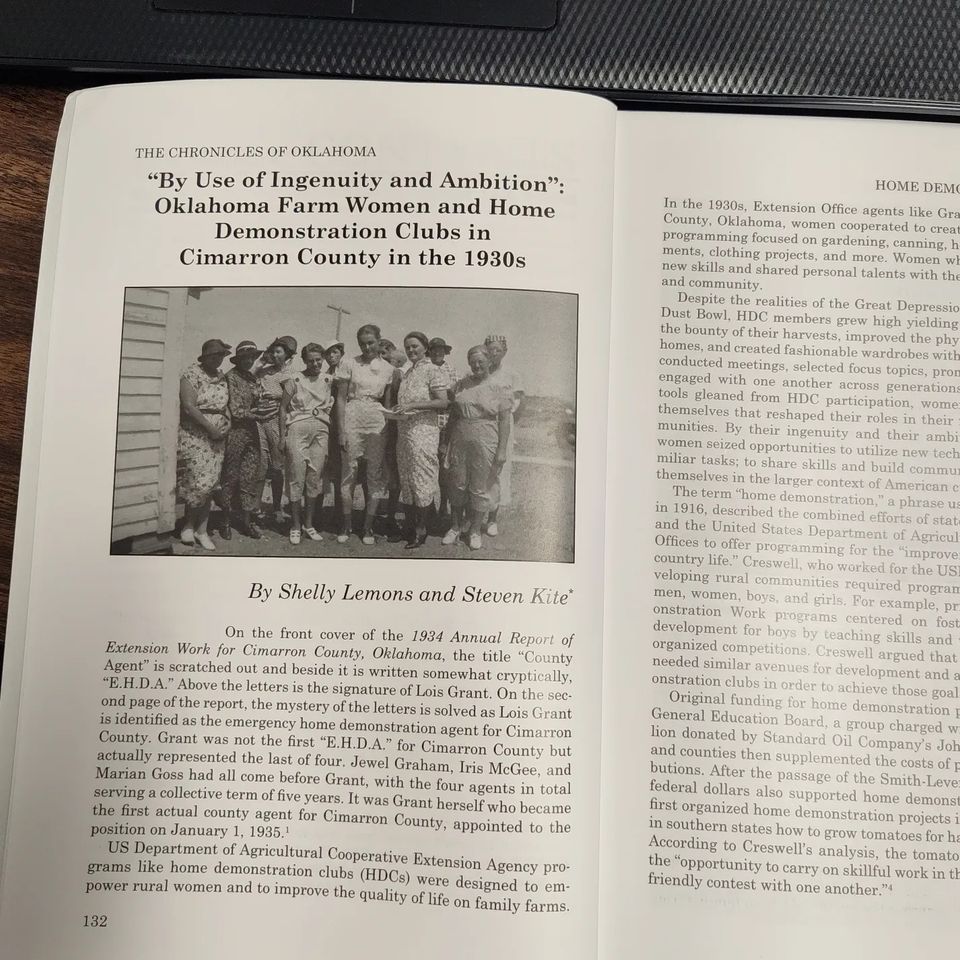 Dr. Shelly Lemons has a new article published in The Chronicles of Oklahoma, Summer 2022 issue.  "By Use of Ingenuity and Ambition" is the lead article in the issue AND the cover story!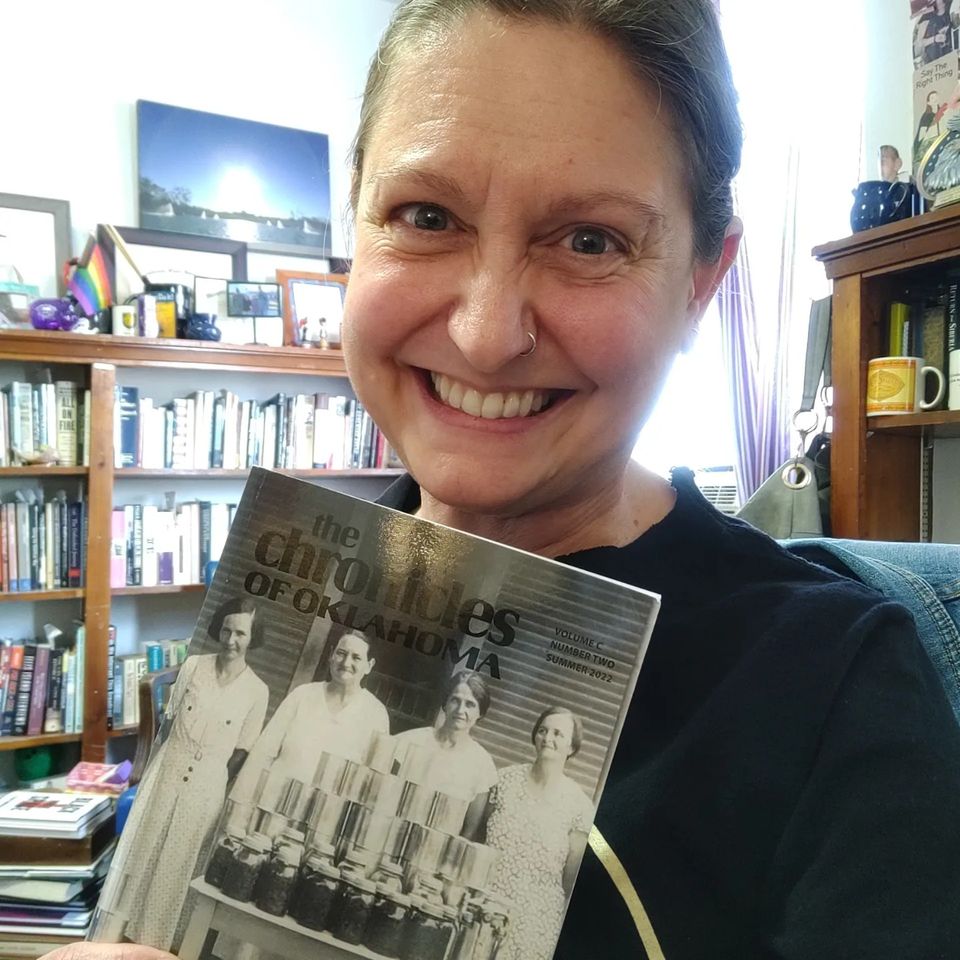 Dr. Lemons presented this research for the McKendree community at the Fall 2022 Faculty Research Showcase, and she--along with Dr. Kite--will spoke on the same for Women's History Month at St. Louis Community College-Meramec.
Dr. John McDonald, assistant professor of music education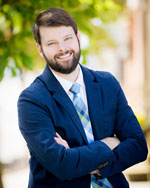 and director of choral activities, presented an interest session "Supportive Environment for the Next Generation of Choral Educators" at the 2023 American Choral Directors Association National Conference in Cincinnati, Ohio.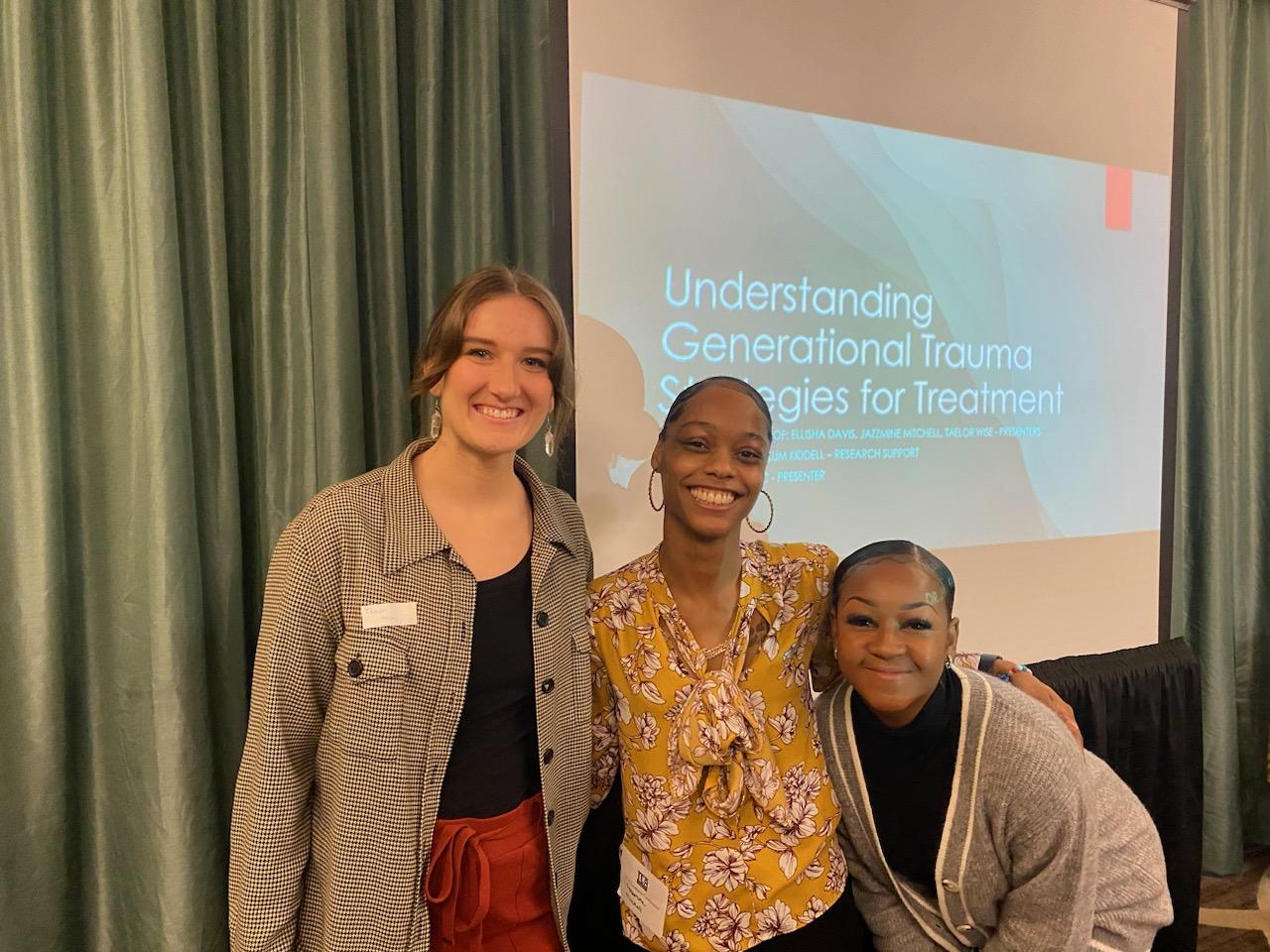 MA Clinical Mental Health Counseling graduate students - Taelor Wise, Jazzmine Mitchell, Ellisha Davis, Callum Kiddell, & Alizeja Gipson presented at the Illinois Counseling Association conference on Friday 3/24 with Dr. Julie Smirl on the topic of "Generational Trauma"
Dr. Allie Helfrich and Dr. Brittany Dobill, completed an oral presentation on their peer reviewed paper titled, "I am what I post? Exploring the Impact of Status Consumption in the Social Customer Journey" at the Marketing Management Association Spring Conference on Thursday, March 9th.
Students in Dr. Lemons's HIS 345 America By Ear toured the National Blues Museum in St. Louis on Monday, March 27th as a class field trip.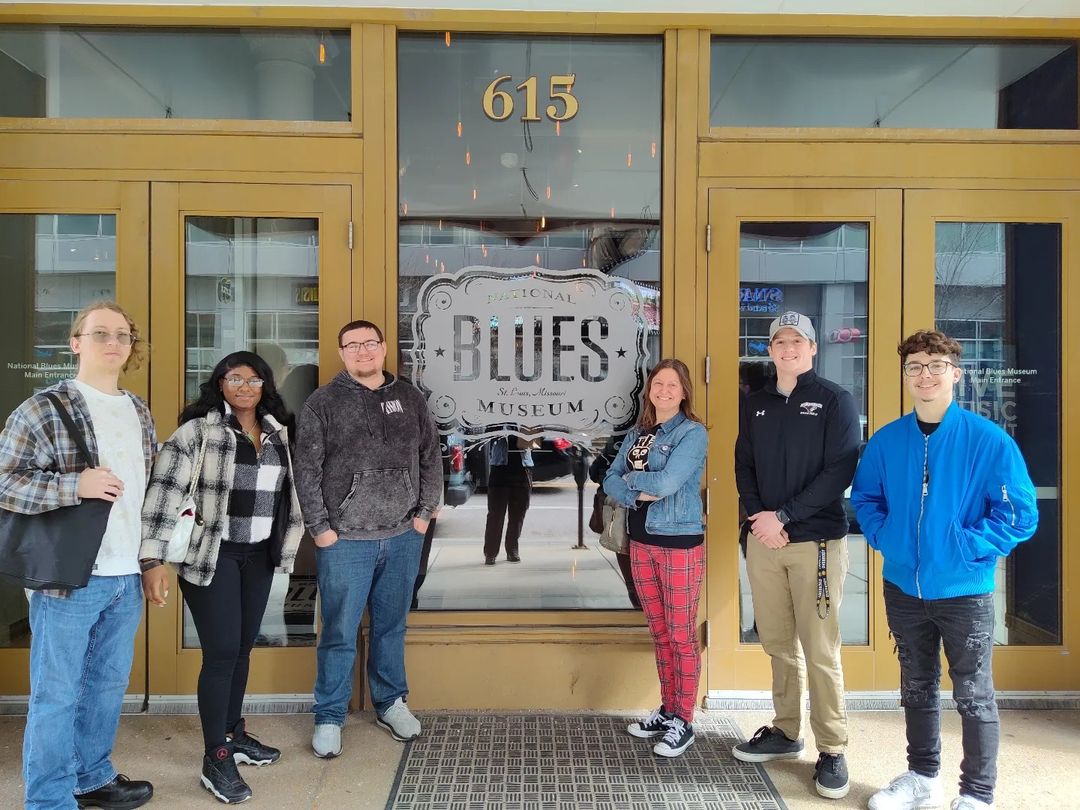 This course utilizes the medium of music as a lens to explore aspects of American history, culture, and society. A synthesis of American themes, music and collaborative projects offer students a unique and diverse educational experience.
February 2023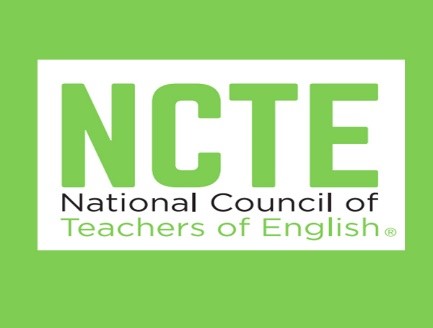 Dr. Darryn Diuguid is a reviewer for the NCTE national conference at Columbus, OH in November, 2023 where the theme is Conexiones: Communicate, Collaborate, Create.  He's reviewing research proposals connected to teacher education, children's books, and topics connected to the use of LGBTQIA materials.  In a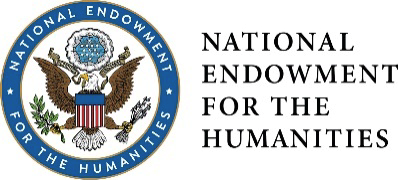 ddition, he's reviewing the upcoming proposals for the National Endowment for the Humanities (NEH) summer workshops and institutes for college professors and K-12 professionals.  The NEH workshops and institutes cover a wide array of topics which provide professional development for educators from highly acclaimed researchers and include a stipend and housing among other things.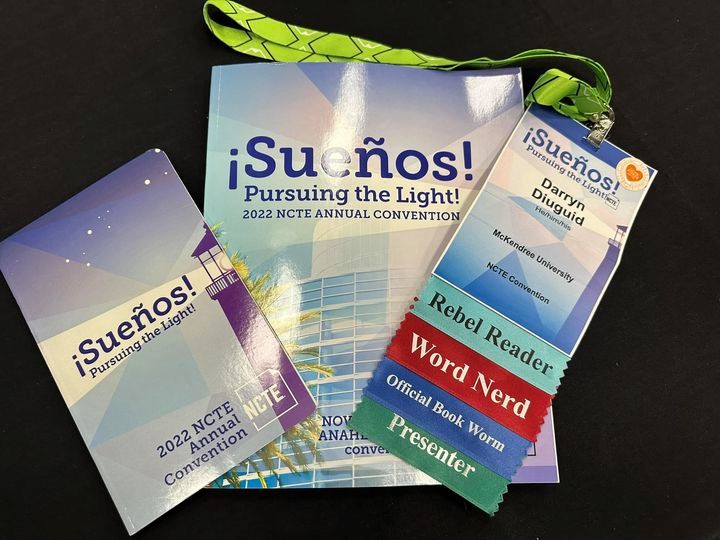 Dr. Darryn Diuguid and his colleague, Dr. Tadayuki Suzuki from SUNY Cortland, presented at the 2022 NCTE National Conference in Anaheim, CA.  The roundtable session included 14 presenters on topics about how to queer the curriculum to make sure all students are represented. Dr. Suzuki and Dr. Diuguid examined the last 3 years of the American Library Association's Rainbow Book List to examine which marginalized groups are underrepresented.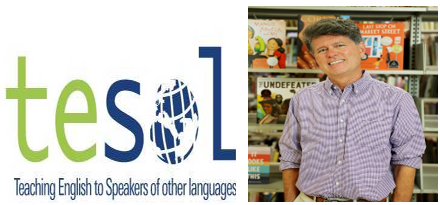 Dr. Darryn Diuguid completed Arizona State's TESOL Global Launch Program and earned a TESOL certificate after 150 hours of instruction along with 15 video recorded teaching demonstrations along with the appropriate lesson plans.  Teaching demonstrations included incorporating technology, speaking, listening, language, reading, and writing.  During the course, he observed high quality instruction and scored peers on their recorded lessons and instructional materials.
Dr. Martha Patterson found two previously unknown articles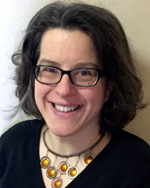 by the seminal African American intellectual W.E.B. Du Bois. These documents along with her analysis will be published in PMLA, the journal of the Modern Language Association of America, this March.
Dr. Patterson also took 15 students to see the Black Rep's production of Death of a Salesman in St. Louis.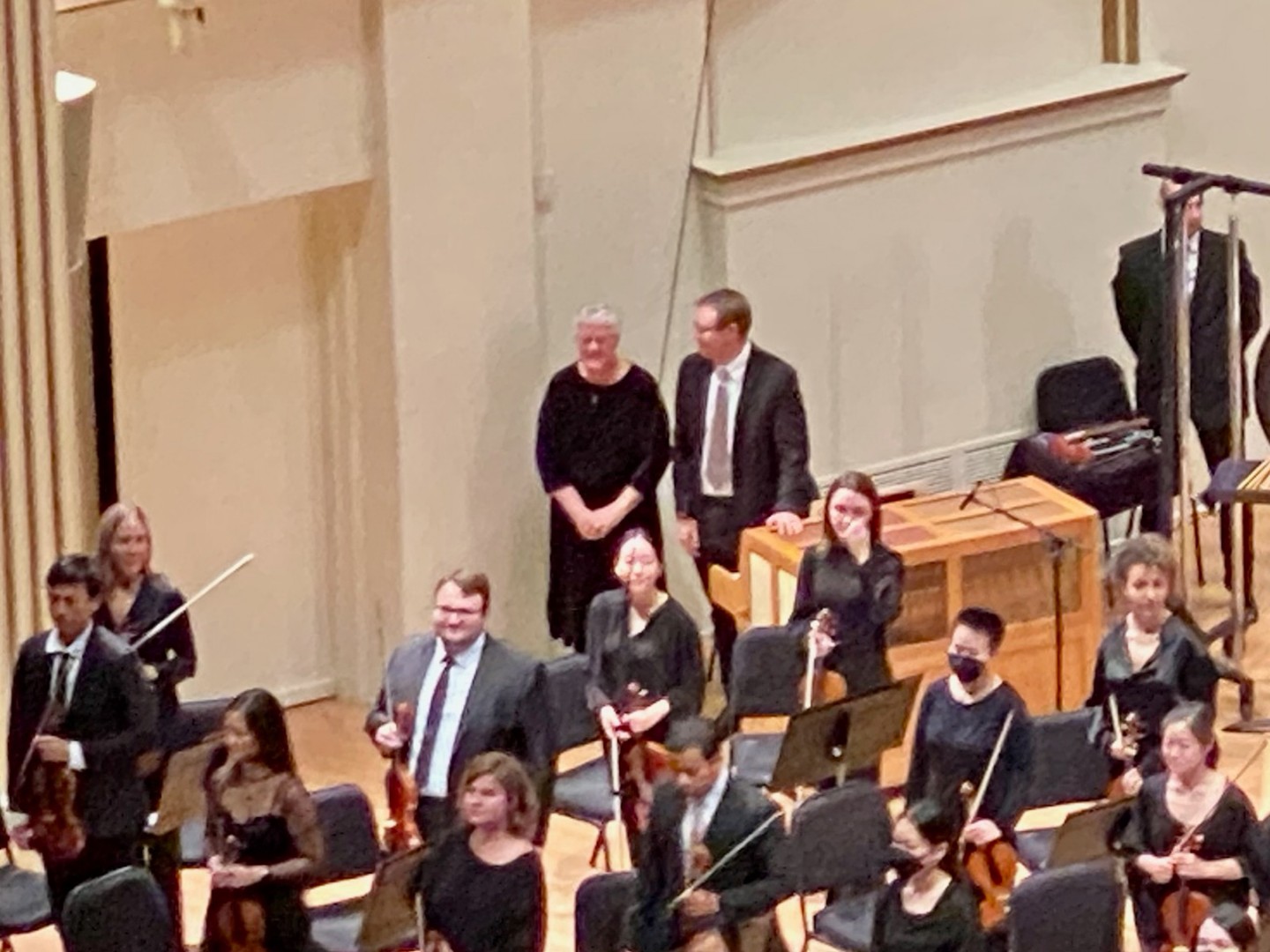 Dr. Nancy Ypma performed with the St. Louis Symphony Orchestra in the three performances of Gustav Holst's Planets.
Courtney Winkler's ENG 112 students were offered the opportunity to create birthday cards for a fifteen-year-old. They were asked to offer advice, cheers, etc. The c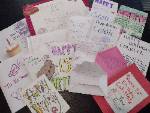 ards far surpassed expectations, and one fifteen-year-old was overjoyed with the showering of cards. Thus, the power of words to make a difference.
Dr. Jean Sampson's MGT 360 (Contemporary Management) and BUS 450 students are working with a start-up, RainEDU, doing market research and other business planning.
December 2022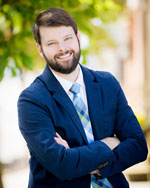 Dr. John McDonald, Assistant Professor of Music Education and Director of Choral Activities, was selected as one of six choral conductors to represent the United States in the American Choral Directors Association International Conductors Exchange Program in Germany. John will host a German conductor at McKendree in February of 2023 for workshops and masterclasses and then will travel to Germany in May to work with choirs and conductors through the German Choral Association.
Dr. John McDonald also conducted the Illinois Music Educators Association District 6 Senior Honors Chorus on Saturday, November 19th, 2022. This choir consisted of 196 high school students selected by audition representing 24 southern Illinois counties.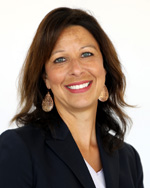 Dr. Angela Gilbreth, Assistant Professor for the Nursing Division, has successfully obtained certification in evidence-based practice for EBP-C credentialing. Certification was earned from the Helene Fuld Health Trust National Institute for Evidence-Based Practice in Nursing and Healthcare at The Ohio State University College of Nursing. The Fuld Institute is the first and only globally recognized professional Evidence-Based Practice (EBP) Certificate. As of February 28, 2022 only 231 certificates have been awarded in Evidence-Based Practice. The three year certification is awarded based upon successful completion of EBP coursework within the last five years, demonstrated current EBP knowledge through successful testing, and submission of a portfolio showing an EBP practice change project.
Associate Professor Dr. Kelly D Stewart and Adjunct Professor Dr. Marleis Trover teamed up with Dr. Patrick Rice from U of I and Dr. Lindsey Hall from ISU for the following presentation at the Joint Annual Conference ( IASA, ISBA, IASBO): Collaborative Educator Preparation Program Design, Implementation & Support Joint Research: Educator Numbers and Concerns.
November 2022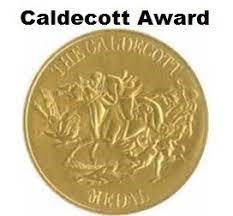 Dr. Darryn Diuguid was elected to the Randolph Caldecott Book Award Committee of the American Library Association.  In 2023, he'll work with 15 professors, teachers, and librarians to evaluate close to 1,000 picture books to look for high quality and innovative illustrations.  The award was named after the famous British illustrator, Randolph Caldecott, and the medal features one of his famous illustrations from The Diverting History of John Gilpin.    Famous Caldecott winners include Maurice Sendak, Chris Van Allsburg, Brian Selznick, and Marcia Brown, and the award is often thought of as the most famous book award given to illustrators.

Over the summer, Dr. Darryn Diuguid continued his three $100 book grants for educators to support LGBTQIA students in the K-12 classroom and schools.  Educators in the Collinsville School District as well as Whiteside Elementary School, Fulton Junior High School, Belleville East High School, and Belleville West High School have added book to their classroom libraries and LGBTQIA student clubs.  Books are selected from the award winners that are part of the Stonewall Book Awards and the Rainbow Book Lists of the American Library Association.  The book grants are part of Dr. Diuguid's "Mirrors, Windows, and Sliding Doors Book Grants:  Including LGBTQ Inclusive Topics in Educational Settings" and will be announced each summer.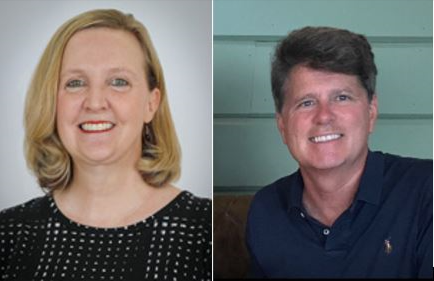 Dr. Karee Nasser and Dr. Darryn Diuguid had a manuscript, The Impact of the Special Education edTPA as an Assessment and Professional Development Tool, published in the peer reviewed Journal of Interdisciplinary Education.  Drs. Nasser and Diuguid interviewed recent graduates in the Special Education Teacher Licensure Program to gather their thoughts on the state's summative performance assessment.  The article can be accessed at the following website:  https://www.nac-ue.org/volume18. The research was funded by the McKendree University Faculty Engagement Grants.
Dr. Vincent Dunlap went with a group of student volunteers to Collinsville High School to perform chemistry demonstrations to third-graders at their annual STEM Day event. The students attending were Oscar Bossart, Allison DeMuth, Destiny Johnson, Adrean Love, Allison Rosentreter, Alireza Yavari, and Colleen Zinke. This event encouraged the younger generation to engage with science!
Dr. Vincent Dunlap and Dr. Robb Van Putte recently took students to the IDeAs in Biomedical Research Excellence Conference at the University of Arkansas in Fayetteville. The conference took place October 21-22 and involved research presentations from faculty as well as undergraduates. Attendees also took part in workshops including grant-writing, gene editing, and graduate school preparedness. Students attending the conference were Allison DeMuth and Adrean Love.
Dr. Brittany Dobill's marketing research class had speakers from Northwestern Mutual visit and speak. The speakers gave the students tips about living in the real world and tips about finances after college. The students loved this and gained beneficial knowledge about what to expect after graduation.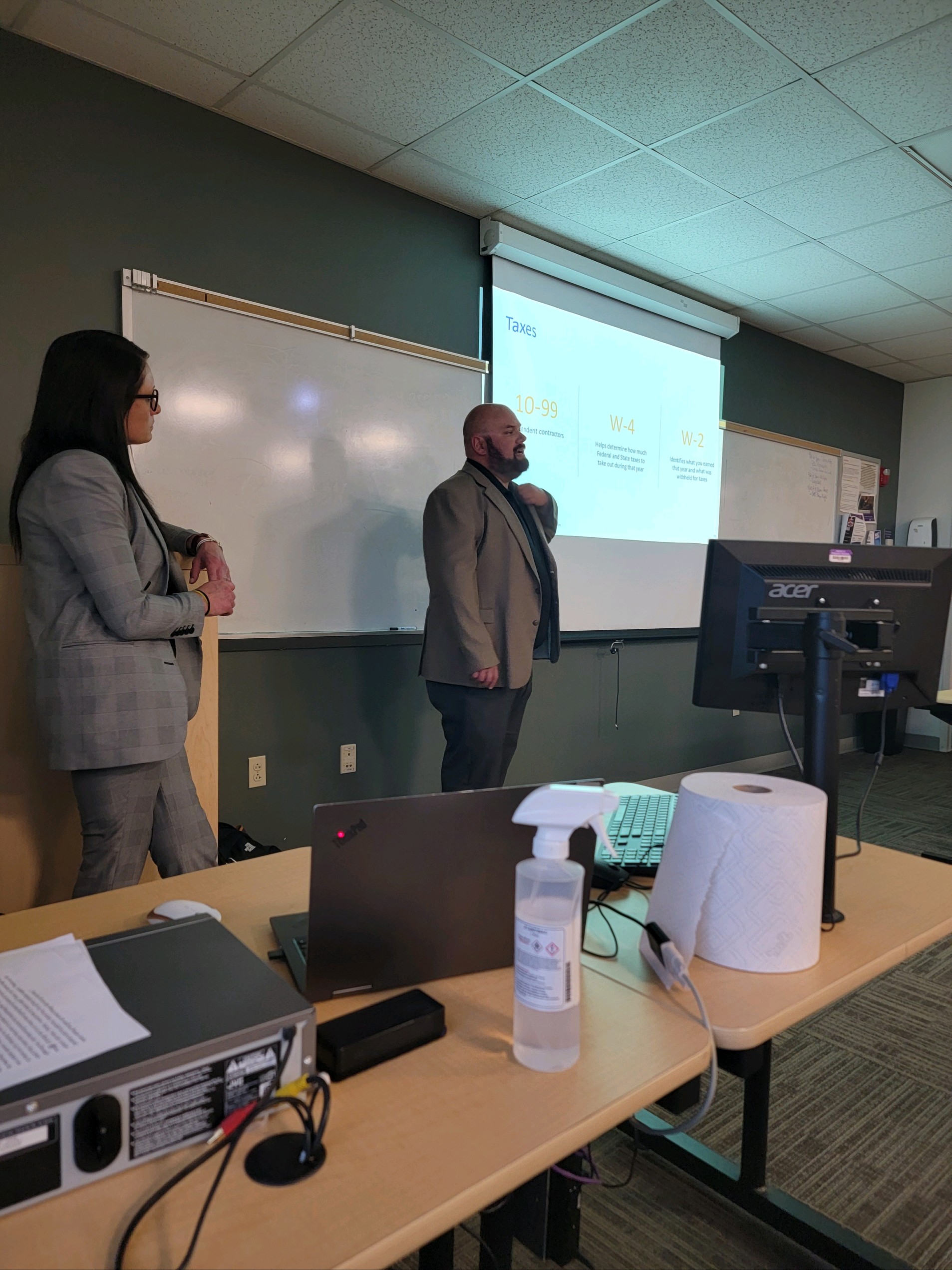 Mike Embrich visited Dr. Brittany Dobill's Digital Marketing class. Mike Embrich spoke about Search Engine Optimization. The students enjoyed hearing about Mike's experience in Search Engine Optimization. This topic applied to the coursework in Digital Marketing.
Students in ECO 300, Economics of Pizza and Other Victuals, had a field trip to Peel Pizza in O'Fallon, IL to meet with the owner, Patrick Thirion, on November 1.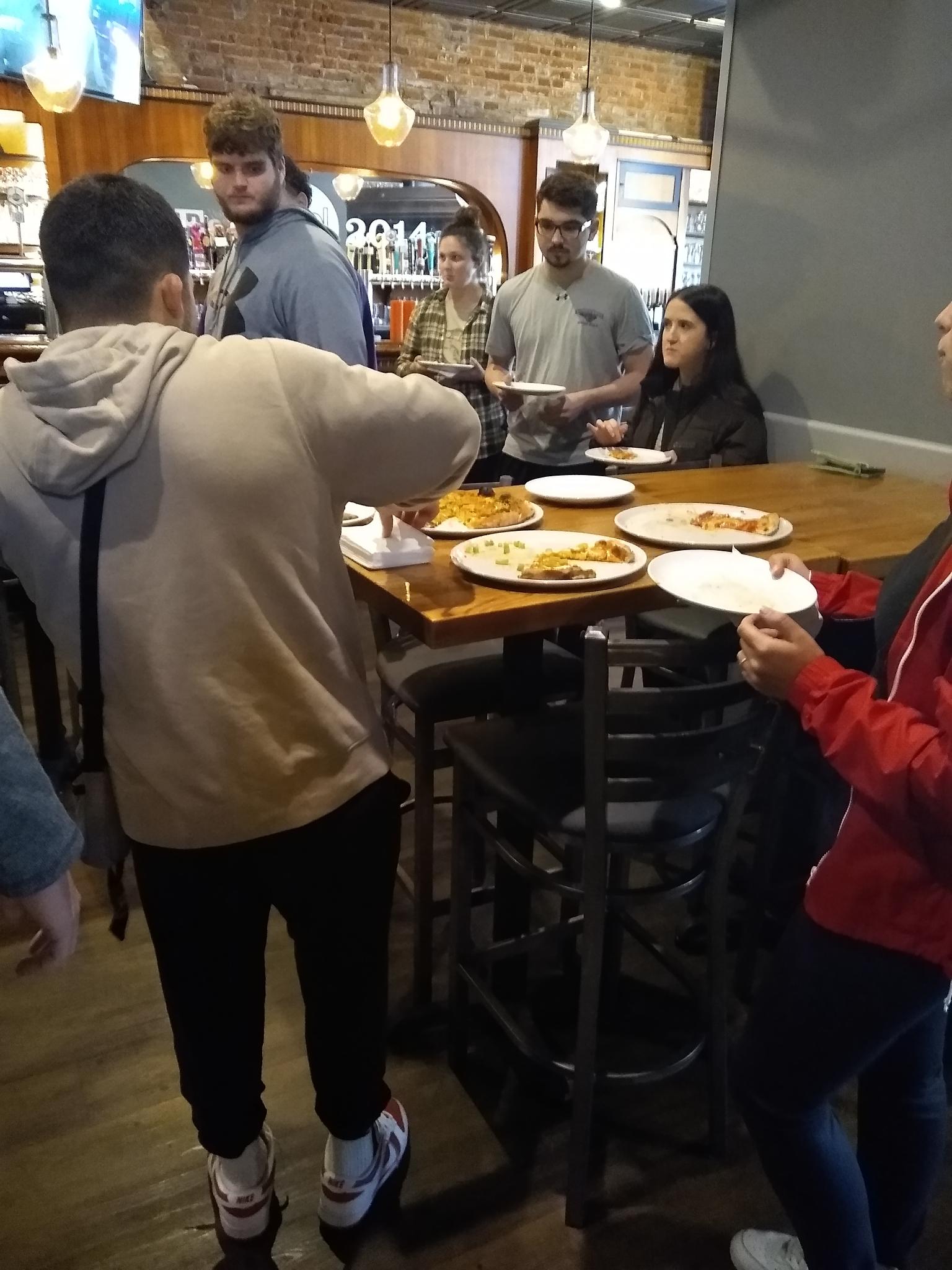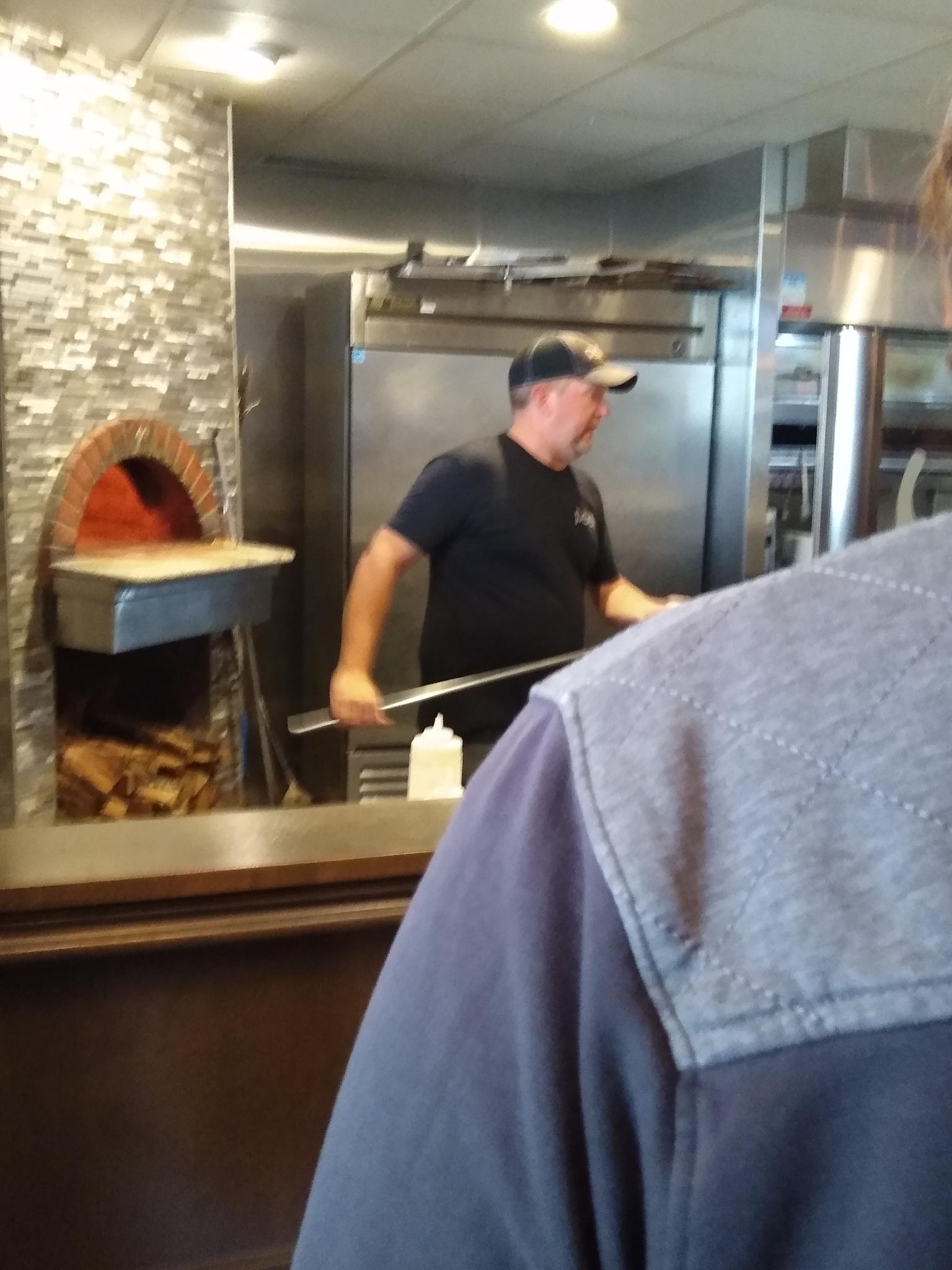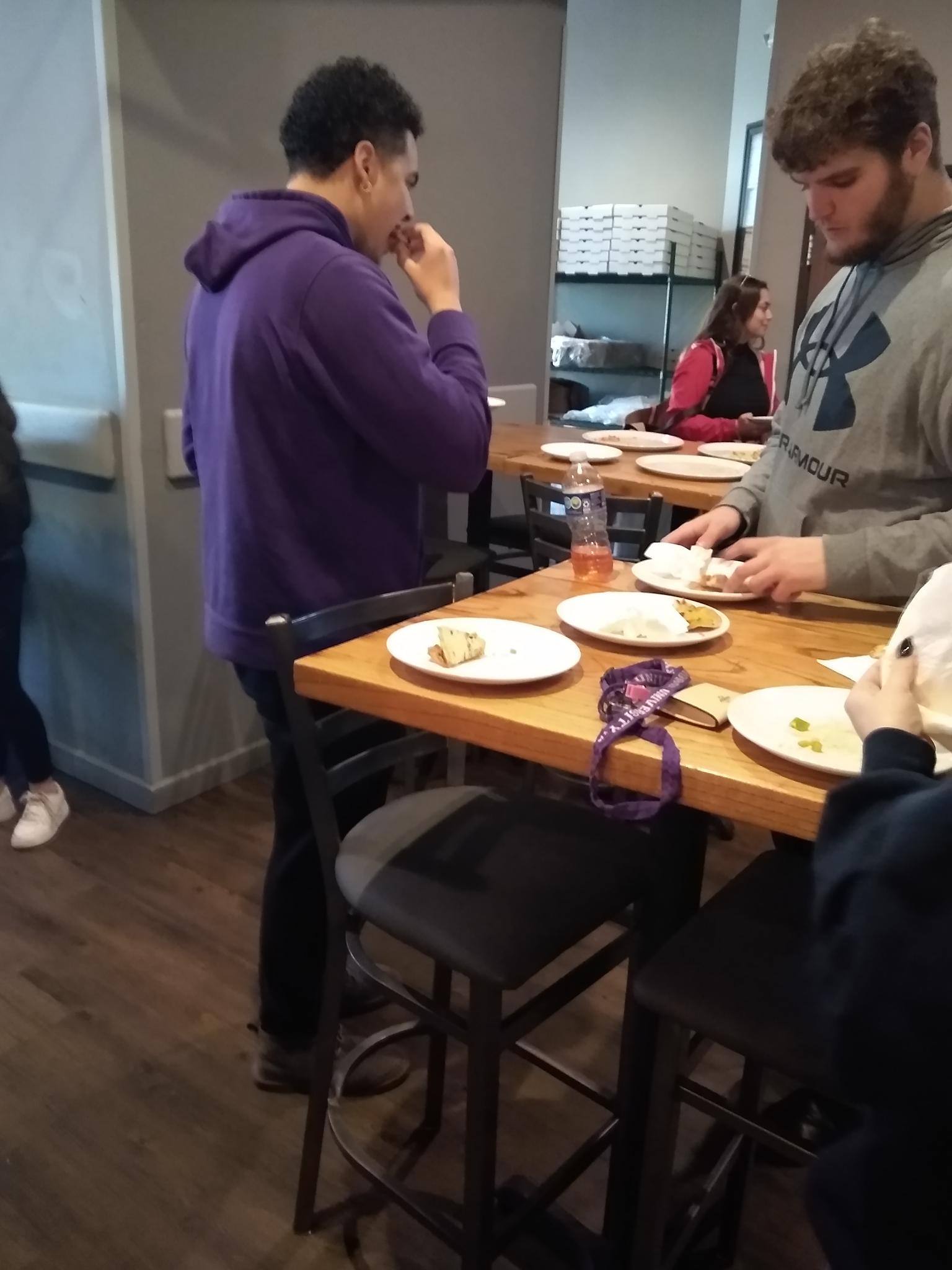 October 2022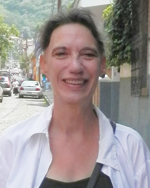 Professor of English Jenny Mueller's poem "The Large Glass" has been solicited and accepted for publication by Salzburg Poetry Review, an English-language journal published by the University of Salzburg in Austria.
Dr. Kendra Taylor and Dr. Richelle Rennegarbe presented in the Montana Hospital Association's Managers & Finance 101 – 4-Part Series held August 17; August 24; August 31; and September 7. Dr. Kendra Taylor presented on August 31 on the topic of Solving the Financial Puzzle: Basic Accounting Principles. Dr. Richelle Rennegarbe presented on August 24 on the topic of Building Financial Prowess and Writing a Powerful Business Plan, as well as September 7 on the topic of Engaging in Partnerships to Enhance an Organization's Financial Bottom Line.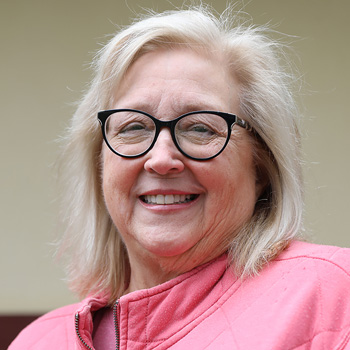 Dr. Jean Sampson is on the St. Louis Regional Entrepreneurial Educators Board. She and Melissa Meeker meet with faculty/staff from many other universities in the St. Louis area three times a semester to improve regional access for entrepreneurial students.
Dr. Sampson also spoke at the Riverbend CEO (Creating Entrepreneurial Opportunities) program on September 9, 2022. She spoke on confidence, soft-skills, and entrepreneurship.
Dr. Shelly Lemons' HIS 331 Illinois History drafted a land acknowledgement statement in honor of the 29th anniversary of the reburial of Native remains on campus (9/29/1993). Students read the statement at the mound on 9/29/2022.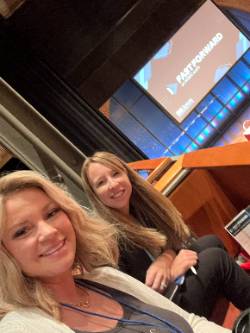 Dr. Brittany Dobill and Dr. Allie Helfrich attended the Midwest Digital Marketing Conference at UMSL to learn more about industry trends and hear from speakers from TIKTOK and META. 
Drs. Tim Ros and Jean Sampson are teaming up with Anahuac University in Mexico again this semester. Students will zoom on a weekly basis with students from Mexico to learn about international business and culture from each other.
Mike Marchal, president of Holland Construction and newest McKendree board member, visited McKendree University on Wednesday, Oct. 5 as part of the School of Business' Lanter Lecture Series. Mike met with members of the student body throughout the day sharing his journey and offering insights for creating a successful future. Mike ended the day with a lecture called "Fostering Intrapreneurship," where Marchal led an interactive session in which attendees navigated through a series of critical thinking prompts. Along the way, he provide guidance using his experience as a successful intrapreneur.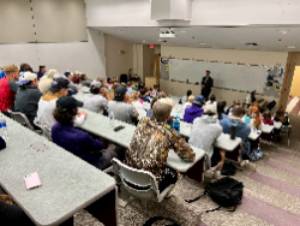 September 2022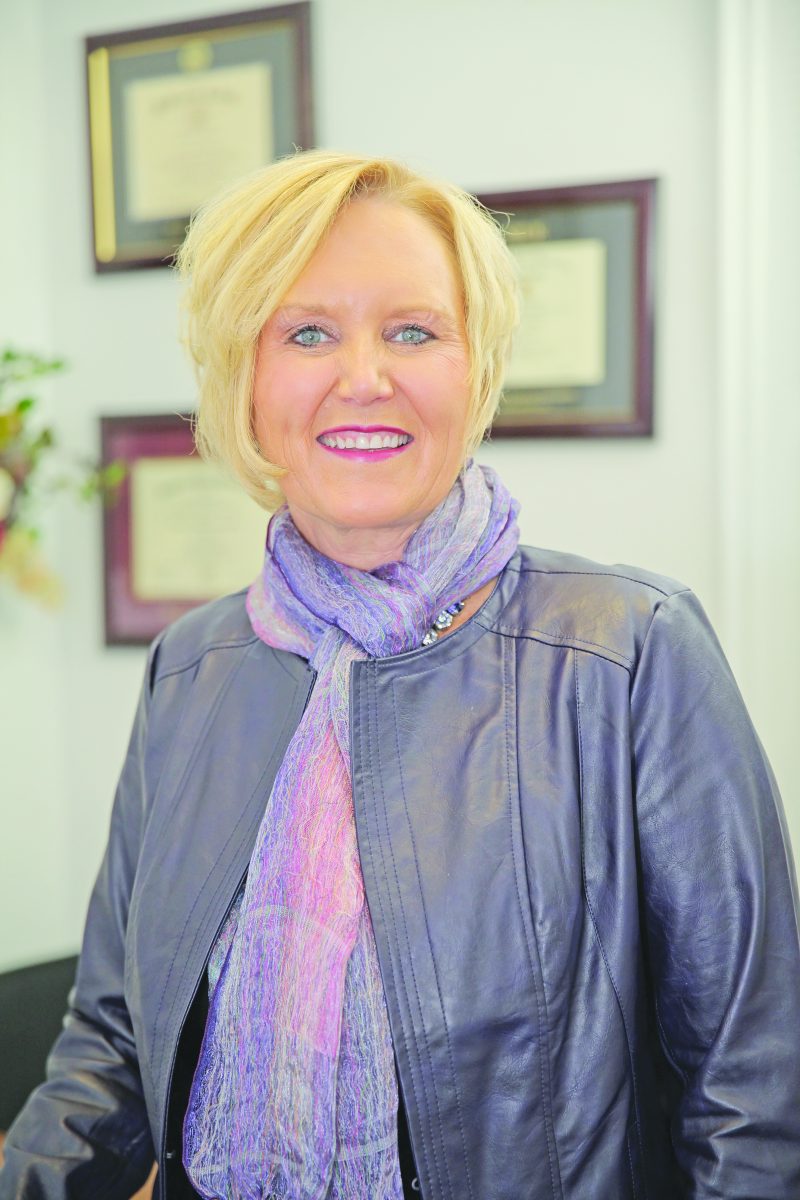 Dr. Richelle Rennegarbe, Nursing Division Chair/DNP Program Director/Professor of Nursing developed and implemented a four-part series focusing on Health Equity: Growth and Understanding for Rural Communities for the National Rural Health Resource Center. The four two-hour sessions focused on the following: Session 1 - Health Equity - What Every Rural Resident Deserves Session 2 - Health Equity - Using Cultural Intelligence in Rural Settings Session 3 - Health Equity - Addressing Social Determinants of Health in Rural Settings Session 4 - Health Equity - Evidence-Based Strategies to Address Health Equity This has an excellent opportunity to partner with a national rural health organization. Twenty-one small rural hospital improvement grant program leaders from across the nation participated in the Learning Collaborative. Leaders were from the following states: New Mexico, Montana, Indiana, Kentucky, North Dakota, Idaho, Vermont, Mississippi, Massachusetts, Alabama, New Hampshire, Missouri, Florida, Tennessee, New York, Minnesota, Georgia, and Oregon. In additions. representatives from the Health Resources and Services Administration (HRSA) attended the presentations.
McKendree University partners with a national civic engagement organization, ALL IN Campus Democracy Challenge. We received a national award from them for developing a highly established action plan for our campus. Here is part of what they wrote in their email letting us know: "McKendree University has earned the Highly Established Action Plan Seal for the 2022 election for developing an action plan that received at least 31.5 of 36 possible points based on the Strengthening American Democracy Guide (SADG) Rubric. Your institution is one of 82 campuses that have earned this inaugural recognition thus far during the 2022 election cycle. ALL IN staff and trained individuals use the SADG Rubric to score action plans submitted to ALL IN. Each campus action plan is reviewed by at least two individuals and the scores are averaged. A campus can have their action plan reviewed and scored up to twice per election cycle. This Highly Established Action Plan Seal has been added to your campus page: https://allinchallenge.org/campuses/mckendree-university/" 
Washington Monthly recognized McKendree University as one of the Best Colleges for Student Voting, August 2022 https://washingtonmonthly.com/2022/08/28/2022-college-guide-americas-best-colleges-for-student-voting/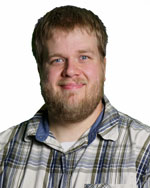 Dr. Michael Louison had two papers accepted for publication in the peer-reviewed journal Fisheries Research.
The first is the major one to highlight, as (now former/graduated) McKendree Students Emma Knoebel, Riley Ross, and Nathan Brand shared first-authorship on the paper, which was done with me and Dr. Robb VanPutte co-advising. The citation is here: Brand, N.R., Knoebel, E.M., Ross, R.M., VanPutte, R.D., and M.J. Louison (2022 in press). Post-release physiological disturbance in channel catfish Ictalurus punctatus caught by recreational anglers. Fisheries Research.
The second recent publication was from some data I collected along with John Bieber of the University of Illinois (M.S. student who I am on the committee for) examining post-release movement in winter angled northern pike. We also worked with colleagues from Carleton University in Canada to analyze this data. Citation below: Bieber, J.F., LaRochelle, L., Cooke, S.J., Suski, C.D., and M.J. Louison (2022 in press). Post-release behavior of ice-angled northern pike. Fisheries Research.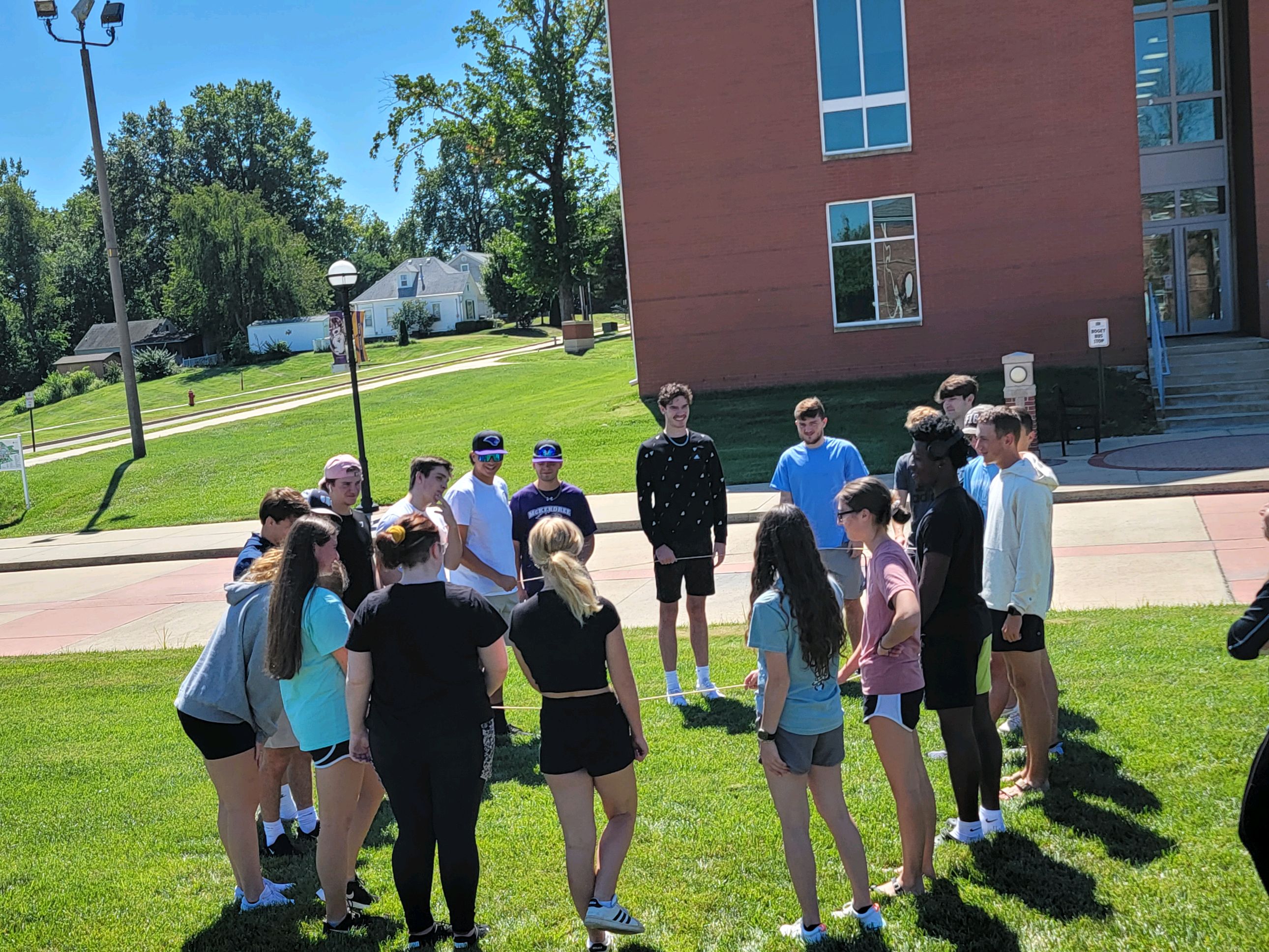 On Wednesday 9/7/2022, Dr. Brittany Dobill's UNI 101: University 101 class did a class learning activity to understand the importance of communication in college and in life. The class went outside by the fountain and used a rope to make shapes to demonstrate the importance of communication.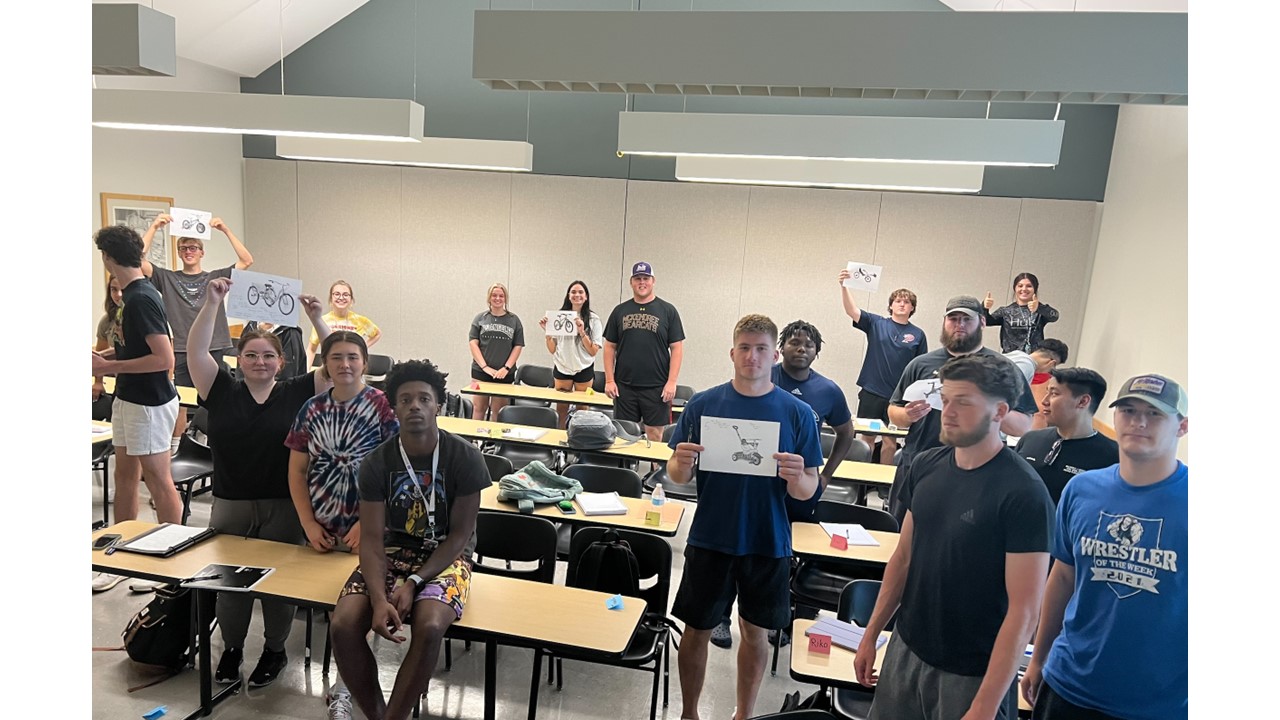 Students in Dr. Allie Helfrich's MKT205: Principles of Marketing learned about the importance of a target market in class. After lecture they were assigned groups, and received photos of different bikes to describe and report the target market with the class. They were all smiles, had excellent participation, and respected each other's ideas!