Human Resources Management Degree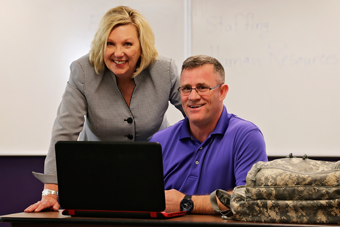 Human Resource Management Degree
You'll develop skills in personnel management, development, and employee and labor relations.
Request Information
The Human Resource Management (HRM) major presents the building blocks of theory and application that focus on:


Core business principles

Personnel management and retention

Employee and labor relations

Diversity management

Organizational development
You'll gain insight into ethical and business problem solving issues through courses incorporating individual and group work, written assignments, and oral presentations.

The McKendree University Bachelor of Business Administration in Human Resource Management (BBA-HRM) program is designed to meet the needs of the working adult. The courses are available through McKendree Online.

Why a Human Resource Management Degree?

The bachelor's degree in human resource management is designed for students who desire a broad understanding of business operations with a strong focus on the people within those organizations. Students in this major develop highly sought after skills in personnel management and retention, organizational development, and employee and labor relations.
About the Human Resource Management Major
Housed within the School of Business, the B.B.A. in Human Resource Management gives students insight into core business principles and ethical problem solving while cultivating important team building skills.

Another related program, the bachelor of business administration in human resource management is designed to meet the needs of working adults and is available online.

2021-2022 Program Catalog
Why McKendree?


McKendree University provides you with interactive learning opportunities through our small class sizes, experienced faculty, and unique internship experiences that move you beyond the classroom. We are committed to your success in the degree programs we offer, the internships and extracurricular activities that will set you apart, and the college experience you'll get here. Just 25 minutes from downtown St. Louis, Missouri, McKendree University is located in historic Lebanon, Illinois, and affords students a host of enriching cultural, career, and entertainment opportunities.


Program Highlights
Exciting internship opportunities give you on-the-job experience before you graduate

Related clubs and honor societies allow you to meet others and enhance your resume
Employment Opportunities

Graduates in human resource management find careers within every type of organization that utilizes employees. From major corporations to local businesses, human resource managers are needed to oversee areas such as compensation and employee benefits, training and development, and information systems to name a few.
Interesting Courses
Diversity & Change Management

Employment Law
Club Information / Honor Societies
Sigma Beta Delta (Business Honor Society)

Phi Beta Lambda (Business Service Club)
Related Programs
Your Student Success Support Team
Make It McKendree  Apply Today!