5 Minutes with Adam Kasper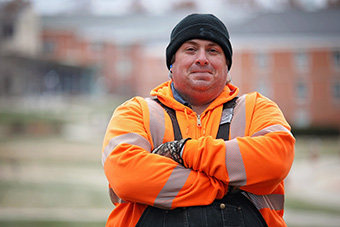 by Lisa Brandon, Director of Media Relations

Maintaining the lovely landscape of the Lebanon campus is a highly visible, year-round job for Grounds Manager Adam Kasper and his crew. Adam began his career at age 16 at the Potted Plant Garden Center in his hometown of Mascoutah, Ill., where he serves on the Parks and Recreation Commission and its tree subcommittee. A certified arborist, he earned an associate degree in horticulture from Southwestern Illinois College.

He joined McKendree in September 2002. Employed by the contractor Sodexo, he supervises eight full-time employees and up to three students, who work in teams from 6:30 a.m. to 3 p.m. They mow 60 acres of lawn, turf grass and athletic fields on University-owned property, plus the 18-hole golf course (now closed) near campus.

TAKE US THROUGH EACH SEASON FOR YOUR CREW.

Spring is a little hectic. Usually around April 15, we get the annuals into the ground so they look nice for commencement. We plant 2,000 annuals in garden beds, planters and hanging baskets—mostly impatiens, begonias and torenia. Fountains get turned on in early April and stay on as long as it remains above 40 degrees in the evening.

In the summer, we go into maintenance mode, mowing, string trimming, watering and trying to keep everything lush and green. I try to use as much organic fertilizer as I can. With fewer cars in the parking lots and not as many students on campus, things go a little bit smoother.

Blowing leaves out of beds is an everyday job from late October until early December. We also mulch, cut grass, edge, string trim and water as needed.

In the winter, we help with custodial by pulling trash bags in the dorms. If it snows, we're on campus by 5 or 5:30 a.m., plowing the snow off and applying ice melt.

WHAT ARE SOME LESSER-KNOWN RESPONSIBILITIES?

Pest removal—squirrels in attics, wasps, bats, roaches, fleas, gnats. Birds that get stuck in the downspout at the chapel. Not long ago we had a call about a snake under a librarian's desk! My staff caught it, put it in a cup and released it in the wild. Occasionally we help Public Safety round up a stray dog. We used a humane trap to catch a cat living under Carnegie Hall.

We maintain the McKendree West pool, replace sidewalks, seal and patch the parking lots, and check them for trash early in the morning. We put up the pole banners around campus. Last summer we hauled probably 10 utility vehicles' worth of moldy old books out of the library basement.

WHAT WOULD YOU LIKE OTHERS TO KNOW ABOUT YOUR JOB?

I'm not just hands on; I supervise the crew, take care of the administrative stuff, go through training and prepare for our annual state inspection. We are licensed by the Department of Agriculture to apply restricted-use chemicals like herbicide, fungicide and insecticide, and we follow a certain procedure for filling sprayers. I log everything we use, how much and where we used it. The inspectors come look at our records and our wash pit.

WHAT IS MOST CHALLENGING?

Snow removal. Trying to predict the weather and what it's going to do.

ANY UNUSUAL SIGHTINGS?

When I started here in 2002, I saw a doe out on the front lawn. That November, I saw four wild turkeys on the soccer field. At the baseball field, foxes tunnel under the shed and raise their young. They're gone by the summer but they leave remnants on the field of whatever they've caught.

FAVORITE AREA OF CAMPUS?

The front lawn, because of the trees. One of my favorite things is working with Dr. Schutzenhofer for her biology class, when we have a new tree to plant or have to replace a tree. I also help select the trees to plant for Earth Day and the Holocaust memorial ceremonies.