Homecoming 2018

HOMECOMING THEN AND NOW

Brotherhood and Sisterhood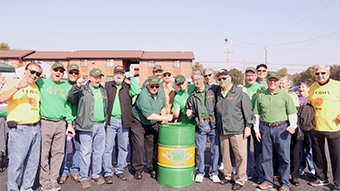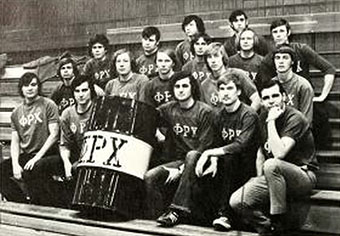 Current and alumni members of Greek organizations have always been part of the Homecoming parade. Organized on campus in 1963, Phi Rho Chi fraternity is better known as Ferox, for the Greek letters FRX. While it no longer has an active chapter on campus, many Ferox alumni remain highly involved, returning for Homecoming and other events—and they always bring the party! Shown here are members in 1973 and at the 2018 Homecoming.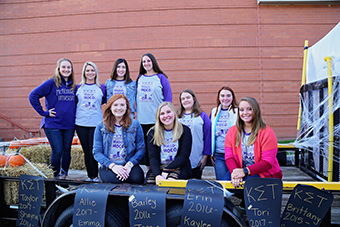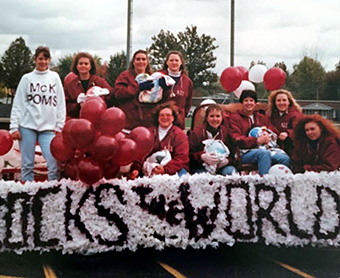 Gamma Sigma Sigma organized as a national sorority in 1974 and was re-established at McKendree in 1992 as Kappa Sigma Tau social and service sorority. Like their sisters before them, today's KST members continue the tradition of riding in the homecoming parade.

MEET OUR OUTSTANDING ALUMNI

McKendree University celebrated several accomplished alumni at an awards dinner on Oct. 27 at the St. Clair Country Club in Belleville, Ill. Chosen by the Alumni Association Board, the 2018 winners have made their mark in their professions and at their alma mater.

Peter Akers Award

The Alumni Association's highest honor recognizes remarkable professional success, outstanding service, and unparalleled loyalty to the University.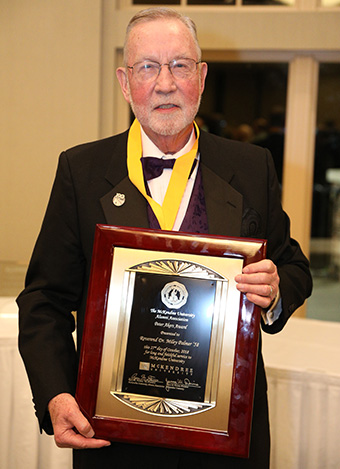 The Reverend Dr. Miley Palmer '58

Miley's life and career truly reflect the values of McKendree University. He majored in English with a history minor and was involved in the Philosophian Society, chorus, Chapel Choir, Men's Quartet, wrestling team, Methodist Student Movement and school newspaper. He co-founded "Help Week," which replaced "Hell Week" and began a tradition of student volunteerism.

He earned a master's degree in Divinity from Garrett Biblical Institute and a doctoral degree in Ministry from Christian Theological Seminary. For 42 years, he served as a pastor at a variety of churches in the UMC Illinois Great Rivers Conference (IGRC), campus minister at the University of Illinois Urbana-Champaign and superintendent of the Peoria District.

In retirement, Miley became a full time chaplain at Decatur Memorial Hospital, serving for 20 years on the Institutional Review Board and Medical Ethics Committee. He is currently Minister of Visitation for First United Methodist Church in Decatur, Ill., where he lives. He is involved in interfaith activities, particularly with a local mosque, and enjoys preaching across denominations. He has helped recruit 36 men and women to the Methodist ministry; composed 18 hymns; and written a book to provide a curriculum for use in the church.

Miley is a trustee, William McKendree Society donor, Friend of the Hett and Bearcat Booster who visits his alma mater often. He is a past president of the Alumni Association Board of Directors and served on the Alumni Board for more than 20 years.

Loyal Service Award

Recipients have shown distinguished, loyal service to the Alumni Association, its principles and purposes, and their commitment has enhanced the University's goals and mission.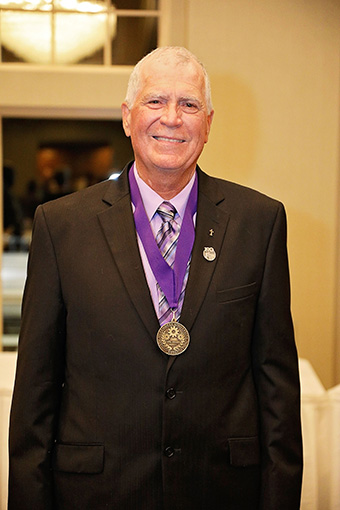 Paul Kettwich '73

Paul earned a degree in physical education at McKendree, where he was active in Phi Rho Chi fraternity (Ferox), Student Congress and the Inter-Society Council. He was his sophomore class vice president, McKendree Review editor, a resident assistant and member of the basketball team for one year.

Paul worked in the claims department for Royal Insurance, Florists' Mutual Insurance and other insurance companies, retiring after 40 years. Originally from Minonk, Ill., he now resides in O'Fallon, Ill., where he is active in the First Baptist Church and its mission trip to Cuba. He is affiliated with the Ancient Free and Accepted Masons, Southern Illinois Scottish Rite, Shriners International and Honor Flight Guardians. Paul is an avid fan of high school, college and professional sports.

He is a member of the William McKendree Society, Bearcat Booster Club, Sports Hall of Fame Selection Committee and Ferox Alumni. He has volunteered for the University's Graduation Celebration Dinner and contributes to the Annual Fund.

Academy of Excellence

Inductees have made exceptional contributions to the honor and prestige of the University through their achievement, leadership and character, and have demonstrated the values of a liberal arts education in their professions or chosen fields.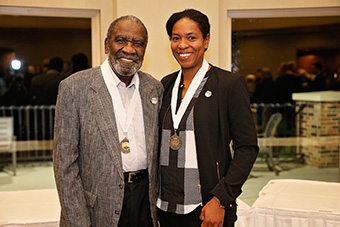 Dr. John Pleas '60, Social Science

Dr. Pleas, of Nashville, Tenn., graduated with a degree in biology at McKendree, where he sang in the Concert Choir and played basketball. He earned a master's degree from the University of Illinois and a Ph.D. in clinical psychology from Vanderbilt University. Beginning his career as a cancer research technician, he transitioned into counseling and administrative positions at a community oriented narcotic rehabilitation program and co-directed the Vanderbilt University weight management program.

In the last two decades of his career, he was a professor at Middle Tennessee State University, where he was the African-American Studies Program director and undergraduate coordinator of psychology. The John Pleas Faculty Award, presented annually to an outstanding minority faculty member, was named in his honor in 1996. He received the 1999 Outstanding Teaching Award and upon his retirement in 2004, was designated Emeritus Professor of Psychology.

Psychological and medical journals published his research on obesity and he gave many conference presentations on long-term treatment outcomes, wellness and the physical and psychological benefits of walking.

In 1992, Dr. Pleas and his siblings, all graduates of East St. Louis, Ill., schools, established the Henry and Daisy Pleas Memorial Scholarship to honor their parents, who lived in the city for more than 70 years. At least 32 graduates of Lincoln and East St. Louis Senior High Schools, including a McKendree student, have received scholarships.

Dr. Karyle Penelton '03, Nursing and Health Professions

Dr. Penelton majored in psychology with minors in physical education and management. At McKendree she was involved in women's basketball, track and field, the Fellowship of Christian Athletes, Psychology Club, psychology honor society, Alpha Kappa Alpha Sorority's Epsilon Iota chapter, and as a volunteer at Second Chance Homeless Shelter. She went on to earn a Doctorate of Physical Therapy from Washington University in St. Louis.

Dr. Penelton manages SSM Health Physical Therapy Center in Swansea, Ill., where she oversees the clinic's daily operations, marketing and development, and treats patients of all ages, many of whom have industrial or sports injuries.

The Edwardsville, Ill., resident participates in Relay for Life fundraising and SSM Health Physical Therapy's Run for the Mission, and also volunteers as a high school basketball coach. She loves watching, playing and attending sports, and connecting with her former teammates. She is an Annual Fund contributor and a McKendree online ambassador.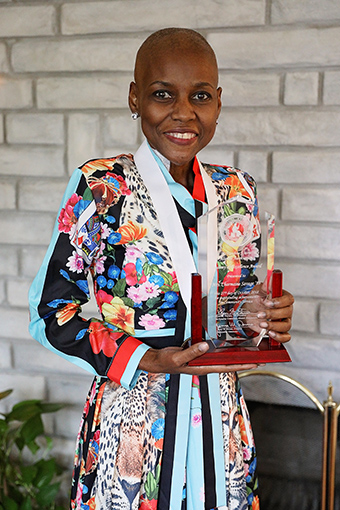 Charmaine Savage '89, Community Service

Charmaine graduated with a business degree and a minor in computer science. She went on earn a master's degree from Webster University.

The retired U.S. Navy commander served as a human resource officer for 21 years. She was deployed to Baghdad for 11 months during Operation Iraqi Freedom. Her military awards and decorations include the Bronze Star, Defense Meritorious Service and Iraq Campaign Medals, and numerous Navy service medals, awards and unit commendations.

Retiring from active duty in 2010, Charmaine accepted a civil service assignment at the Naval Special Warfare Command, headquarters for the U.S. Navy Seals, in San Diego. The innovative products and metrics she developed have led to significant cost savings, greater transparency and improved responsiveness in military human resources programs. She earned the Navy Superior Civilian Service Award, the second highest honor in the Navy's civilian awards program.

As the founder and executive director of the nonprofit corporation I Am East STL, Charmaine was committed to improving the brand and image of her hometown, East St. Louis, Ill. She also served on the Memorial Hospital board of directors. Charmaine passed away on Jan. 13, 2019.

Rising Stars

These graduates of the past decade have made significant achievements in their professions or chosen fields and have been highly involved with the University or their communities.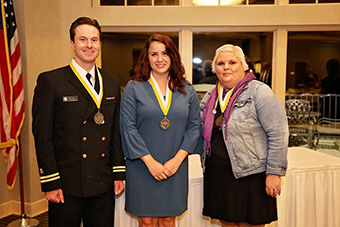 Dr. Patrick Sears '08

Dr. Sears graduated with a degree in psychology from McKendree, where he participated in New Student Orientation, the Psychology Club and Psi Chi honor society. He studied clinical psychology at Southern Illinois University Edwardsville and upon completing his master's degree, published his thesis on stigma and mental illness in a peer-reviewed journal. He earned a Doctor of Psychology degree in 2015 from The Chicago School of Professional Psychology. Dr. Sears completed his doctoral internship with the Federal Bureau of Prisons and wrote his dissertation on the use of self disclosure during the clinical intake process.

He is a licensed clinical psychologist and commissioned officer with the U.S. Public Health Service (USPHS), an all-officer branch of service led by the Surgeon General, composed of healthcare providers and public health professionals. During national public health emergencies, USPHS officers deploy to provide emergency healthcare services. Dr. Sears assisted in the Hurricane Irma and Hurricane Florence relief missions.

The Troy, Ill., resident teaches part-time at McKendree and voluntarily participates in community outreach on topics such as substance abuse and suicide prevention. When he is not deployed, Dr. Sears is detailed to the Federal Bureau of Prisons. He is the mental health treatment coordinator of his institution and serves in leadership positions related to diversity enrichment and crisis support services.

Erin Conner '08

Erin graduated with a degree in biology and political science. A standout on McKendree's speech and debate team, she won four Pi Kappa Delta National Championships and advanced to the finals at the 2008 American Forensic National Individual Events Tournament. She was a 2007-2008 Illinois Student Lincoln Laureate; 2008 Political Science Award winner; and a member of the Student Government Association, Honors Program, and Phi Kappa Phi, Pi Gamma Mu and Sigma Zeta honor societies.

Erin graduated in 2011 from Saint Louis University School of Law and worked for Illinois Congressman Jerry Costello as a legislative intern. A licensed attorney in Illinois and Missouri, she was an assistant public defender in St. Clair County from 2011 to 2014. In 2014, she became an assistant state's attorney, currently assigned to the Violent Crimes Unit. She is the St. Clair Bar Association vice president and a member of the Young Lawyers Committee, East St. Louis Bar Association, Belleville Human Relations Commission and Walnut Hill Cemetery Board. She has also taught criminal justice classes at McKendree. She resides in Belleville, Ill.

Ashley Garland-Simpson '08

Ashley studied psychology at McKendree, where she sang in the Concert Choir and participated in Greek life as a member of Alpha Omega Sorority. She obtained a master's degree in criminal justice from Kaplan University and is currently studying child and adolescent psychology at The Chicago School of Professional Psychology.

Ashley works in social services, with almost ten years of experience with at risk youth and their families. The Belleville, Ill., resident serves as a lead adoption foster care case manager, intern task instructor and child protection trainer. She is certified as an Illinois Direct Service Child Welfare Employee.

Braden Posey '10

Braden graduated with a degree in economics and finance. On campus, he participated in debate, men's soccer and the Student Government Association, serving as class president for two years. He completed a Juris Doctor degree from the University Of Missouri School Of Law in 2013.

A proud franchise owner of Supplement Superstores, Braden has opened four locations in the last three years. He enjoys soccer and weight lifting and is an avid Brazilian jiu-jitsu practitioner.

The Columbia, Mo., resident is a member of the Bearcat Boosters and the Alumni Association Board of Directors, serving on its Personal and Professional Development Committee.

Sports Hall of Fame

Inductees are athletes, former coaches, alumni coaches or sports professionals who, through leadership and character, have made exceptional contributions to the honor and prestige of McKendree in the field of athletics.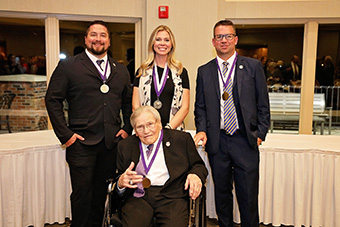 Brady Stewart '04, Professional Powerlifting

Brady became a member of USA Powerlifting in 2002 during his undergraduate days, long before McKendree introduced powerlifting into its intercollegiate offerings. He has become one of the most dominant and decorated powerlifters in U.S. history, enjoying success at the national and international level. At the time of his induction, he had earned six gold, one silver and three bronze medals in national championship competition. He is a three-time gold medalist in the North American Powerlifting Federation and holds the mark for the all-time heaviest bench press regardless of weight class.

Brady holds the American and North American bench press record for the 264-pound class (120 kg) at 785.9 pounds (356.5 kg). He won his fifth national title on Sept. 26, bench-pressing 738 pounds. He is also the former American record holder in the squat, bench press and total in the 242-pound weight class.

In 2009, Brady was a member of the first American powerlifting team to win a World Team Championship. He is also the only lifter in U.S. history to have medaled in OPEN World Bench Press Championship competition in the 264-pound weight class. A six-time member of the U.S. National Bench Press Team, he has competed in South Africa, Luxembourg, Lithuania, Denmark, Canada, Sweden and the U.S.

As owner-operator of Zion Barbell in Carterville, Ill., Brady uses his experience to train and coach a new generation of powerlifting athletes. He led his team to the 2017 and 2018 Illinois State Powerlifting Team Championship. He is the only U.S. coach to have trained seven men who have bench pressed more than 500 pounds in competition, with five of them surpassing the 600-pound mark.

Jenna (Shellenberg) Busler '07, Women's Soccer

By the time she played her final contest for the Bearcats in 2006, Jenna had helped rewrite the program's record book. She remained atop McKendree's all-time scoring list at the time of her Hall of Fame induction.

As a freshman in 2003, Jenna led McKendree with seven assists and finished third on the team with 13 total points. She was part of a Bearcats squad that finished the season 4-0 in American Midwest Conference (AMC) play. That marked the first of seven consecutive undefeated conference campaigns for McKendree, as the program reeled off 47 straight conference victories from 2002 to 2010.

In 2004, Jenna scored a team-leading 34 points, netting 14 goals on her way to the first of three consecutive AMC Player of the Year awards. She led the Bearcats in scoring in each of her final three seasons, posting 15 goals and 33 total points as a junior before closing out her playing days with 13 goals and 32 points as a senior. Jenna finished her career with 45 goals and 22 assists for 112 points.

In four years, she helped lead the women's soccer team to an overall record of 60-16-6, with a perfect 16-0 mark in conference play. The Bearcats made three appearances at the NAIA Women's Soccer National Championship during her career. Jenna was a three-time NAIA All-American honoree, a three-time NAIA All-Region V performer and a three-time Academic All-AMC selection.

Rory O'Connell '00, Football

When McKendree revived its football program in 1996 after a 45-year absence, Rory helped lead the Bearcats through the first four years and set a standard for future players to uphold.

A four-year starter in the secondary, he demonstrated leadership on and off the gridiron as a team co-captain in all four seasons and a class officer. He played an integral role as the Bearcats won eight games and earned their first berth into the NAIA Football Championship Series in 1997. As a senior, he guided the team to the playoffs again in 1999.

Along with posting 152 career tackles, Rory consistently picked off opponents' passes. His 19 career interceptions were more than double the next closest McKendree player at the time of his induction. His five picks on three different occasions equal the Bearcats' single-season mark. Rory returned five interceptions for touchdowns, which remains a program record. In addition, he ranks second with 31 pass break-ups. Also a threat as a punt return specialist, Rory remains among the Bearcats' all-time top five with 62 punt returns and 509 return yards.

Rory was a two-time first-team All-Conference selection during McKendree's first two years as a member of the Mid-States Football Association-Midwest League in 1998 and 1999. He also earned Academic All-Conference honors following the 1998 season.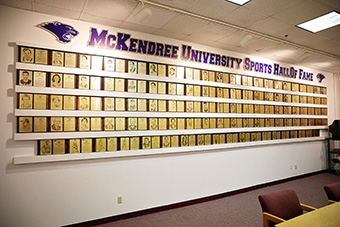 Jim Monken '60, Football Coach

Jim enjoyed a successful coaching career at the high school and collegiate level that spanned more than four decades. After compiling 177 wins over a 32-year high school career, the Swansea, Ill., resident returned to his alma mater, bringing his unique coaching style to the sidelines and helping to make the Bearcats' kicking game one of the top units in the National Association of Intercollegiate Athletics (NAIA).

Jim played baseball for the Bearcats before embarking on his coaching journey. He began as a football and track assistant coach at East St. Louis Assumption High School for seven years, becoming the football head coach in 1967. He spent the next quarter-century coaching two East St. Louis high school programs (Assumption and Lincoln), amassing a 177-67-7 overall record.

In 25 years as a head coach, Jim's teams averaged better than seven wins per season and made 15 Illinois High School Association state playoff appearances. Four of his teams reached the state semifinals. He was named Coach of the Year in 1975, 1980, 1985 and 1987.
Jim left the high school ranks in 1992 and spent a little more than a decade away from the sidelines. In 2003, he accepted an invitation to join Carl Poelker's staff as coach of the Bearcats' kickers and punters. Despite losing the ability to speak due to a stroke, Jim communicated through other means to get the most out of his pupils. He was instrumental in the development of kickers and punters who rank among program leaders in their disciplines. As a coach, Jim helped the Bearcats to 68 victories, five conference titles and five NAIA Football Championship Series appearances.
PAST ALUMNI ASSOCIATION BOARD PRESIDENT HONORED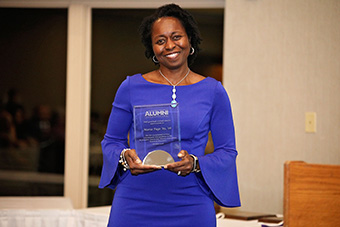 Maria (Stallings) Page '89, M.A.Ed. '06 was presented with a special award for her exceptional commitment, service, and guidance to the Alumni Association Board of Directors. She served as the Alumni Association Board president from 2012 to 2018.
PHOTOS FROM HOMECOMING 2018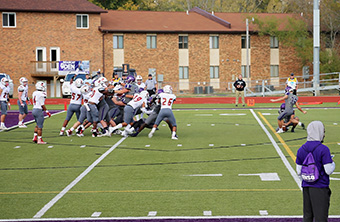 The Bearcats posted 574 yards of total offense in their 47–31 victory over William Jewell College.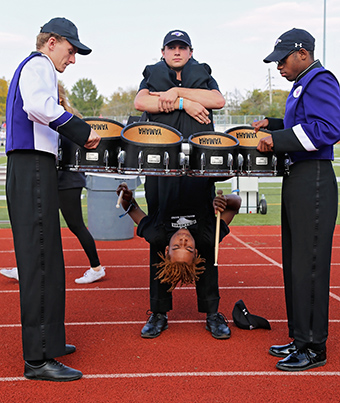 That's Billy Darris on the upside down drum solo.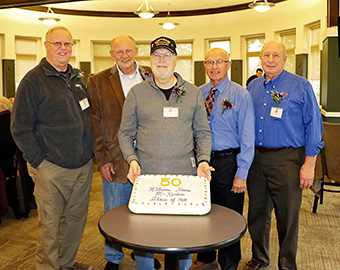 Glenn Oliphant '68, Carl Pagles '68, Lance Gauble '68, Richard Phillips '68 and Lou Hagenbruch '68 met up at the Golden Reunion on Oct. 26.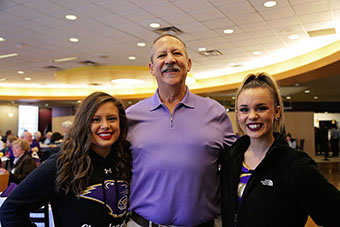 At the William McKendree Society Breakfast, Tim Chambers met first-years Holly Hutchison and Meritt Rittenhouse, the first recipients of the Pamela J. Chambers Memorial Scholarship Fund. Established in memory of Tim's late wife Pamela Chambers, M.A.Ed. '08, it provides financial assistance to McKendree undergraduates from Washington County, Ill.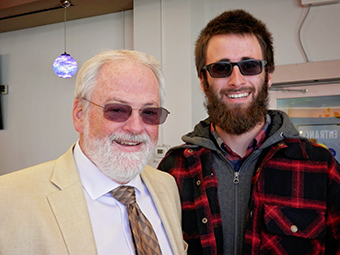 The Rev. Jim Barnett '80 gave the Homecoming Chapel Service sermon; his son, McKendree junior Hunter Barnett, read the scripture.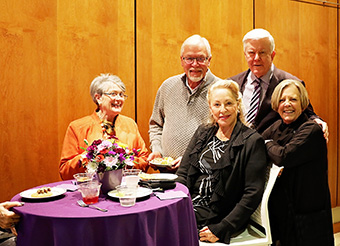 Dr. Dennis greeted guests at a reception in the Hett lobby before the Midtown Men's sold-out performance.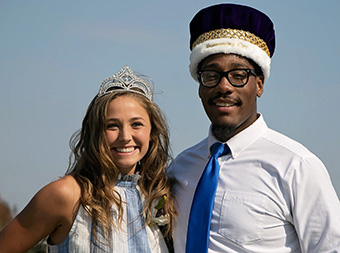 Seniors Emily Nelson and Matthew Hendricks were crowned the 2018 Homecoming Queen and King.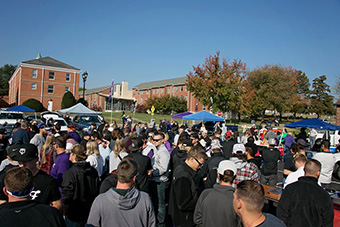 Tailgaters filled the parking lot before kickoff on Saturday.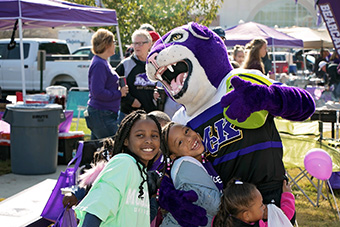 Bogey entertains kids before game.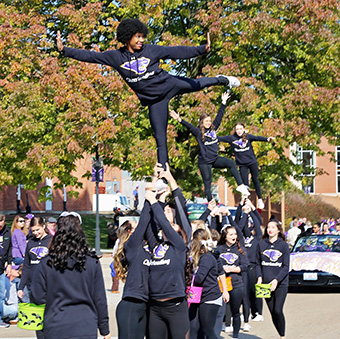 Homecoming parade on Saturday morning.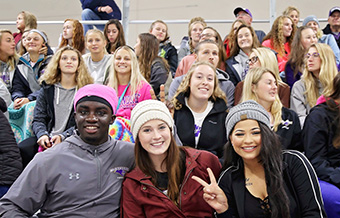 McKendree students enjoy hockey game.
SAVE THE DATE! OCT. 4-6, 2019 
HOMECOMING AND ALUMNI REUNION WEEKEND