A Message from from the Alumni Board President Ryan Furniss '00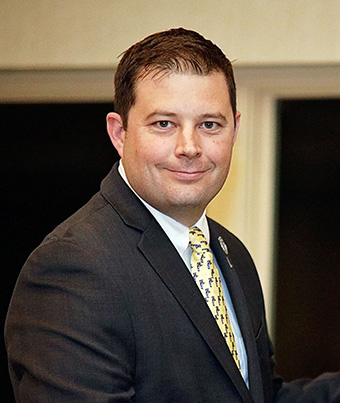 Hello Alumni and Friends,

As we roll into the new semester, it is time to reconnect with McKendree family and friends. There have been numerous changes on campus over the past year and we encourage you to visit and reconnect with McKendree. The FORWARD capital campaign is ongoing and we hope McKendree will soon have a new science building and upgraded library. These facilities are much needed to continue the world-class education that students, alumni and prospective students have come to expect from our great institution.

The Alumni Association is a resource for all members of the McKendree community that we hope you utilize throughout the year. Last year alumni participated in 32 networking, social and educational events that furthered their careers, brought back memories and re-engaged their pride in all that McKendree offers.

There are numerous ways to stay engaged and invite you to get involved:

Attend an Event. The Alumni Association is sponsoring several fun events over the next few months on campus, in St. Louis and across the country. Join us in Florida for Cardinals Spring Training, March 15-17. If you are more interested in the friendly confines, join us for Alumni Night with the Blues on March 21 and Alumni Night at Busch Stadium with the Cardinals on April 21. Commencement this year will take place at the Lebanon campus on May 11.

Volunteer. There are several opportunities throughout the year to volunteer at McKendree events, join the Alumni Association Board or join a committee to get involved with planning Homecoming or another event.

Hire Students and Alumni. Join us for networking events throughout the year and utilize Career Services for your own hiring needs. There is an instant connection with hiring a fellow McKendree alumnus or student. I personally hired a recent McKendree alumnus this year in my office. It's been a pleasure providing this person not only with a job, but also mentoring the alumnus. Mentoring alumni and students into better professionals is not only rewarding, but also increases visibility for McKendree in the community and makes your own McKendree diploma more valuable to your peers and potential employers.

I look forward to seeing you and working with you over the next semester to continue to make McKendree special.

Ryan Furniss '00
Alumni Association President
What's new with you?
Share your professional accomplishments, such as job changes, promotions and awards, or personal milestones, such as advanced degrees earned, marriages or births. Let us know! Submit a class note to alumni@mckendree.edu and be featured in the next Magazine.

Interested in Volunteering?
The Alumni Association Board sponsors several networking opportunities throughout the year for alumni to connect not only with one another but also with students.

Alumni Awards Call for Nominations
Nominations for the 2019 Alumni Awards ends May 1, 2019. The Alumni Association is looking for leaders—graduates of McKendree University who have shown strong leadership in their careers, outstanding service to the community, and success in athletics or other notable accomplishments. For more information or specific awards criteria, check out the Alumni Association webpage.

Follow Us on Social Media