Daniel C. Dobbins is Installed as McKendree's 33rd President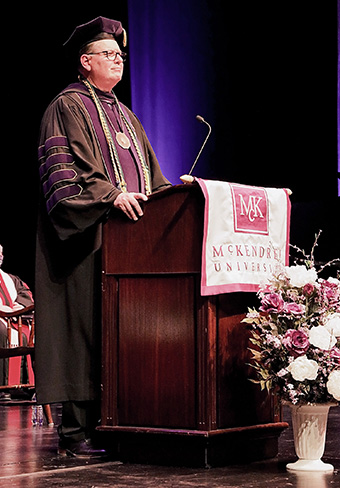 by Stephanie (Coartney) Dulaney, '10

For President Daniel C. Dobbins '81, the call to lead his alma mater was not only about what he could accomplish singularly but also his desire to unite the talents, determination and resilient spirit of all those who make up the University community, as "One McKendree."

President Dobbins began his new role on Jan. 1, 2020, but it was not until the Founders Day observance on Feb. 19, 2021, that he was formally installed in a socially distanced inauguration ceremony. After nearly a year of unprecedented challenges caused by the coronavirus pandemic, the University paused to draw inspiration from its 193-year history of leaders who endured tough times of their own, as well as celebrate President Dobbins' leadership and hope for the future.

"There is no doubt that little has been customary about President Dobbins' first year as president," said Board of Trustees Chair Daniel Lett '91. "But he has served the University with perseverance, dedication and flexibility. Today we celebrate his leadership and the strength of the University during this difficult time."

Former President James Dennis called 2020 "a year unlike any other," and even President Dobbins acknowledged in his inauguration address that "none of us could have foreseen the disruption caused by COVID-19 this past year." Through it all, he held the University true to its mission, continuing to provide students a quality education through virtual and safely distanced in-person classes.

Founders Day gave President Dobbins the opportunity to give credit to the McKendree community and the ways he was inspired by their ability to thrive in the face of adversity. "I'm extremely proud of how our McKendree team rallied to execute our mission and provide a high-quality learning experience during this crisis," he said. "Our students were able to continue their goal of pursuing their college degrees.

Together, we made that possible with ingenuity, perseverance and flexibility. I witnessed the can-do spirit of our students, faculty, and staff. They demonstrated what we can accomplish when we all work hard together."

That spirit of unity behind one purpose is what President Dobbins believes enables us to achieve the impossible, and it is why he has declared "One McKendree" the theme of his presidency. "Our students, alumni, faculty and staff all have a unique McKendree experience," he said. "It was important to me to understand and embrace that fact while recognizing that we all share a singular mission and focus as One McKendree."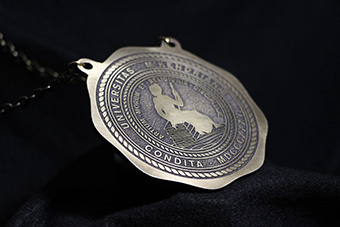 President Dobbins' own McKendree experience has spanned 40 years, during which time he has been a student, athlete, alumni volunteer, Alumni Board member and president, Board of Trustees member and chair, and now, president. "A native of the small farming community of Pittsfield, Ill., he transferred to McKendree during his junior year of college to study business administration and accounting and play basketball for Coach Harry Statham. He met his wife Michaelene "Mickey" Macaluso '81 when they were students on campus; they were married the same year they graduated. While Mickey took a job in McKendree's Office of Admission, President Dobbins became a Certified Public Accountant and earned his MBA from Southern Illinois University-Edwardsville before assuming leadership positions in various commercial industries. He has served as a controller, CFO, and president in manufacturing organizations ranging from air filtration, upholstered furniture, wire and cable harnesses, and industrial textiles.

As his business career grew and changed, however, President Dobbins' relationship with McKendree remained constant. He felt compelled to give back to the University that was so instrumental to the creation of his family and professional success. "My deep commitment to serving McKendree began not long after graduation," he said. "I committed early on to repay the scholarships the school provided me, so others could have the same opportunities I was afforded. In the beginning, that was more about giving time, versus talent and treasure."

Volunteering on the Alumni Board, he soon was elected to lead the group and by proxy, became a member of the Board of Trustees. He proudly served on this governing body for 32 years and chaired it from 2007 to 2015. Current Alumni Board President Ryan Furniss '00 put it best when he said, "Dan is proof that completing your degree is not the end of your relationship with McKendree, but the beginning of something new." Through the years, President Dobbins' love for McKendree grew into a commitment to serving the students, faculty, staff, and alumni who came to mean so much to him.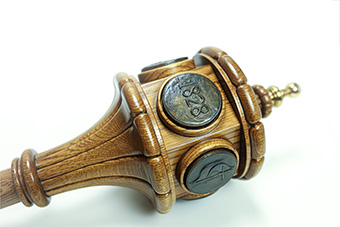 The foundation of servant leadership he cultivated through his volunteerism not only influenced his path in life, but also shaped him into the kind of leader McKendree would require. At the Founders Day Chapel Service, University Chaplain Rev. Tim Harrison described McKendree's long history of leaders and visionaries who modeled what it meant to serve others first and foremost. "Each day I walk in the Chapel hallway, I walk by a group of about 20 McKendree College stalwarts who were here from 1941-45," he said. "Without their labor of love and servant leadership, many believe McKendree would not be here today. Their commitment got McKendree through one of the hardest times of its history. They understood the bigger picture and mission of the institution because they had witnessed the impact it had in transforming students' lives, and they believed McKendree's mission wasn't complete."

He went on to list the ways President Dobbins has already demonstrated this servant leadership in the past year alone, from his invitation to town hall meetings and presidential leadership council meetings to his collaboration with student government, the Social Justice and Equity Committee, and efforts to listen to the community. President Dobbins' emphasis on including the voices of others in his mission to lead the campus proves that his calling to leadership is, as Rev. Harrison said, a humble one that is not personal, but rather communal.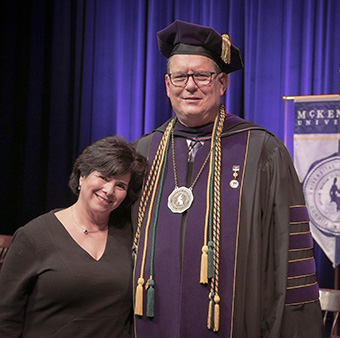 Both the Founders Day Presidential Installation Ceremony and the Chapel Service included symbols that reflect the McKendree values of servant leadership, tradition and a rich heritage. In addition to the presidential medallion and mace signifying the authority to lead the University, President Dobbins was presented with a bell, the McKendree Charter, an academic book, and a basin and towel. The bell symbolizes the importance of continuing McKendree traditions and reflects the constancy of Bothwell Chapel's bell, as well as the reverberating effect of McKendree alumni throughout the world. The University Charter serves as a reminder of the original vision and determination of the pioneers who founded McKendree.

Representing a focus on student learning, the academic book marks the overarching purpose of the institution to provide the best quality education for students. Finally, the basin and towel symbolize those servant qualities that the University values so highly in its leaders.

President Dobbins plans to lead the University with a strong foundation focused on serving all members of the McKendree family. During his inauguration speech, he addressed each group of University stakeholders individually, pledging to serve them in specific ways. From students, faculty, and staff to alumni, Board members, and friends of the University, his recognition of each group signified the importance we all play as part of the McKendree community and reiterated his One McKendree message. Moreover, President Dobbins has already begun challenging and inspiring others to contribute their own unique efforts to make McKendree the best it can be. For Student Government President Shelby Benn '21, that call to action happened early on. "During President Dobbins' first year, I had the privilege of working on many projects to help students love McKendree a little bit more," Shelby said. "In the first meeting I had with him, he challenged me to help make McKendree an even better place for all students. Not many people give you a challenge during the first meeting!"

"Mickey and I are not distant people, and, like most, we have not enjoyed being socially distanced from our McKendree family," he said. "We look forward to welcoming and connecting with all. I plan to be a visible and active leader." When asked how each of us can make a difference in serving one another and contributing to his vision of One McKendree, he says, "Come back to campus. Renew and relive your McKendree experience. After that, engage in and support our mission, vision, and dreams. We are all stewards of this great institution."

We wish you could have been there!

Out of necessity, President Dobbins gave his address to a lot of empty seats, but we made sure to keep the cameras rolling! Head over to our website, where you can find a collection of videos that capture the historical events of our 2021 Founders' Day celebration and Presidential Inauguration.