Commencement
This year, the Classes of 2020 and 2021 commencements were divided into six smaller, socially distanced ceremonies. On May 7, McKendree fulfilled its promise to the 2020 graduates, many of whom eagerly accepted the invitation to return for their traditional ceremony delayed by the coronavirus a year ago. The Class of 2021 graduates received their diplomas on May 8. Smiling behind face masks, with congratulatory fist bumps replacing handshakes and hugs, "One McKendree" united—and reunited—to celebrate its graduates' success.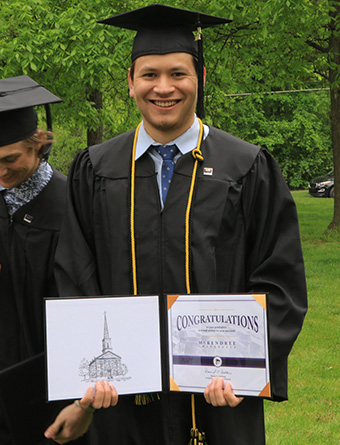 Degrees Conferred:
Associate's = 5
Bachelor's = 446
Master's = 181
Doctoral = 35

124 total Latin honors:
21 summa cum laude
55 magna cum laude
48 cum laude

Graduates represent:
16 countries
29 states
U.S. Armed Forces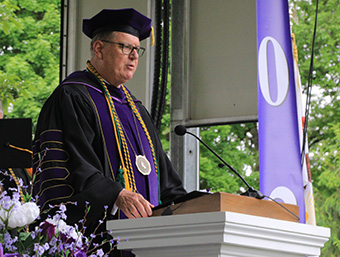 "You've earned the right and deserve the recognition. The Class of 2020 is one of the most resilient classes McKendree has ever served. You had to endure more than most and for that, we applaud you."
to the Class of 2020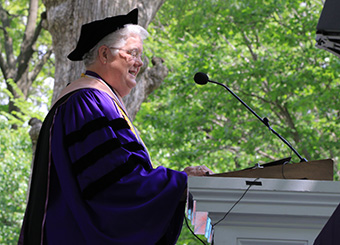 "I encourage you to share at a deeper level to another person who shares your passion and not be afraid to share your dream of what you want to accomplish."
to the Class of 2020 undergraduates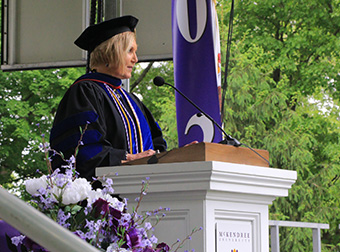 "As ethical leaders, remember your moral compass and carry it with you in your professional practice."
to the Class of 2020 and 2021 postgraduates
Technos Award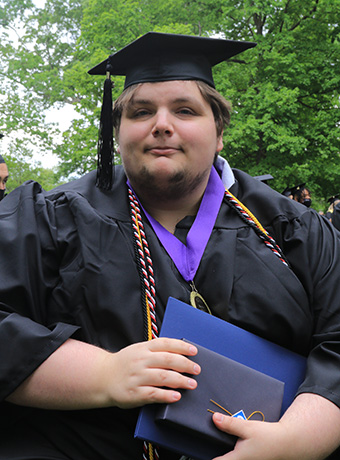 Mitch Deleel '21 finished his college career strong, graduating summa cum laude and adding the Technos Award to an impressive list of accomplishments, including a debate national championship in 2020 and a second place finish at nationals in 2021.
Read more at www.mckendree.edu/news/technos-prize-2021.php.

William Norman Grandy Faculty Award
In a year when politics, government and voting dominated the news, Dr. Ann Collins' passion for political science and her commitment to student democratic engagement earned her a second Grandy Faculty Award.
Read more at www.mckendree.edu/news/grandy-faculty-award-2021.php.
Graduation After Graduation
by Laurynn Davey '21

The coronavirus pandemic, officially referred to as COVID-19, has caused a lot of changes to be made and impacted students across the country. The Class of 2020 was sent home in the middle of the spring semester and could no longer walk in its commencement ceremony due to safety precautions. In response to this devastating news, McKendree University revealed its plan to invite the Class of 2020 graduates to walk a day before the up-and-coming 2021 graduates in May, adding three more ceremonies to the schedule. Families and students were all invited to attend.

Due to this change of plans and McKendree's 4+1 programs, some students walked in not one, but two ceremonies to receive both their bachelor's and their master's degrees. This has never happened in the history of McKendree, and these students made history as they walked across that stage.

Captain of the women's hockey team and campus ambassador Callie Hoadley '20, MBA '21 was one of many students who walked in both the 2020 and 2021 commencement ceremonies this spring. She graduated from McKendree's MBA 4+1 program, earning both a Bachelor of Business Administration degree and a Master of Business Administration degree. During her fall semester with the MBA graduate program, Callie continued her studies online in the comfort of her own home. "The 4+1 MBA program has allowed me to achieve my education goals at an accelerated pace," she said. "The professors are dedicated while also being flexible, encouraging students to relate concepts to their own experience in the workplace."

During the fall semester of her senior year, before the COVID-19 pandemic, Callie received the award for the 2020 outstanding School of Business: Top Business Administration Student. "The experiential learning has allowed me to have a better understanding of business concepts and apply them to my workplace," she continued. "I truly believe that the experience I have had with McKendree University's 4+1 MBA program and the professors will allow me to achieve greater heights."

Sydney Rey '20, MSAT '21, a member of the National Athletic Training Honor Society, Phi Kappa Phi, Phi Eta Sigma, and Sigma Alpha Pi Honor Societies and a former Bearcat swimmer, was one of the first to graduate with a master's degree in athletic training through McKendree's new 3+2 athletic training program. "I've learned a lot from the AT program here at McKendree," she said. "This program is very rewarding if it's the right fit for you, but it is very time consuming. I'm excited to see where it takes me.

Following her graduation, Sydney now plans on working with high contact sports such as hockey, football and rugby. Wherever she goes, Sydney strives for the opportunity to help others. "I've found something that I love just as much as my sport, which is a big deal," she explained. "Swimming was always the first thing on my mind until I started really immersing myself in the clinic and working with athletes. I know what it's like to have setbacks because of injuries and I take pride in doing everything I can to help them get back to doing what they love."Both Sydney and Callie have certainly made their marks at McKendree University, and we cannot wait to see their accomplishments moving forward.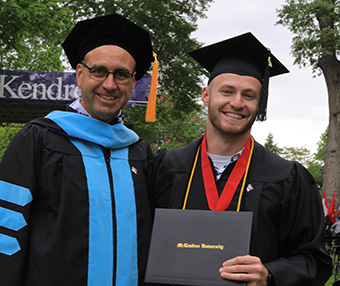 Like Father, Like Son
Dr. Reid Shipley, Ed.D. '20 and his son, Caleb Shipley '21, walked across the stage less than 24 hours apart. Following in his father (and mother's) footsteps, Caleb will use the knowledge earned with his B.S.Ed. in special and elementary education as a teacher in Centralia, Ill. Reid is the principal and Shannon is a family and consumer sciences teacher at Centralia High School.
Catch All That?
A lot can happen over the course of six commencement ceremonies. We have hundreds of photos from each of our ceremonies that took place May 7 & 8.

Want to see the ceremonies for yourself? Head to our YouTube Channel.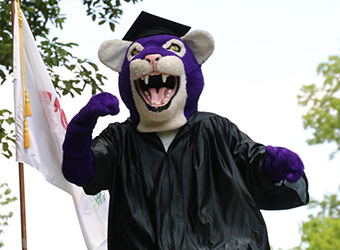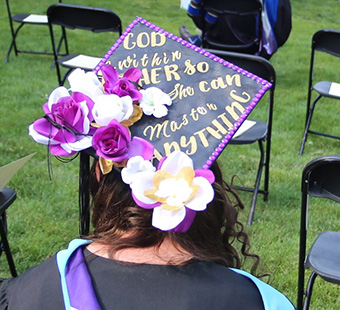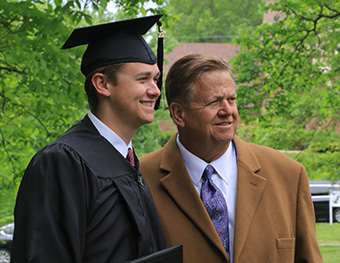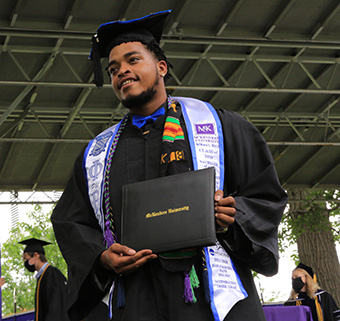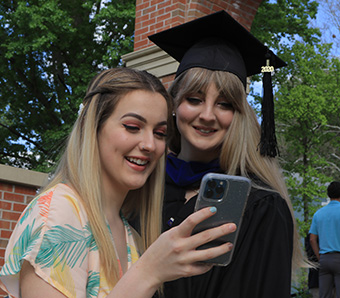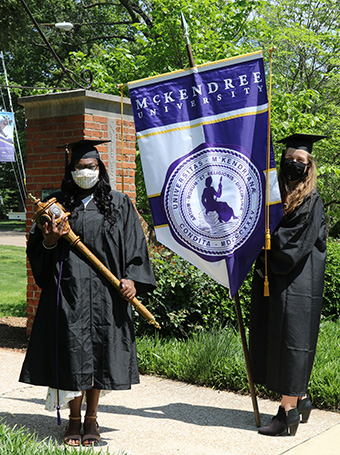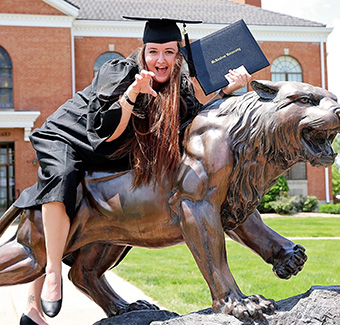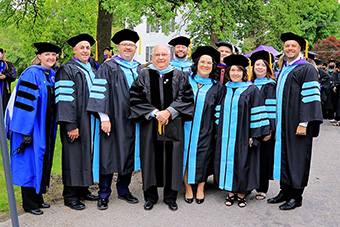 Graduating into Retirement
Dr. Darrel Hardt (center), assistant professor of education and director of the EdS/EdD programs, retired from McKendree in May 2021 after ten years of service to the University.