President's Biography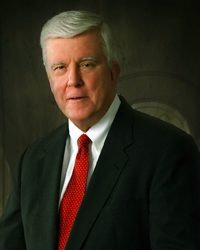 Nineteen years after Dr. James M. Dennis became the 32nd president of McKendree University, his efforts to dramatically improve the campus landscape and community continue to reap great dividends. Dr. Dennis has led McKendree to record growth in the academic strength of faculty and students, academic programs, enrollment, on-campus residence, fundraising, construction, athletics and co-curricular activities.

During Dr. Dennis's tenure, McKendree's growing reputation has garnered national attention. Prestigious publications and organizations, including U.S. News & World Report and America's 100 Best College Buys®, have recognized McKendree for delivering a high-quality undergraduate education. McKendree University also has been honored as one of the country's "Great Colleges to Work For" by the Chronicle of Higher Education for five straight years. Under Dr. Dennis's leadership, McKendree has expanded its academic course offerings to 44 undergraduate majors and graduate degree programs in education, business administration, human resource management, nursing and professional counseling. In 2011, McKendree began to offer a doctoral program in education in curriculum design and instruction.

Successful fundraising campaigns have enabled Dr. Dennis to dramatically enhance the McKendree landscape. His contributions include new construction of academic, fine arts, and athletic buildings, and the renovation of historic campus buildings, including Bothwell Chapel. In 2011, construction was completed on two new residence halls, and the campus dining hall was completely renovated.

Dr. Dennis is actively involved with numerous professional and civic organizations. He currently serves on the executive board of the Council of Independent Colleges, the Associated Colleges of Illinois, and the Federation of Independent Illinois Colleges and Universities. Dr. Dennis is a leader in promoting volunteer service opportunities for college students and is the past president of Illinois Campus Compact, an organization dedicated to volunteerism. Locally, he serves on the Leadership Council for Southwestern Illinois and is on the boards of the World Affairs Council and Memorial Hospital-East.

Dr. Dennis has lifelong ties to higher education. He grew up across the street from Occidental College in Los Angeles, Calif., where his father was a highly regarded member of the faculty. In 1966, Dr. Dennis received his Bachelor of Arts degree from Occidental. He went on to earn his Ph.D. at the University of Southern California. In addition, he attended the Claremont Graduate School Institute on Higher Education and Harvard Institute for New Presidents. In 1993, Dr. Dennis was awarded a J. William Fulbright Fellowship to study in Germany and examine the German system of higher education.

Dr. Dennis's commitment to youth and young adults is evident in his volunteer projects. He was a founder of the National Youth Program, which offers educational and sports opportunities to disadvantaged young people and he founded Educational Seminars, which provides learning opportunities for high school and college educators throughout the country. Dedicated in his efforts to build a diverse campus community, Dr. Dennis actively promotes initiatives that encourage greater understanding and sensitivity. He continues to be a champion of providing qualified students the opportunity for a high quality college education.