Athlete Spotlights

Athlete Spotlight: Cameron Guerin
by Mikayla Walton '21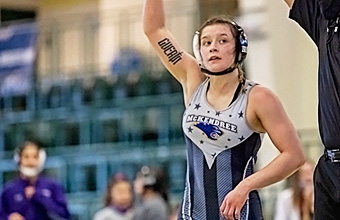 Cameron Guerin is a first-year biology major and wrestler on the Bearcats' squad. Although she hasn't been a Bearcat for long, her talent and determination have allowed her to accomplish so much already. The reigning National Collegiate Women's Wrestling Champion at 130 lbs., she also won the United World Wrestling Junior championship in November and qualified for the 2020 Olympic Trials in April, where she fell just short of making Team USA.

Before she arrived at McKendree, Cameron spent two years training in the Elite Accelerator Program at the Olympic Training Center in Colorado Springs, Colo., with the hope of representing the U.S. in the Olympics in 2020 or 2024.

She competed for Team USA in two Junior Worlds in 2017 and 2019 in Finland and Estonia, and won two Pan-American gold medals in 2017 and 2018 in Argentina and Brazil. A Yakima, Wash., native, she had an undefeated 126-0 high school career record and was a four-time, undefeated Washington state champion.


When she isn't wrestling, she can be found hitting the books. It is a top priority because she aspires to go into the medical field after graduation. "Balancing school and athletics is something that works out quite well for me," said Cameron. "If I am not wrestling, lifting or doing cardio, I am studying or doing homework. Managing my time has been key and has also made me keep myself accountable and stay on top of what I need to get done."

We are excited to see all her future accomplishments and will be cheering her on along the way.
Athlete Spotlight: Trevor McKinney '21
by Landon Charlebois '21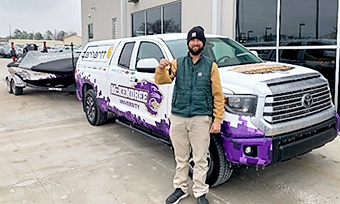 Trevor McKinney '21 is the number one college angler in the nation. He took home the title of Carhartt Bassmaster Classic College Bracket Champion on Nov. 19, 2020, by beating the other top seven anglers from all collegiate teams across the nation. Trevor's competition in the final round was his regular-season teammate Blake Jackson '21. The two Bearcats dominated the college bracket and Trevor edged out Blake with a whopping 11-lb., 11-oz. bag.

Trevor clinched a spot in the 2021 Academy Sports + Outdoors Bassmaster Classic presented by Huk Fishing on June 11-13 at Lake Ray Roberts in Fort Worth, Texas. He will also represent the College Series in every Basspro.com Bassmaster Open for the 2021 season. His prize package also includes a fully wrapped McKendree logo Toyota Tundra and Nitro Z20 to use for the year, boat accessories, entry fees paid and $7,500 from Carhartt for expenses.

Over the last decade, the popularity of college-level bass fishing has taken off across the nation, with McKendree's team reaching 30 members. The Bearcats are one of the best bass fishing teams in the U.S., winning the 2020 ACA School of the Year award, 2020 FLW Central Conference School of the Year award, and ranking No. 4 in the 2020 Tackle Warehouse School of the Year standings.

With the college bracket title in his pocket, the 22-year-old now looks forward to competing in the Bassmaster Classic and a shot at the world title. However, Trevor is humble about his accomplishments, and credits McKendree's bass fishing coach Jon Rinderer as the reason for his success, as well as the success of the team.

Jon and his wife Carla are dedicated to seeing the team succeed, and even cook for the team when they are competing on the road.

A native of Benton Ill., Trevor has been fishing since he was seven years old, and he competed at fishing tournaments with his father throughout high school. He also has a passion for education. When Coach Rinderer met Trevor at a fishing show, he was impressed and told him about McKendree University. When Trevor learned that McKendree not only boasts a top-notch bass fishing team, but also is known for its education program, he knew it was a perfect fit.

"Everything's worked out to God's plan," said Trevor, who graduated with a bachelor's degree in elementary and special education. During his senior year, he juggled schoolwork, athletics, and two semesters of student teaching, all while maintaining a high GPA.

Trevor looks forward to a promising career in education and is considering pursuing a master's degree in education administration.