Housing Options & Rates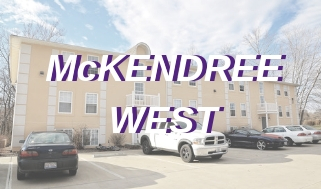 Housing Rates - Fall 2021 to Spring 2022
Traditional Halls - $2,735 per semester
Baker Hall

Barnett Hall

Walton Hall
The Suites - $2,735 per semester
Residence Hall East and West (Shared-Room Suite) - $3,590 per semester
Residence Hall East and West (Single-room Suite) - $3,735 per semester
Apartments - $3,865 per semester
Hunter Street Apartments

McKendree West Apartments
Requested Private Room Buy-out Policy
These assignments are permitted at the discretion of the University to students who request to buy-out the other half of their living space. Students may only buy-out one additional space in their assignment. The Buy-Out Single Occupancy fee is 50% of the original rate of the assignment.
The University reserves the right to deny or rescind any student a Private Room Buy-Out assignment based on housing availability or other factors. In these situations, the charges are pro-rated to reflect the amount of time the student had the private room buy-out.
Off-Campus Housing



McKendree University strongly believes in the value of the on-campus residential experience as an important educational component for student success. As such, it is the policy of the University to require all full-time, undergraduate student to reside in University housing. Studies have shown the following regarding students living on campus while attending college:


They earn better grades

They build stronger ties to the University

They build more meaningful relationships with peers

They are generally more satisfied with their college experience

They are more likely to graduate
Students wishing to live off campus must submit the Application to Waive the Residency Requirement for consideration by the Housing Waiver Committee. Waiver applications and all necessary supporting documents must be turned in to the Office of Residence Life on or before July 1 for exemption from housing for the fall semester, or on or before January 1 for exemption for housing for the spring semester.