Is it a bear? Is it a cat? No way! It's a Bearcat!
Feature by Tina (Napper) Tebbe '08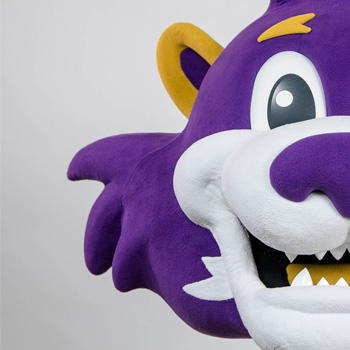 WAIT, A BEAR - ON CAMPUS?!

In the early days of McKendree's athletic teams, the mascot was actually and truly a bear. Long ago, a large cage sat about 20 feet to the northwest of Pearsons Hall, very close to where Voigt Hall is today. In that cage lived the real live mascot – a bear cub. Each year a student would be voted as the honorary "Keeper of the Bear," a duty held in high esteem. The mascot, "Susie," would often wander around campus with a long chain attached to her collar, pop in and out of classroom buildings, and even accompany Coach Glen Filley and the football, basketball and track teams on road trips. In fact, it was said that she often kept him warm on the ride home on cold nights in the period of Model T open-air transportation.

WHAT EVEN IS A BEARCAT, ANYWAY?

In the early 1910s and 1920s, the Model T was quite popular – and among the pinnacle of that popularity was the Stutz Bearcat, a snazzy status symbol for the wealthy of that time. "It's a bear" and "It's a cat" were common expressions at the time, and the students ran with it to help form a new mascot, one that would indicate a superior quality. Inquisitive students decided to consult the dictionary to see what a bearcat really was. According to Webster, it's technically a type of weasel, a cat-like creature with a small bear-like body, with "gleaming eyes and snarling countenance." What better mascot to intimidate the competition while reinforcing a prestigious nature than one such as this?

A FAMILIAR FACE

The latest Bogey took the spotlight in 2021. With large eyes, golden ears and a joyful smile full of beautiful pearly whites, this fit Bogey now sports McKendree garb just like the University's fans.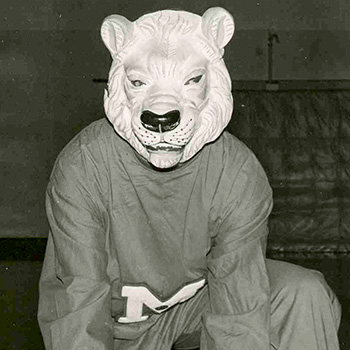 ENTER BOGEY OUR PURPLE PROTAGONIST

With the absence of a live mascot, McKendree was in need of something every Bearcat could get behind. The first appearance of Bogey came in the 1960s in the form of a simple bear mask, which was worn with a McKendree M Club Sweater. In the early 1980s, a full-bodied mascot emerged, a brown suit with blazing green eyes and the name "BOGIE" stitched across its middle.

Later in the 1990s, Bogey got a slight name change and took on the royal hue of purple that we know and love today.

With friendly eyes, a happy smile and a shaggy scruff, this Bogey became even more well-known throughout campus until the mid-2000s, when another iteration of Bogey was born.

Fierce with golden eyes, this streamlined Bearcat embodied the passion and tenacity that dozens of McKendree athletic teams possessed.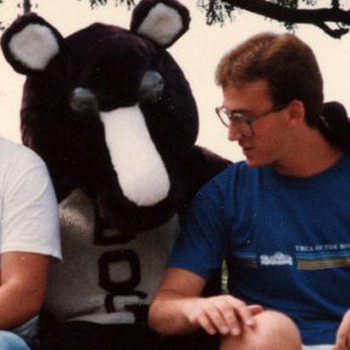 TALES FROM THE MASK

We always take Bogey at face value, but do we ever take the time to look beyond the mask and consider the person within? The lucky students who donned the suit have their own experiences as our favorite Bearcat and, while each viewpoint is unique, they often share similarities. For one, the costume itself is heavy, often hard to see out of and, undoubtedly, hot, even with the addition of ice packs. But whether these students have been our mascot during Homecoming, at McKendree sporting events, or national events, one thing's for sure – wearing the suit is fun and always worth it when it comes to seeing everyone's unbridled joy. Here are a few short excerpts from a couple of former Bogeys: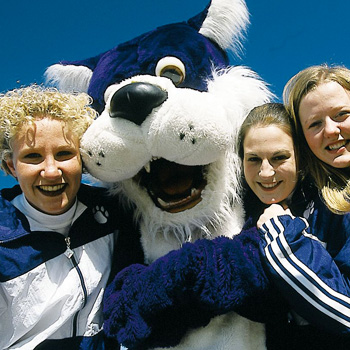 DISCOVERING A NEW WAY TO SHOW SCHOOL SPIRIT

When psychology major Paul Wesselman '89 was a resident advisor at McKendree, he didn't normally attend sporting events. When another RA asked Paul to fill in for her as "Bogie," he reluctantly agreed. Then, he discovered that performing as Bogie was a really fun way for him to not only enjoy the game but also show his school spirit.

A self-described "super extrovert," Paul found it very hard to not talk behind the mask. "Learning how to communicate enthusiasm and other emotions without using words or sounds was a fascinating challenge," he said. "Using big hand gestures and exaggerated head and body movements became almost second nature to me, and continues to this day, helping me in my work as a keynote speaker and workshop facilitator."

Although he had the pleasure of being Bogey for local basketball games and also traveling with the team and cheerleaders to Kansas City for national playoffs one year, Paul enjoyed interacting with fans young and old. "Engaging with adults was often quite a hoot," he said. "I was initially surprised at how many people experienced a sort of 'awe' when interacting with Bogie – like they were meeting a celebrity. Many adults would get downright giddy! Selfies weren't yet a thing back then, but plenty of people wanted to pose with Bogie while someone else snapped a photo."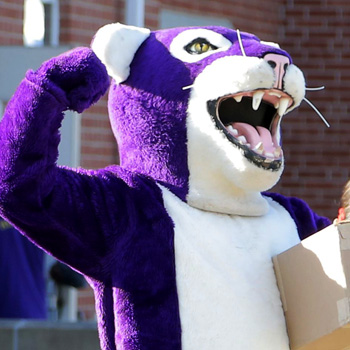 WALKING A MILE IN BOGEY'S SHOES

Everyone knows how hot and arduous walking in a midsummer parade can be, but imagine doing so in a big purple Bearcat costume – and without shoes. Organizational communication major Natalie (Davis) Jablonski '99 donned the suit for Lebanon's homecoming parade in the heat of July and had an unforgettable experience.

"My shoes wouldn't fit inside Bogey's feet, so I had to walk with only my socks inside the costume. With little padding on the costume, I remember my feet being so hot from walking on the blacktop streets!" she said.



"Seeing people's faces light up when I walked up to them made it all worth it, though. Everyone would always smile and offer me high-fives and hugs, and that always made me smile, no matter how hot I was in the costume."

As a communication major, Natalie held an edge playing our favorite Bearcat. "Without being able to talk, you had to express Bogey's reactions and interactions nonverbally. I would ask myself, 'How would Dr. Betsy Gordon react to this situation using only nonverbal cues?' Being a mascot also meant operating with limited airflow, limited vision, limited mobility – and forgetting all of that to make someone smile."

Little did Natalie know that being Bogey would lead to a lifetime of mascot requests. "Since graduation, I have served as several mascots, including the Easter Bunny, Mrs. Clause and, most recently, the Schnucks Soldier," she said. "Bogey's more than a mascot. He inspires our students to be courageous, strong, and tenacious both in school and in life."

BECOMING A PART OF SOMETHING BIGGER

Elementary education major Allison (Hunter) Downing '00 wore the friendly purple Bearcat costume consistently through 1998 to 2000 and wound up impacting her family and friends behind the mask so much that she actually earned the nickname Bogey.

"I loved being funny for the kids as Bogey, especially for my little cousins and some kids I would be a nanny for in town," she said. "I really loved getting pictures with them as Bogey. Being Bogey helped me get to know more people!"

In spite of the challenges that wearing the costume brought, Allison recalls how rewarding it was. "You could see how happy Bogey made people and picked up their spirits," she said. "It made me feel special, like I was a part of the team and something that was valued and important. When you're Bogey, you're kind of on everyone's team."

BASKING IN AN EXHILARATING JOY

Perhaps the freshest Bogey in most of our minds is the fierce Bogey that dominated the 2010s. Secondary education major Mason Kuper '19 remembers representing McKendree through the mask from 2017 to 2018 in several events, especially during Nationals in which he competed in a mascot competition.

"Attending Nationals as Bogey was definitely an amazing experience," he said. "It was really incredible to be a part of something so exciting!"

Mason also helped keep Bearcat fans on their feet with the help of the cheerleaders. One of his favorite memories is participating in the "Bogey Basket," in which a group of cheerleaders tossed him up into the air as Bogey to get the crowd pumped up. "That experience was pretty exhilarating and funny!" he remarked.

And of course, Mason remembers interacting with the young Bearcat fans as Bogey. "It was neat to be behind the mask and see the joy and excitement when kids got to meet Bogey," he said. "I wasn't sure what to expect at first when I was asked to be Bogey, but for me personally, it was a privilege to feel like part of the team and represent McKendree."

WHAT'S BOGEY UP TO NOW?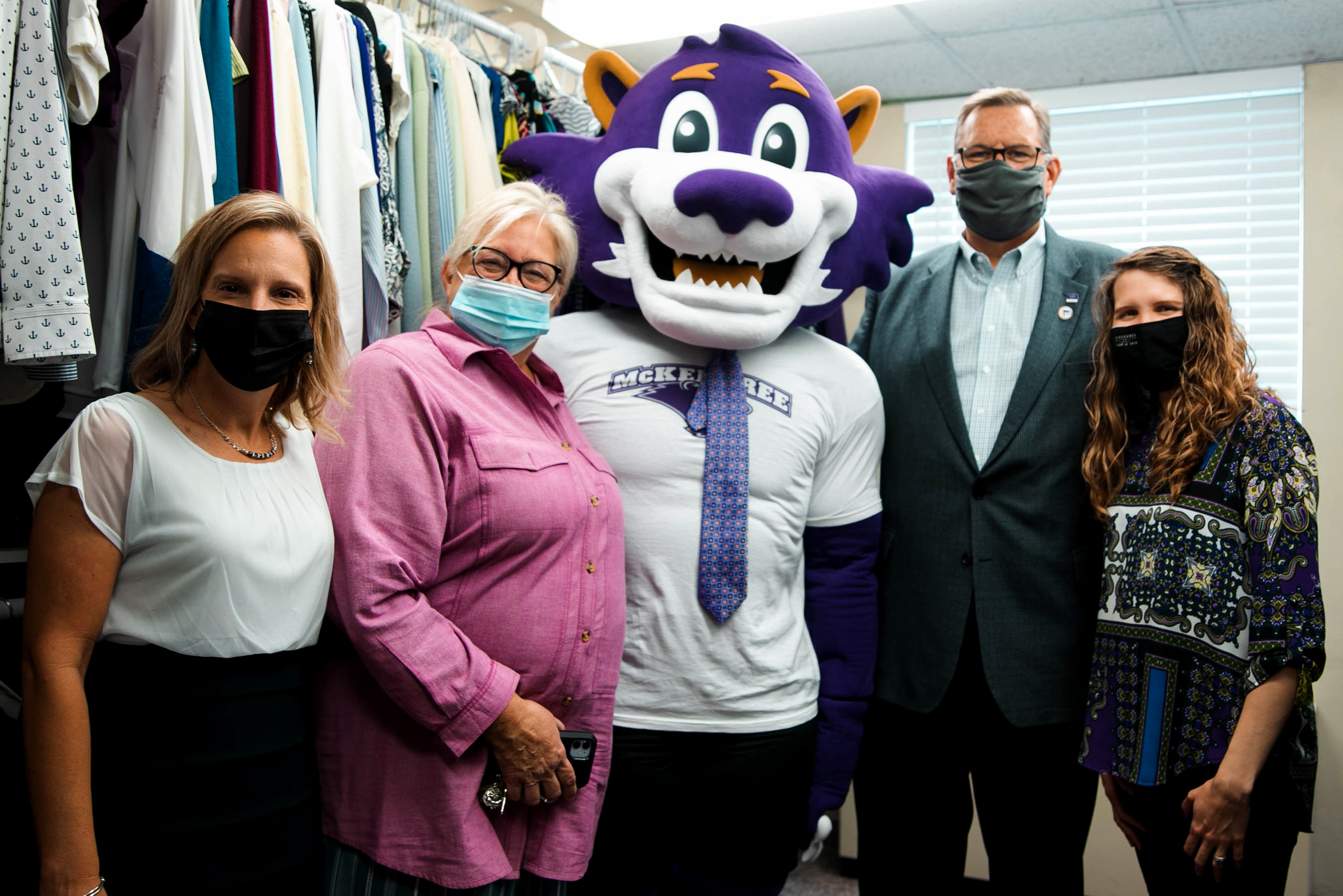 Bogey dressed up and helped the School of Business in cutting the purple ribbon at Bogey's Career Closet's grand opening on Friday, Oct. 1. Established by Career Services and the School of Business, Bogey's Career Closet allows currently enrolled McKendree students to select new or gently-used business attire donated by faculty, staff, students, alumni and community residents.

The goal of Bogey's Career Closet is to help students prepare for success by providing them with business attire to use for networking events, career fairs, interviews and other professional events.

"Research shows that it only takes a few seconds for someone to form an impression of an individual and decide if they could be a good fit for their organization, even before they have the opportunity to speak," said Jennifer (Harris) Pickerell '99, director of Career Services. "It is for this reason that we opened Bogey's Career Closet – to provide students with the attire that they need to help them look and feel their best as they enter the next stage in their lives."

Located in Clark Hall, Bogey's Career Closet is open by appointment only from 8 a.m. to 5 p.m., Mondays through Thursdays. Members of the University or the community can also bring their gently-used, up-to-date, and laundered donations for students to use. Items including suits for men and women, dress shirts and blouses, dress pants, contemporary suit jackets or blazers, skirts, closed-toed dress shoes, ties, belts, portfolios and other accessories will be accepted Mondays through Fridays from 8 a.m. to 5 p.m.