Bearcats UNLEASHED

Bass Fishing

The bass fishing team placed five boats in the Top 12 at the Major League Fishing (MLF) Central Conference Qualifier on the Lake of the Ozarks in October, earning berths into the MLF National Championship to be held at Fort Gibson, Okla., in March. Senior Bailey Bleser and graduate student Nate Doty caught five bass weighing in at 14 pounds 4 ounces to take first place. Junior Nick Holtgrave and first-year Jaxson Freeman finished in fourth place; seniors Tyler Christy and Trey Schroeder finished in fifth place; sophomore Colton Head and junior Trey Budach finished in eighth place; and first-years Lane Stephens and Kyle Hopping finished in 12th place.


Football

Three Bearcats earned All-Great Lake Valley Conference (GLVC) first-team accolades this season, including redshirt sophomore receiver Jacob Bachman, senior center Jake Stevenson and sophomore defensive lineman Sidney Houston. The Bearcats' lone second-team All-GLVC selection was redshirt junior receiver Steven Towns, Jr. Twelve players earned honorable mentions All-GLVC accolades.


Golf

First-year women's golfer Imogen Rafferty won three tournaments this fall, including the USI Screaming Eagles Invitational at Cambridge Golf Course on Sept. 13, Lady Panther Fall Invitational at Silo Ridge Golf Club on Sept. 21 and Flyer Intercollegiate at Cog Hill Golf Club on Oct. 5.

The men's golf team closed out the fall season with three straight tournament titles. First-year Fabian Wennerlof led the field at the Bearcat Dual Gender Tournament at Far Oaks Golf Club on Oct. 19 and the Kentucky Wesleyan Fall Invitational at The Pearl Club on Oct. 31. Junior Phasin Vichitcharoenpaisarn won medalist honors at both the Flyer Intercollegiate at Cog Hill Golf and Country Club on Oct. 5 and the Midwest Regional at Fox Run Golf Club on Oct. 12.


Tennis

The men's tennis team finished out the fall season with two individual titles. In September, graduate student Boriss Kamdem won the men's singles title at the ITA Fall Circuit at Dwight Davis Tennis Center and junior Ryan Fung captured the men's "C" draw singles title at the ITA Midwest Regional Championships at Grand Valley State University.


Soccer

The men's soccer team reached the quarterfinals in the GLVC Championship Tournament. Senior forward James Stone and senior midfielder Eddie Davis were named to the All-GLVC first team and junior defender Cole Gerstenberger was named to the All-GLVC third team. James was also named to the United Soccer Coaches Midwest Region second team.


Water Polo

The men's varsity water polo team finished second at the 2021 Mid-Atlantic Water Polo Conference-West (MAWPC) Regional Championships and third at the 2021 Collegiate Water Polo Association Division I Championships. Five Bearcats were selected to the MAWPC-West Region All-Conference Team. Graduate student utility player Michael Rojas was named to the first team, while fifth-year senior goalie Ori Scanlon, senior utility player Matthew Haygood, graduate student Uros Pelemis and senior attacker Nico Rodriguez received second team nods.

The men's club team recorded a program-best sixth place finish at the 2021 Men's National Collegiate Club Water Polo Championships.


Staff/Coach News

Longtime collegiate women's basketball coach Paula Buscher was named as the school's interim assistant athletic director and senior woman administrator. Paula comes to McKendree after spending the past 35 years coaching women's basketball at both the NCAA Division I and II levels and most recently spent nine years as the head women's basketball coach at SIUE. Other new athletic hires include Ben Greenberg, sports information director; Patrick Knapinski, assistant sports information director; Brad Bechel, head powerlifting coach; Barry Ford, head men's and women's track and field coach; Alec Nichols '00, Division II head men's hockey coach; Heather Tarter, head softball coach; and Cameron Wyper, head men's and women's rugby coach.


Women's Soccer Spotlight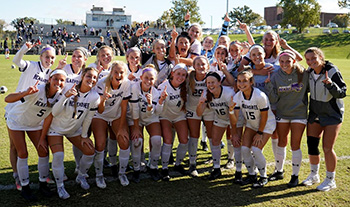 With a 12-2-2 regular season record, the women's soccer team earned a fourth-straight GLVC regular season title. The No. 4 seeded Bearcats got an at-large bid to their fifth-straight NCAA Midwest Regional Tournament, before losing in the opening round to conference foe University of Indianapolis.

As a team this season, the Bearcats had 1.72 goals per match and outscored their opponents 31-15. The defense only allowed 7.3 shots per game and less than 50 percent of opposing shots to be on-goal.

Three Bearcats earned All-GLVC First Team honors, including senior midfielder Emma Knoebel of Maryville, Ill., junior defender Morgan Bova of Troy, Mo. and sophomore forward/midfielder Anna Stiffler of O'Fallon, Mo. Coming off a standout season in the spring, where she garnered GLVC Co-Freshman of the Year honors, Anna earned GLVC Player of the Week nods twice this  fall. Anna and Emma also earned United Soccer Coaches Midwest Region second team honors.

After playing two seasons in the same calendar year (the 2020 season was played from February 2021 through April 2021, after being rescheduled due to COVID), 24 players returned for the fall season. "This year has been unbelievable, just great for this program," said 2020-21 GLVC Coach of the year and Head Coach Tim Strange. "These players deserve a ton of credit playing through the spring and turning around to do it right away again this fall. They achieved so much on top of just playing the games."


Women's Hockey Team Partners with Team IMPACT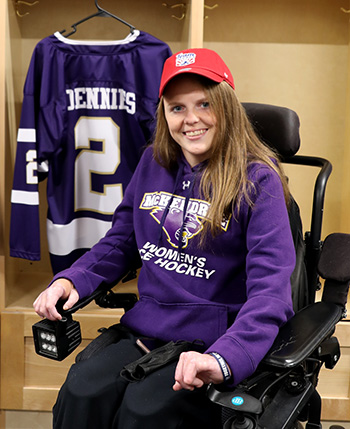 The women's hockey team held a special signing ceremony for Raeanne Toennies, who is disabled and in a wheelchair. She has been a part of the Bearcat women's hockey program the past three years through a program called Team IMPACT. At the signing ceremony, Raeanne and her mother signed her letter of intent to compete in hockey for McKendree. She received an official team jersey and was presented with her own locker in the locker room. Raeanne participates in weekly Zoom calls with the team and attends games and practices when she can and offers support to our players and coaches.

Team IMPACT has a mission to improve the quality of life for children facing serious and chronic illnesses through the power of teams, forming life-long bonds and life-changing outcomes. Throughout this journey, the child gains strength, camaraderie, and support while the student athletes experience lessons of courage, resiliency and perspective they can't learn in a classroom.


Beach Volleyball Coming to McKendree

One of the fastest-growing NCAA sports - women's beach volleyball - will be the newest intercollegiate sport at McKendree beginning in the 2022-23 academic year.

"This is an exciting time for McKendree Athletics as the emergence of beach volleyball at the collegiate level continues to grow at a rapid rate and we're excited to be able to add the sport to our intercollegiate athletics program here at McKendree and also to the metro east area," said Director of Athletics Anthony Francis. "I'm very confident that our new beach volleyball program will be a fit here at McKendree and will be able to succeed in conjunction with our current women's indoor volleyball program."

With the addition of beach volleyball, McKendree will now sponsor a total of 25 NCAA athletic programs, including 13 NCAA women's sports and 37 intercollegiate athletic teams overall.
ICYMI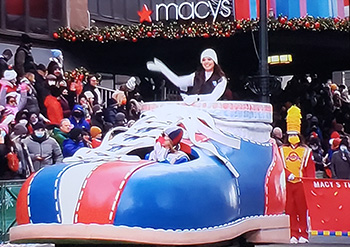 Head women's bowling coach and eight-time World Champion Shannon O'Keefe rode in the Go Bowling float in the Macy's Thanksgiving Day Parade.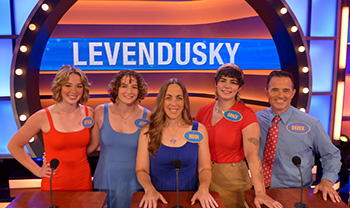 Two members of the Bearcat women's wrestling team were recently featured on the Family Feud. Senior Joye Levendusky and her sister, first-year Esther, competed in two episodes of the show in May, along with their sister Grace, father Derek and mother Heidi.


FAN // ZONE

Tune in to listen to live audio play-by-play on the GLVC Sports network at www.glvcsn.com/mckendree/. Follow us on Twitter and Facebook.

Check out www.McKBearcats.com for upcoming schedules, team news, and to purchase tickets.