Meet the 2014 Rising Stars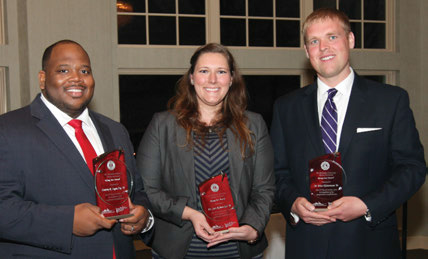 Two physicians and an attorney are our latest Rising Stars - graduates of the past decade recognized for professional achievement and involvement in the University and their communities.

Courtney Logan '08, of East St. Louis, Ill., is an attorney, author and former McKendree debater.

Dr. Sara Rubenacker '06, of Springfield, Ill., earned a biology degree from McKendree and a medical degree in obstetrics and gynecology from Southern Illinois University School of Medicine in Carbondale, Ill., where she was class chair. After completion of her residency in obstetrics and gynecology at Springfield Memorial Hospital, she will join Heartland Women's Healthcare in June.

As a McKendrean, Sara was Student Government Association president and involved with the Honors Program, New Student Orientation, Campus Activities Board, Phi Kappa Phi and the Biology Honor Society. She returns to campus often for William McKendree Society donor events, Founders' Day, Scholarship Weekend, and performances at the Hett.

Dr. Brian Klostermann '04, of Breese, Ill., is a family and sports medicine physician with the HSHS Medical Group and chairman of the Clinton County Medical Health Board. He received a degree in athletic training and went on to earn a medical degree at Southern Illinois University School of Medicine in Carbondale, Ill.

As a Bearcat, Brian was named a NAIA Academic All-American baseball player and worked with the athletic training program and game day event staff. He remains involved as a volunteer sports medicine physician for the university and a member of the Bearcat Booster Club.