Conference Honors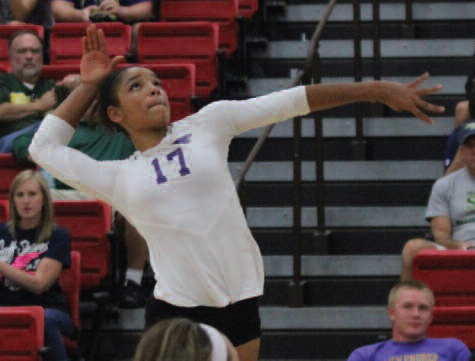 Freshman outside hitter Arela Williams '18 was named the 2014 American Volleyball Coaches Association NCAA Division II Midwest Region Freshman of the Year and Great Lakes Valley Conference (GLVC) Volleyball Freshman of the Year. The only player to start all 34 matches and play in each of the team's 126 sets this year, Arela led the team with 37 aces and 417 kills, averaging 3.31 per set. Along with sophomore outside hitter Sophie Fairman '17, she was named to the league's second-team All-Conference squad. Sophie was second on the team in kills with 348 and led the squad with 128 blocks this season.

The women's volleyball team earned its first-ever bid to the NCAA Division II Championships. The Bearcats received the eighth seed in the Midwest Region and took on top-seeded Truman State University in the regional quarterfinal game. A rematch of the GLVC Tournament Championship game, the Bearcats lost in three matches to finish their season with a 20-14 record.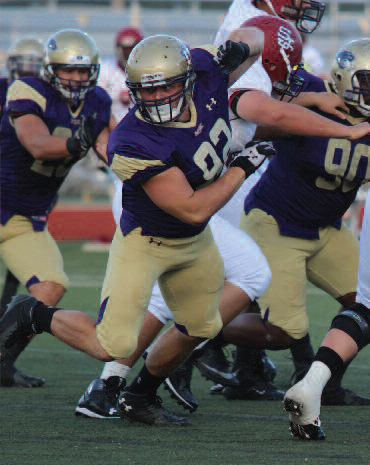 Sophomore defensive lineman Lucky Baar '17 was named to the Associated Press Little All-America First-Team. The 2014 GLVC Football Defensive Player of the Year, Lucky was a starter at left defensive end for all 11 games this season and set new team and league standards with 26½ tackles for loss and 18 quarterback sacks.

Three times in 2014, he was named as the GLVC Defensive Player of the Week. He was also named to the Beyond Sports Network Division II All-America First-Team and Don Hansen's Football Gazette All-Super Region Four Third-Team.

Lucky was joined by sophomore linebacker A. J. Wentland '17 and junior offensive lineman Derrick Starrett '16 as first-team All-GLVC selections. Senior defensive lineman Cameron Ford '15, junior defensive lineman Brett Pearman '16, junior offensive lineman Ben Harrington '16, junior wide receiver/return specialist Cameron James '16 and sophomore kicker Steven O'Block '17 picked up second-team All-Conference awards from the GLVC. Junior quarterback Isaac Fisher '16 and sophomore offensive lineman Casey Krohne '17 rounded out the list for McKendree as they received honorable mention All-GLVC honors. Wentland also received Don Hansen's Football Gazette All-Super Region Four third-team honors, as well as College Football USA Division II Third-Team All-America honors. The team closed the 2014 season with a five-game win streak. The Bearcats went 5-6 overall and finished in a fourway tie for second place in the final GLVC standings at 5-3.