Sports Hall of Fame Inductees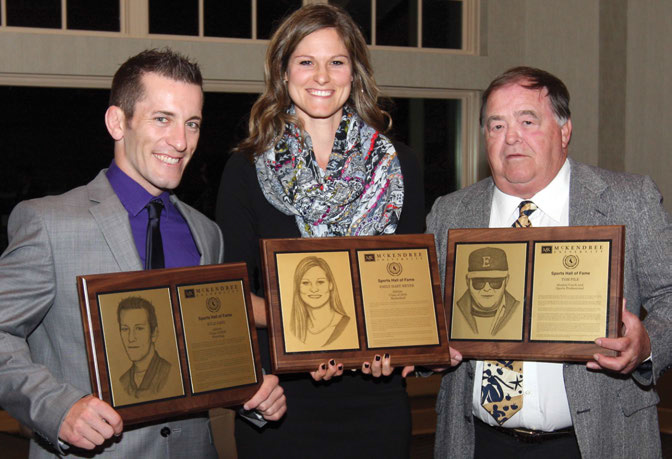 Kyle Jahn '09 posted a wrestling career record of 102-21 at McKendree, a winning percentage of over 82 percent. He was the first Bearcat wrestler to record 100 career victories and had a career-high 30 wins as a senior in 2007-08. Kyle was McKendree's first four-time NAIA All-American and represented McKendree at four consecutive NAIA National Championships. As a senior, he produced one of the most memorable seasons in McKendree wrestling history, surpassing the 100-win mark for his career and winning the national title at 141 pounds.

After his wrestling career was complete, Kyle served as a student assistant coach, then assistant coach with the Bearcats after he graduated.

Emily (Hart) Meyer '08 was one of the most dominant scorers and rebounders in McKendree women's basketball history, leading the Bearcats to four consecutive trips to the NAIA Division I Women's National Championships from 2004-2007. A three-time All-Conference player, Emily compiled 1,981 points and 942 rebounds. She showed great consistency in her junior and senior years, averaging at least 17 points and 6.9 rebounds per game and leading her team in scoring and rebounds. A great shooting touch enabled Emily to connect on 53.4 percent of her field goal attempts and 71.8 percent of her free throws. As a senior she made 188 free throws, the most by any McKendree women's player in a single season.

At the time of her Hall of Fame induction, Emily ranked second on the Bearcats' career scoring list, third all-time in rebounds, and third in field goals.

Tom Pile '65 attended McKendree from 1963-1965 before serving with the Army. Returning as a decorated Vietnam War veteran, he embarked on a 31-year teaching and coaching career and developed one of Illinois' most successful baseball programs.

In football, Tom helped coach the Edwardsville High School Tigers to six consecutive winning seasons for the first time in school history. On the basketball court, he collected more than 500 wins. He made his biggest impression on the baseball field, compiling a 508-147 record as head coach from 1981-1998, when the Tigers made five state tournament appearances and won two Illinois championships. Tom led Edwardsville to the 1990 state title by guiding the program to a 32-3 record and a No. 7 national ranking. The 1998 championship Tigers (40-0) ended the year as the nation's top-ranked team.

Tom received nearly 70 coaching honors for his baseball accomplishments, including National Coach of the Year accolades from several organizations and three-time Coach of the Year honors by the Illinois High School Baseball Coaches Association and the American Baseball Coaches Association. Ten of his players played professional baseball.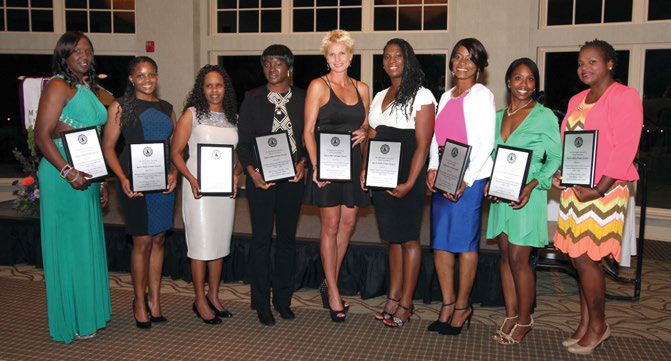 The 1999-2002 Women's Indoor Track & Field Team also entered the Sports Hall of Fame. Team members who attended the award ceremony included: Shernett Davis '03, Khalilah Doss '03, Agné (Visockaité) Eggerth '02, LaToya Hudson-Spells '00, Keisha (Harvey) Johnson, Althea Johnson, Sarah (Korir) Keny '01, Josephine Suge, and Tiffany Taylor-Pipes '99.

When the women's team traveled for the 1999 NAIA Indoor Track and Field National Championships, McKendree had yet to win a national title in any sport. Four years later, former Coach Gary White's program had become an indoor track and field dynasty. From 1999-2002, McKendree won an unprecedented four consecutive NAIA national titles. The team claimed its first crown by scoring 96 points at the 1999 meet to win the event by 32 points. The Bearcats defended their title in 2000, scoring 125 points, which at the time of induction remains the third-highest scoring total in NAIA Women's Indoor Track and Field Championship history.

McKendree kept its streak alive in dramatic fashion at the 2001 national meet. Competing with just five team members, the Bearcats trailed entering the final event, the 4 x 400-meter relay.

They needed to secure a third-place finish in the race to collect their third consecutive title and they did just that, taking third place by .09 seconds. In 2002, McKendree's bid for a fourth national championship once again came down to the 4 x 400 relay. This time the Bearcats needed to win this final race of the day - and they did, by nearly five seconds.

During its four-year run, McKendree won a total of 16 individual NAIA national championships at the women's indoor nationals, along with three relay events. Two Bearcats won three consecutive individual national championships during that span: Agné Visockaité in the 200-meter dash and Sarah Korir in the 5,000-meter run.