A New Bearcat is Unleashed!
New Bronze Bearcat Symbolizes Spirit and Pride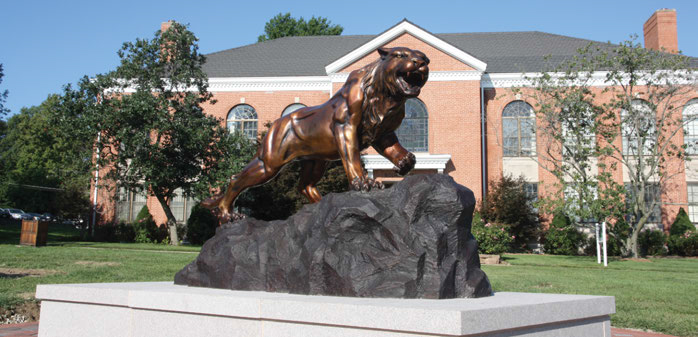 A new bronze Bearcat now stands guard at the center of the quad. The statue was installed on Sept. 2, 2014 and dedicated during Fall Family Weekend on Sept. 27, 2014. With its claws and bared teeth, this more closely resembles the athletic program's symbol than Bogey the purple mascot.

Weighing 2,500 pounds and measuring five-by-nine feet, it was designed by Hanlon Sculpture Studio in Toms River, N.J., the official sculptor for the Naismith Memorial Basketball Hall of Fame and creator of other college mascots and sports figures. The statue was privately funded with support from the student body, Board of Trustees, Alumni Board and senior administration.

The University wanted a Bearcat statue to symbolize school spirit and add to the sense of tradition on campus, said President James Dennis. That happened quickly, as each week a symbol of the opposing football team appeared in the big cat's jaws.