Five Minutes with Jill M. Weil, Assistant Director of Information Technology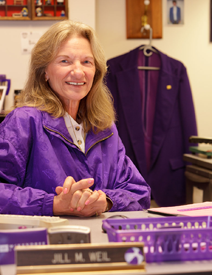 Jill M. Weil is McKendree's institutional memory, an increasingly rare kind of employee who remains at one workplace for an entire career. Amid the cubicles, servers and hardware of information technology, this self-described "basement dweller's" colorful office displays her purple pride.

How long have you been a McKendree staff member?
Since August 1972, 40 years. Coach Statham (men's basketball coach) and Myron Reese (chemistry professor) have been here longer, since 1966 and 1968. They're the only two left on my "hit list." I've had a "hit list" in my office for a long time. It's pretty faded. There were 10 or 12 people on it. As they would leave, I would highlight them off. I tell people, "I came to work at McKendree and forgot to leave."
I graduated (from Lebanon High School) in 1972. My mother told me I could have the summer off but then I had to get a job. I walked to work. I remember hitting 10 years so I could get four weeks of vacation. That was the goal. It's actually kind of scary because the years are going by quicker now than they did before.

In how many campus buildings have you worked?
The first was Carnegie, the old boys' dorm. There were actually students living up on the third floor, a married couple. From there I went to the lobby of Clark Hall for three months. Then the computer system arrived on campus and I went to the basement of Pearsons. From there I went to the basement of Clark; that was my favorite place. Now I'm in the basement of Piper Academic Center. I said they couldn't find anyplace lower for me to go, but they continue to find a lower spot.

How your McKendree career begin?
There were no computers when I started. I was the secretary to the director of institutional research, a position funded under a grant. My boss became the vice president for finance and planning. Then we got computers and the programmers arrived in November of '77. Shortly thereafter I moved down there. Training was hands-on. The disk plates were huge.
I do IPEDS (Integrated Postsecondary Education Data System) state and federal reporting of enrollment statistics, which are mandatory for the Department of Education. Since I started, it has stayed with me. The paper files in my office go back to 1972. We kept track of student data on 5 x 8 blue index cards.

What has been the most dramatic change?
You mean what broke my heart? When they tore down Bearcat Gym. I spent a lot of time in there. It had atmosphere. I worked the door for men's basketball and women's basketball, some wrestling matches, volleyball. Men's basketball was there when they made their first trip to nationals. When tore they it down, Coach Statham and I stood out there and watched it and cried.
The place has changed a lot since I was a kid. There used to be a street that ran through campus. I grew up on Merrill Street. My dad built houses, so I was all over Lebanon.

Why the fondness for purple? Even your stapler is purple.
Lebanon is purple. I was a purple Eagle, a purple Greyhound, then purple McKendree. I just like the color. I'd spray my hair purple for football games. It's very sticky.

And the purple blazer that hangs in your office?
It was my father's. Years ago he'd take school athletic teams to events. He'd drive the school buses once in a while and he had this purple blazer. He'd wear it to a couple basketball games in Bearcat Gym. The last time I remember him wearing it was the year the basketball team went to nationals. I took it. It didn't fit him anymore. I used to wear it on Fridays. If I get cold, I wear it.

You drive an antique tractor in local parades. Do you live on a farm?
No, I live on an acre north of Trenton with my animals—goats, chickens, a duck, cats and dogs. I've been driving antique tractors in parades since the late '70s. A friend of mine thought it would be a good thing if I learned how to drive a tractor. I drive a 1930 Wallace. It's fun.

What does the "M" stand for?
I'm very funny about that middle initial, I always use that. It stands for Marie.