Top Five Things Every Bearcat Tailgater Needs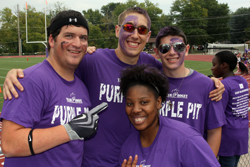 Here is a list of must haves which are guaranteed to make your tailgate spectacular.

1. Chair & Table. The folding chair, preferably one emblazoned with the McK logo, is a bare minimum for the tailgater. Every tailgater needs a comfy place to sit down behind his or her vehicle in order to participate in the festivities. Another item that lays the foundation of a good tailgate is at least one high quality folding table to hold all the pre-game food.

2. Pop-up Tent. Not every tailgater has one of these, but everyone should. A portable, pop-up tent or canopy can provide shade and protection in all types of weather.

3. Cooking Equipment. Few prepare food ahead of time. Instead, the majority grill, smoke, or fry foods on site. A tailgate would not be complete without hamburgers and hot dogs straight off the grill or French fries from the deep fryer.

4. Cooler. When you have drinks before the big game they should be cold. It only makes sense that the bigger the cooler, the better.

5. Fan Gear. It is important to consider "what to wear." As a true Bearcat fan, you need to be completely clad in purple and white. Beads, jerseys, foam fingers, hats, face paint... whatever it takes.