McKendree Bearcat Makes Team USA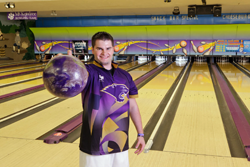 Adam "A.J." Johnson '15 earned a spot on Team USA, thanks to a third-place finish at the United States Bowling Congress (USBC) Team USA Trials back in January.

In addition to making the Team USA roster, A.J. also qualified to be a member of the Junior Team USA. The Junior squad is open to individuals 20 or younger. A.J. is one of 20 members on both Team USA and Junior Team USA.

He joined several notables on Team USA who have made their mark in the professional ranks, including reigning United States Bowling Congress Queens champion Diandra Asbaty, reigning Professional Bowlers Association Player of the Year Sean Rash, and PBA Triple Crown winner Chris Barnes.

"This has been my dream and goal since I was a little kid," he said. "To have it happen is surreal—it's really left me speechless. All the time and energy I have put into bowling and practice seems to have paid off. This has been incredible and I'm looking forward to representing my country. Having the letters USA on my back anywhere I go is the greatest feeling you could have in this sport."

The sophomore sport management major from Oswego, Ill., began training with Team USA—for both the men's squad and the Junior team—in May at the International Training and Research Center (ITRC) in Arlington, Tx.