Why do Bearcat Fans Wear Purple?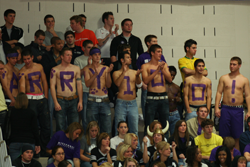 If you watch or attend a football game, a baseball game or other sporting event you surely notice that many fans dress alike. The "sea of red" at St. Louis Cardinals' games, the large yellow "cheeseheads" of the Green Bay Packers, and the purple pride of McKendree Bearcat supporters exemplify what social and sport psychologists call fan behavior.

A non-sports fan may find it difficult to understand the seemingly odd, sometimes bizarre behavior of some fans—painting letters on their bare chests or cheering their team on in icy cold weather, for example. Let's take a look at some social psychological and sport psychology theories to make sense of the underlying reasons many of us want to connect with our favorite teams. At McKendree University, this means wearing purple!

The most basic reasoning behind fan behavior can be found in psychology professor Abraham Maslow's classic hierarchy of needs. This theory postulates that all human beings are driven to behave in ways to meet certain needs. The lower, more basic physiological needs of food, water and safety must be met to continue moving up the hierarchy. (Not much of this relates to fan behavior unless you count hungry fans buying food and drinks at the concession stand.)

At the next level is a very important human need: social interaction or belonging. Maslow and other psychologists believe that we have a true need to fit in. When we dress alike in our school or team colors, we feel an immediate sense of belonging.

Closely related is a social psychology theory of the "in group/out group." It suggests that we have a strong desire to be part of a group; the one we belong to is our "in group." People subscribe many positive traits to their "in group." On our campus, T-shirts that read "We Are ALL Bearcats" help to promote inclusion and acceptance.

Moving up the hierarchy after social and belonging needs are met, next comes self-esteem or how we feel about ourselves overall. Sport psychologists have found that for many of us, identifying with sports teams boosts our self-esteem.

It's no surprise that research shows winning teams sell more apparel than losing ones. On days after a big victory, more fans wear their team's colors than on days after a loss. You'll hear them say things like, "We won!" I regularly tell people, "We won the women's bowling NAIA nationals last year!" As if I were out there throwing strikes! Although I don't bowl on the team, I want to be part of its success so I wear purple and it does increase my self-esteem when the Bearcats win.

A related theory is called "basking in reflected glory." This suggests that we like to surround ourselves and affiliate with winners in the hope that some of this positive energy will rub off. The flip side is that some of us can get pretty depressed and sad when our team loses.

The next time you put on McKendree purple, consider whether you are doing so to fit in, to increase your self-esteem, or maybe you just like the color. GO BEARCATS!

The writer of this article, Dr. Tami Eggleston, Professor of Psychology and Associate Dean, is a registered sport psychology consultant with the U.S. Olympic Committee. In addition to the McKendree Bearcats, she roots for the St. Louis Cardinals, the Green Bay Packers, and a variety of NASCAR and drag racers (including her husband, Mike).