Chuck Brueggemann '88 Heads Bearcat Athletics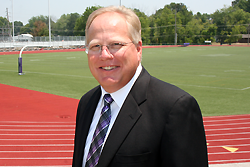 Charles "Chuck" Brueggemann '88 has returned to his alma mater as the new athletic director.

"McKendree has always had a special place in my heart," said Chuck. "I love this institution and understand the role competition can play in a young person's life."

Chuck comes to McKendree after spending the last two years as the senior vice president for business development at Jim's Formal Wear in Trenton, Ill., preceded by 25 years as an officer with the Illinois State Police (ISP). He was the first deputy director with the ISP, the second highest-ranking state police officer in Illinois prior to his retirement in 2010. He managed a workforce of nearly 3,500 officers and civilian personnel, plus overseeing all aspects of the law enforcement agency.

Chuck has also served as the varsity softball coach at nearby Wesclin High School. Along with his coaching duties, he was able to raise funds for improvements at the Warriors' home facility at Trenton City Park.

During his undergraduate days at McKendree, Chuck served as the student sports information director, as well as the student athletic trainer and emergency medical technician.

"We are extremely pleased to have Chuck join the McKendree family as our Director of Intercollegiate Athletics," said Dr. James Dennis. "His credentials are impressive and I believe our athletics department, and the University as a whole, will benefit from his diverse background. Chuck has proven his abilities not only from a leadership standpoint, but in the areas of planning, marketing and fundraising."

"Being an alum of McKendree, Chuck has a love for the institution and a genuine desire to lend his skills to his alma mater," added Dennis.

Chuck is coming aboard at a key point in McKendree athletics history, as the Bearcats conclude the second year of a two-year candidacy period in transition from NAIA to NCAA Division II membership. Accepted by the Great Lakes Valley Conference in the fall of 2010, the Bearcats will begin play in the 16-member league this fall.

"This is an exciting time for McKendree University, and I am thrilled to be a part of what is sure to be a successful transition into NCAA Division II and the Great Lakes Valley Conference. During my tenure the focus will always be on the student-athlete, the teams and the University."

Chuck and his wife, Susan, reside in Trenton, Ill. They have two daughters, Beth and Alicia.