Not My Day Job: Tom Pawlow Has Fallen For Ice Dancing
By Lisa Brandon, Director of Media Relations

Retired Air Force Colonel Tom Pawlow is earning medals of a different type these days - for competitive ice dancing.

"It's a lot of fun. It's good exercise, too," said the associate dean of McKendree University's Center at Scott Air Force Base and part-time human resources instructor. A Winter Olympic sport since 1976, ice dancing combines skating, music and artistic expression. It resembles ballroom dancing's graceful moves more than figure skating's dizzying spins and jumps.

Tom stepped on the ice for the first time about ten years ago. As he sat in the stands watching his young grandson take hockey lessons, he commented to his son Jeff that skating looked like fun.

That Christmas, Jeff gave him a gift certificate for three lessons. "He did it as sort of a joke," Tom recalled. "I'd never been on ice skates before. But hey, I'm an ex-Air Force guy, I never turn down a dare."

He laced up his skates and began to practice at the U.S. Ice Sports Complex in Fairview Heights, Ill. "It was a struggle the first couple of times, but by the third time I could go all the way around the rink," he said.

A group of ice dancers who were skating to music caught his attention. "I played music in college and had a band. I like a good beat and I thought swing dancing on ice looked pretty fun."

The all-female synchronized team encouraged him to join them. Tom soon fell for ice dancing, quite literally at first. Before long, he was mastering lunges, kicks and turns.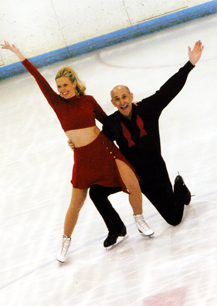 The team built some competitive routines around its lone male dancer; one featured the "Top Gun" soundtrack with Tom in a flight suit. "We even won a couple of times," he noted. In addition to the team, he has performed in the pairs and solo categories, winning six medals overall. "I don't have a lot of competitors in my age category," the 70-year-old athlete said with a grin.

Tom's routines are often humorous. He began one crowd-pleasing solo performance on center ice in a ballet pose, as classical music abruptly segued into the "Real Men of Genius" beer commercial song. "I should have been an entertainer. I like to have fun," he said.

When mine subsidence damage forced the closure of the Fairview Heights rink in 2012, Tom was undeterred. He now skates one night a week at the Kirkwood Recreation Station Ice Arena in Missouri, when his teaching schedule permits. If a proposed new ice complex is built in the Metro-East before Tom hangs up his skates, he has a plan.

"I want to be the Bearcat on ice skates that gets the crowd fired up before hockey games."