Athlete Spotlight
By Britani Beasley '15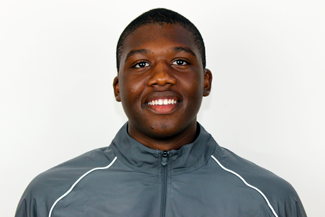 Maalik Walker '17, a finance major and 6'6" middle blocker on the men's volleyball team, brings a strong athletic background to the new Bearcats squad. His past accomplishments include, helping lead Minooka Community High School to a 30-match winning streak and a fourth-place finish in the state tournament in 2012. He earned All-Conference honors as a junior and senior, All-Area honors as a senior and was selected to play in the Illinois High School Boys Volleyball All-Star Game following his senior season. Maalik answered a few questions about his experience as a new Bearcat.

How do you feel about being on the first men's volleyball team and what are your goals?

It feels good to be the foundation of what can become a great program. Being our first year, we want to achieve a .500 record, and as sophomores we want to qualify for the national tournament.

How do you hope to "Make your Mark" on McKendree University?

On campus I hope to make my mark by being seen as an outstanding student and as a leader on and off the court. On the court I want to do whatever it takes to help make us successful.

Favorite quote and why:

"Winners don't take breaks." This is my favorite because by being pushed to our limit it helps make us better, and prepares us for the bigger and more experienced teams.