Cycling For A Cure
By Britani Beasley '15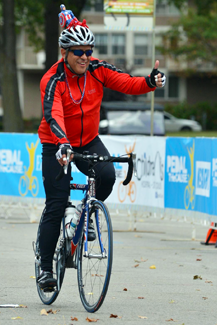 As a child, Charlie Caciano '82 had the selflessness of helping others embedded in him by his father who, in turn, received the same message from his father. "My dad served as an MP in the U.S. Army during WWII," said Charlie. "He always said, if you really want to win a fight, what you should do is bring your best and brightest."

This year he followed his father's advice and recruited 14 soldiers from the Scott Air Force Base United States Transportation Command to participate in Pedal the Cause, a community-wide cycling fundraising challenge in which all donations raised stay in St. Louis to provide direct funding for cancer research at Siteman Cancer Center and St. Louis Children's Hospital. An avid cyclist, Charlie rides to free our world of cancer. A partner of the Ride for a Child program at St. Louis Children's Hospital, Charlie rode for Kwesi, a cancer patient who is currently undergoing treatment at the hospital and who loves Cardinal baseball, his custom Converse shoes and Captain America.

He also dedicated his first 21 miles in the Century ride as a 21-mile salute in honor of McKendree punter and cancer survivor Alex McMahon's courage and winning approach to cancer. Charlie was pleased to meet with Alex before the Homecoming football game on Oct. 5, 2013. "It always inspires me to hear the courage of a cancer survivor and Alex sure exemplifies how to move beyond survivorship and into 'thrivership'," said Charlie. "I was thrilled that Alex autographed my helmet along with his #1 right next to his name. What a treat. It will serve as a constant reminder of why I ride."

The drive to help others, inspired Charlie, and his wife Marcia, to incorporate the Caciano Family Charitable and Educational Foundation in Missouri. "The purpose of the charitable foundation is to serve as a means of deliberately passing this legacy from one generation to the next so that we and future generations may be deliberate in our helping others in need," said Charlie.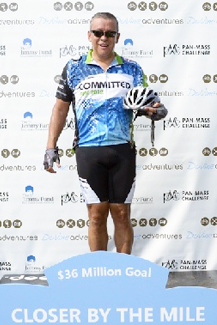 Through their mission they hope to provide a positive impact on many lives.

In 2000, the McKendree accounting and marketing graduate also founded Morgan Consulting as an extension of an accounting and business advisory practice he started. Morgan Consulting shares its professional skills and experience with non-profit agencies by participating in area social causes and community fundraisers. Staying true to its roots in service, Morgan Consulting has been a proud sponsor of "Team Caciano" since 2009, with more than 20 volunteers who raise funds for life-saving cancer research and treatment. They have participated in the annual Pan-Massachusetts Challenge bicycle ride, a two-day, 200- mile bike ride from Sturbridge to Provincetown, Mass., in which 100 percent of all rider-raised funds are donated directly to the Dana-Farber Cancer Institute for life-saving cancer treatments and cures; the Komen Race for the Cure in St. Louis, Mo.; and a Leukemia and Lymphoma Society half-marathon in Florida. In 2013 "Team Caciano" raised a little over $17,000, which combined with the money raised the past few years, puts them at just over $38,000 raised for cancer research. As part of their mission, "Team Caciano" will continue to raise money and they hope to share the message that cancer patients are not alone in the fight.