Homecoming & Reunion Weekend 2013 Memories

Ferox Celebrates 50 Years of Brotherhood

The party was a half-century in the making when 34 Ferox (Phi Rho Chi) brothers, two former advisors and a Little Sister reunited at The Hills Golf Club on Oct. 4, 2013 to celebrate the 50th anniversary of the fraternity's founding. The alumni came from Illinois, Kentucky, Ohio, Georgia, Pennsylvania, New Jersey, Arizona, North Carolina and Texas to reminisce, reconnect and relive favorite McKendree memories. Homecoming weekend activities included a round of golf, reception, the parade and pre-kickoff tailgating.

Phi Rho Chi - the Greek letters F R X - organized on campus in 1963 and welcomed its first pledge class the following year. The members developed a strong bond and "Ferox" soon became a prominent organization on campus. They continue to distinguish themselves as active alumni and leaders in their communities.

Three Bearcats Enter Sports Hall of Fame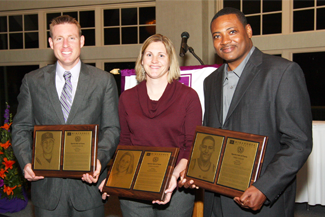 Three former Bearcat athletes, Lance Marcum '07, Danna Gilbert '00 and Fred Taylor '90 entered the Sports Hall of Fame's Class of 2013 for their accomplishments on the pitching mound, softball field and basketball court.

Lance Marcum enjoyed one of the most prolific pitching careers for the Bearcats' baseball program. In four years on the mound, he helped McKendree solidify its standing as one of the top programs in the American Midwest Conference (AMC) and National Association of Intercollegiate Athletics (NAIA). The Centralia, Ill., native helped lead the Bearcats to four consecutive AMC Tournament championships, two regular-season league titles, and the NAIA Region V championship game in 2005. He was a first-team NAIA All-American as a junior and senior.

The only player to throw two no-hitters for the Bearcats, he set 11 McKendree baseball records, all of which still stand. After college, he signed a free-agent contract with the St. Louis Cardinals organization and made 19 appearances in the Class A New York-Penn League.

Danna Gilbert excelled on the basketball court and the softball field. As a guard on the basketball team, the Florissant, Mo., native twice grabbed All-Conference AMC honors, including first-team accolades as a senior. She is second in career three-point field goal attempts with 596; tied for ninth in three-pointers made with 99; ninth in career steals; and 10th in assists. Danna helped McKendree to a pair of conference tournament championships, enabling the Bearcats to make their first two appearances at the NAIA Division I National Championship.

In softball, she was a four-year starter in the outfield. Her .395 career batting average is the highest of any McKendree player and she holds the highest on-base percentage record at .439. Her career 47 stolen bases and 10 triples are second alltime at McKendree. She ranks among the Bearcats' top 10 in career hits, sacrifices, runs scored, total bases, slugging percentage and games started. Danna owns two of the top five single-season batting averages in McKendree history, batting .417 and .405 in her junior and senior years. She helped lead the Bearcats to NAIA Softball National Championships in 1998 and 1999.

Fred Taylor was the sparkplug of the high-scoring Bearcat men's basketball teams of the late 1980s. A two-year starter, the Chicago native joined the squad as a junior in 1986-87 and put together one of the top all-around seasons in program history. He averaged 20.1 points per game, scoring 704 points in the process. One of the most accurate three-point shooters in the nation, Fred connected on 51 percent of his attempts from beyond the arc, a McKendree record that stands today. Thanks in part to his scoring prowess, the Bearcats posted their first 30-win season and reached the NAIA District 20 Tournament finals.

As a senior, Fred and his teammates were part of an historic 1987-88 season, as the Bearcats won 22 consecutive games on their way to a school-record 35 victories. The team made its first trip to the NAIA National Championship, the first of 15 in a 23-year span. Loaded with offensive firepower, McKendree led the nation by averaging 102 points per game and Fred averaged a team-high 21.1 points per contest. He saved his best for last, scoring 33 points in the national tournament second-round game. Fred finished his McKendree career with 1,400 points in two seasons.



Two to Watch: Winn, Peterson are Rising Stars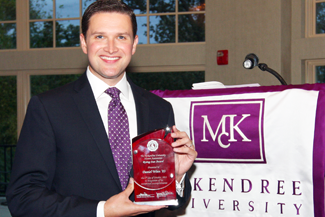 Daniel Winn '03, of Ballwin, Mo., and Glenn Peterson '04, of Belleville, Ill., are McKendree's latest Rising Stars.

Daniel Winn is a news reporter and anchor at ABC 17 KMIZ in Columbia, Mo. He has also worked at KTRS Radio in St. Louis, KTKA-TV in Topeka, Kan., and KRCG 13 in Jefferson City, Mo. He has hosted or emceed various charity fundraising events in central Missouri. He is a frequent guest on News Radio 950 KWOS and coaches the Kids' Celebrity Golf Benefit for the Mizzou Children's Hospital. He remains active at McKendree as a Scholarship Weekend volunteer and keeps in touch with faculty and friends.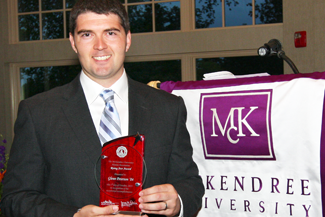 A certified personal fitness trainer, Glenn Peterson opened the Inspire Health and Fitness Studio in Belleville, Ill., in 2008 and expanded in 2011 with Kinetic Boot Camp. He develops corporate wellness, fitness and nutrition programs throughout the St. Louis area and in 2010 was voted the area's number one trainer by the local Fox TV news station. He is involved in the Rebuild Belleville civic improvement group and former president of the Belleville Local Business Global Network. Glenn is currently pursuing a doctorate of physical therapy degree at Washington University in St. Louis, Mo. He gives fitness and nutritional presentations to Bearcat student-athletes and has created an internship program with Career Services.



Lifelong Loyalty: Jerry Cornell '74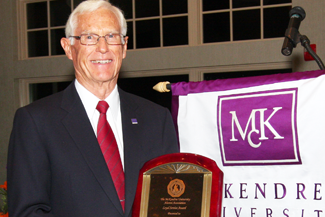 Loyal Service Award winner Gerald "Jerry" Cornell '74, of Lebanon, Ill., has demonstrated his commitment to McKendree for many years, serving on various committees as a strong supporter of town and gown relations. He has been an integral part of many site improvements, such as parking lots, playing fields, and the Hettenhausen Center for the Arts. He is a William McKendree Society member, a Friend of the Hett and sponsor of Hett performances.

Jerry studied psychology at McKendree while serving in the Air Force. After his military career, he became the director of public works for the City of Lebanon. In 1985, he joined Christ Brothers Asphalt Company, retiring in 2012. His civic commitments include Plan Commission and Zoning Board chair, city alderman, Economic Development Commission member, and Chamber of Commerce treasurer. He was instrumental in projects that helped Lebanon to receive two Governor's Hometown Awards.

Academy of Excellence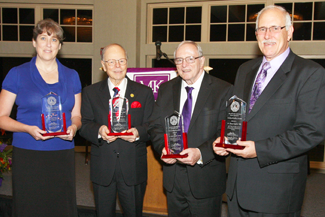 A high school math teacher and coach, a retired university public relations executive, a minister and civil rights activist, and a doctor of osteopathy entered the 2013 Academy of Excellence at the alumni awards dinner. Honorees Melody Evans '86, Don Winkler '54, Melvin "Bucky" Jordan '61 and Tom Kupferer '76 (left to right) represent achievement, leadership and character in their respective fields of education, literature and communication, the humanities, and science and technology.

Melody (Edwards) Evans '86, of Mascoutah, Ill., has taught mathematics for 25 years at Lebanon High School in Lebanon, Ill., where she is also the girls' basketball head coach and National Honor Society sponsor. She was previously an assistant girls' basketball coach, head coach for volleyball and softball, math team coach, tutor, and sponsor for the Student Council, WYSE team, SADD, prom, and the freshman, sophomore, junior and senior classes. Melody is currently pursuing a master's degree in education.

H. Donald Winkler '54, of Gatlinburg, Tenn., has had a distinguished career as a journalist, historian and university public affairs executive, receiving 84 national awards for public affairs programming and publications. He was the first college public affairs professional to be inducted into the Virginia Communications Hall of Fame, and the Council for Advancement and Support of Education named him a "trailblazer" in his field. In retirement, Don has become a top authority on Abraham Lincoln and the Civil War; three of his five books on the subjects were nominated for national book awards, and he has spoken twice on assassination conspiracies at Ford's Theatre in Washington, D.C.

Rev. Melvin "Bucky" Jordan '61, had a 50-year career as a United Methodist Church minister in Kankakee, Ill., Columbus, Ind., and other churches in southern Indiana. He still preaches almost every Sunday in the Columbus area, where he resides. In the civil rights era, Bucky marched with the Reverend Dr. Martin Luther King, Jr. in Selma, Ala. and Washington, D.C., campaigned against the Ku Klux Klan, and worked hard to end segregation in his community. He is an active past president of his local Kiwanis International chapter, on the Alzheimer's Association Board of Directors, part of a Christian clown troupe, and a singer in the "Silvertones" senior group.

Dr. Thomas Kupferer, D.O., FACOFP'76, of Murphysboro, Ill., established two family medicine clinics in southern Illinois, where he is self-employed. He is also the medical director for the Jackson County Jail and the Masonic Children's Home in Murphysboro, Ill.; associate regional medical director for Hospice of Southern Illinois; and the county coroner. He is on the medical staff at St. Joseph Memorial Hospital in Murphysboro, Ill., Carbondale Memorial Hospital in Carbondale, Ill., and four other rehab, skilled care and nursing centers. His civic involvement has included the Boy Scouts, Southern Illinois Children's Choir and the Phantom Regiment Drum and Bugle Corps. Tom's four sons also attended McKendree.



Alumni Profile: Cyril Curtis '43
By Scott Billhartz '85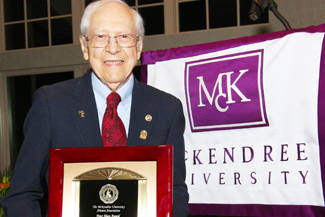 Cyril Curtis '43, Ph.D., of Albion, Ill., received the 2013 Peter Akers Award for professional success, outstanding service and loyalty to McKendree. Cyril completed a degree in mathematics while serving in the Air Force. He trained in meteorology, weather forecasting, electronics, and radar at Harvard University and the Massachusetts Institute of Technology and obtained a doctorate in physics from the University of Illinois. As a radar-weather officer at U.S. air bases, he assisted in testing the first atomic bomb for the Manhattan Project at Los Alamos, N.M., during World War II. In the 1950s, he performed nuclear reactor physics research and experiments at Argonne National Laboratory in support of the first nuclear powered submarine, Nautilus.

Through the use of the science and technology that he helped to create, Cyril was treated and saved from prostate cancer. He was involved in the treatment of cancer in two different ways: the first was radiation therapy with neutron beams and the second involved radiation with proton beams. In the mid-1970's Cyril worked as a physicist researcher for the Fermi National Accelerator Laboratory (Fermilab) in Batavia, Ill. During this time, the Fermilab operated the most powerful particle accelerator in the world. It was designed for high energy physics research such as what was being done by Cyril and his colleagues. However, the linear injector accelerator was used for only about one second out of four to supply protons for this physics research. It was determined that during the remaining available time, a team, including Cyril, could use the accelerator to research radiation therapy used for cancer treatment. In this therapy the neutron beams were produced by protons striking a target and directed to the tumor to destroy the cancer cells. The neutrons were somewhat more efficient than the protons at destroying cancer cells, but they did not have the advantage of precisely localizing the dose.

In January 1985, the Loma Linda University Medical Center in California wanted to build a proton synchrotron specifically for cancer therapy and they approached the Fermilab because of the successful neutron therapies that were developed with the particle accelerator.

Cyril was part of the research team selected to build the new accelerator. He retired in 1986 from the lab, but stayed on as a private consultant through 1989. Compared to the proton synchrotron at the Fermilab which spanned four miles in circumference, the proton therapy accelerator at Loma Linda was only 20 feet in diameter. As per the agreement, it was built at the Fermilab and then moved to Loma Linda in 1989 and put in service in 1990. Officially Cyril retired at that time. Proton therapy has significant advantages over other methods of cancer radiation treatment such as X-rays or neutrons. The greatest advantage is the proton beam limits the radiation dose to the disease site, thereby reducing the side effects caused by damage to nearby healthy tissue. This new accelerator, as Cyril described, was specifically designed for cancer therapy and it had special features, such as precise energy control and long beam spill that are included to make the treatment easier and more efficient. Little did he know that he would be reacquainted with the accelerator by the end of the decade.

In 1999, Cyril was diagnosed with prostate cancer. As fate would have it, Cyril chose to return to the Loma Linda University Medical Center for treatment, specifically for the proton radiation therapy. In an ironic twist of fate, the researcher who helped build the accelerator was now the patient receiving the treatment. Cyril, and his late wife Helen, stayed in California until his treatments were completed in early 2000.