Expanding Worldview: Tanaka Partnership
by Lauren Putbrese '16

For over 20 years McKendree University and the Tanaka family have partnered to bring to life the vision of Dr. Kenji Tanaka, who believes that through meaningful exchanges people from different countries, religious traditions and cultures can develop friendships, mutual trust and understanding. The Tanaka Memorial Foundation was established in the United States in 1990 in memory of Kenji's father, Juichi Tanaka, who was the founder of Meijo University in Nagoya, Japan.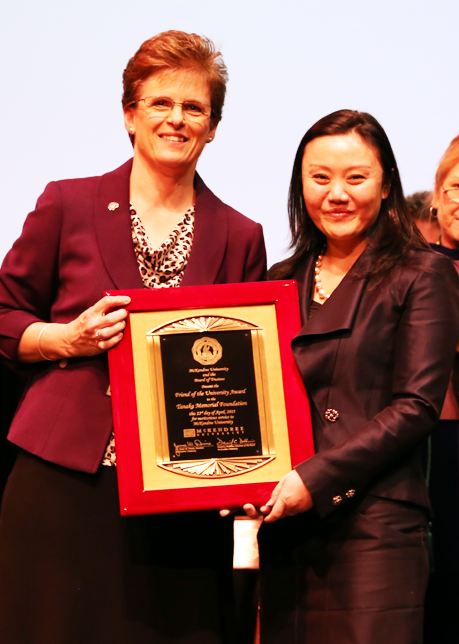 In 1992 McKendree bestowed upon Dr. Tanaka an honorary degree to convey its gratitude and high esteem and to demonstrate the University's conviction of the importance of partnerships that cross national boundaries and promote international understanding.

At the Academic Excellence Celebration on April 23, McKendree once again honored the Tanaka Family with its 2015 Friend of the University Award, which recognizes and honors organizations or non-alumni individuals who have consistently given exemplary service to the University. Makiko Tanaka, president of the Tanaka Memorial Foundation, was presented the award by Victoria Dowling, senior vice president.

Kenji's vision, and the generosity of the Tanaka family, has established three distinctive annual programs at McKendree:

Over 200 students have received the annual Tanaka Endowed Scholarship
71 students and 24 faculty have participated in the two-week educational exchange with Technos College
24 students have received the Technos International College Prize
Each year two students and a faculty member travel to Tokyo to participate in Technos International Week, which is a two-week summer exchange program. Participants spend one week at Technos College with its students and faculty and one week exploring facets of contemporary and traditional Japanese life.

Interaction between the two groups creates a valuable forum for exchanging ideas and worldviews. In addition to spending time at the Technos campus, the group tours many sites and neighborhoods in Tokyo and the surrounding areas. Once back in Lebanon, Technos participants share their stories and insights about their experiences in Japan with the McKendree community.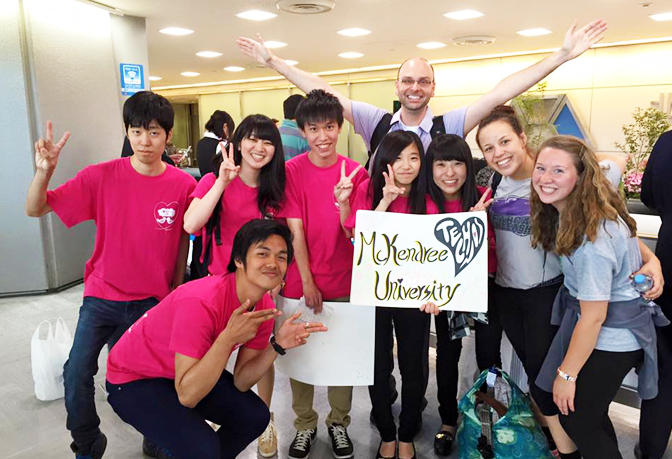 This summer, Dr. Alan Alewine, associate dean for curriculum and professor of mathematics, accompanied Hannah Harry '17 and Olivia Seppini '17 on the Technos College trip.

Prior to the trip, Hannah said, "I have always enjoyed studying the history, traditions, and languages of other cultures. I am anxiously anticipating the opportunity to become fully immersed in Japanese culture."

When the group returned, Alan expressed a similar sentiment. "I believe I speak for nearly every Technos participant when I say that our beliefs about gender, public persona, individuality, and 'the other' were challenged.

"I witnessed many breathtaking moments between Japanese and non-Japanese students that made me smile and left me grateful to be given this opportunity. Language barriers gave way to laughter, hugs and tears.

"One of my fondest memories involved observing the end of a calligraphy class that students were taking. The instructor was a woman who - and there's no other way to describe it - was on fire! She said a brief prayer before her final demonstration and then animatedly painted the kanji character for 'love' on a large sheet of paper. The passion with which the instructor went about her artistic work gave me chills."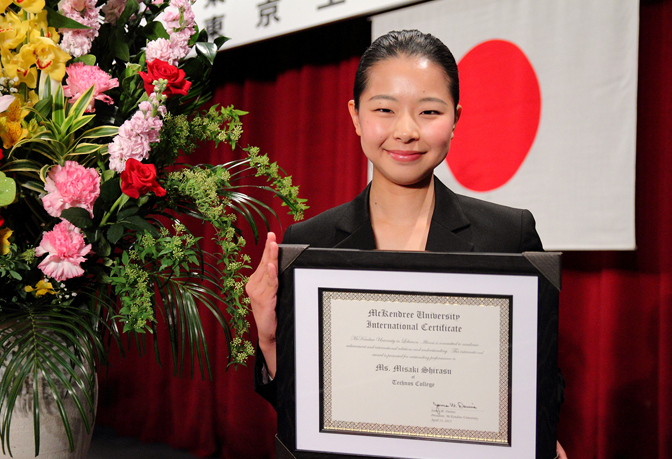 Ms. Misaki Shirasu from Tokyo was awarded the McKendree Prize at Technos College. An airline department flight attendant major, Misaki graduated from Tokyo Air Travel Hotel College.

Technos College and McKendree University have each presented students of the other institution with awards of Academic Excellence and International Understanding.

Through the continuing generosity of the Tanaka Educational Trust, the Technos Prize is given annually to foster multicultural awareness. Faculty members choose a graduating senior who has demonstrated outstanding academic achievement and a commitment to international understanding.


Victoria "Tori" Cook '15, from Highland, Ill., was the winner of the 2015 Technos International College Prize. The dual studies major in Spanish and psychology accepted the award on April 23 from Dr. Chris Bahr and Makiko Tanaka. Tori is no stranger to international experiences. A prestigious Gilman Scholarship, granted by the State Department's Bureau of Educational and Cultural Affairs, allowed Tori to practice her Spanish fluency at La Universidad Latina in Heredia, Costa Rica, in summer 2014. In May, she took part in McKendree's mission community service trip to Nicaragua.

"Psychology is in desperate need of professionals whose language skills match the growing needs of the Spanish-speaking citizens of the U.S. Tori pursued her second major out of cultural interest and a desire to meet the mental health needs of Spanish speakers," said Dr. Christine Bahr, McKendree University provost and dean.

She is currently pursuing a master's degree in Spanish at Saint Louis University's campus in Madrid. Tori plans to further expand her language and cross-cultural skill, while pursuing a career in clinical psychology and working with the Latino community.

Technos Internship: Nykhala Coston '14
The 2014 Technos International College Prize winner, Nykhala Coston '14, participated in a six-month internship as an assistant language instructor for the Technos College Internship Program in Tokyo, Japan from September 2014–February 2015. While in Tokyo, Nykhala co-taught lessons for English conversation classes, provided after school assistance for Japanese students practicing their after-school conversational English skills, and helped organize and develop ideas for major school events and activities.

"Spending several months in Japan was an exciting and inspiring experience," said Nykhala. "Working closely with the McKendree faculty and study abroad office really helped make it an amazing possibility."

Nykhala also maintained a blog about her experiences teaching and living in Tokyo. To read more, check out https://teachintokyo.wordpress.com.

Tanaka Profile: Matthew Olmsted '01
by Lauren Putbrese '16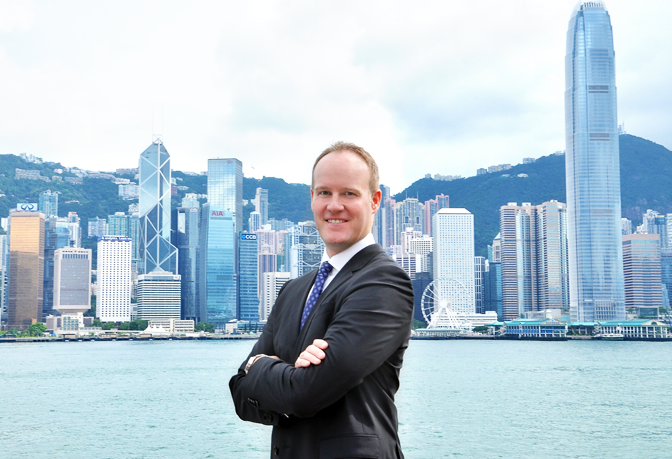 Matthew Olmsted never thought he'd have the opportunity to travel the world. From the small town of Eagarville, Ill., Matthew made the decision to attend McKendree.

As a first generation student, Matthew went into college with an open mind, and came out with a "world's" worth of knowledge and experiences. Today, he has visited close to 30 countries and currently lives and works in Hong Kong, an opportunity that evolved from his time at McKendree.

"If you'd asked what I wanted during my freshman year, I would have said a great education, to make a lot of friends, and to have a great career," said Matthew. "At the end of the day I got so much more than that from my McKendree experience." As a student, he was honored with the Lincoln Laureate award and participated in multiple global opportunities, including studying abroad in Ireland and attending the Technos College trip in Tokyo.

During his visit to Japan, he experienced the hustle and bustle of Tokyo, as well as the familiarity of the countryside. He shared, "I grew up on a farm. I like my beef. But in Japan I was eating raw sushi, which was actually really great." Matthew noted, however, that wasabi (Japanese horseradish) can still be intimidating. "To have the opportunity to experience different cultures and food and travel to countries that I never thought I'd be a part of was exciting, exhilarating, amazing, and overwhelming all at the same time. I loved it."

Following the Technos trip, Matthew sought out an international internship. With the help from McKendree faculty and staff, he was able to complete a three-month summer internship in 2000 with Allied Pickfords in Singapore.

In 2001, he graduated with dual degrees in business administration/marketing and music. Within a month, he accepted a full-time job in Hong Kong with the same company he interned with.

Three years later he was hired by RR Donnelley and spent the next five years managing sales in both Hong Kong and Singapore. In 2009, he was promoted to his current position as director of sales in Hong Kong.

Matthew is the newest member of the McKendree Board of Trustees. He has so much gratitude for all that McKendree did to lead him to the present. "McKendree and their faculty and staff allowed me to have a global perspective on life. When I came to McKendree, nothing was impossible. I am where I am today because of McKendree University and I want others to say that as well when they walk away from this great institution."