Homecoming 2017
Meet Our Outstanding Alumni

McKendree University celebrated several of its accomplished alumni at its annual awards dinner, held on Sept. 30 at the St. Clair Country Club in Belleville, Ill. Chosen by the Alumni Association Board, the 2017 winners have made their mark in their professions and at their alma mater.

Honorees were recognized in the following categories: Peter Akers Award; Loyal Service; Academy of Excellence for the Humanities, and Language, Literature and Communication; Rising Star; and the Bearcat Sports Hall of Fame.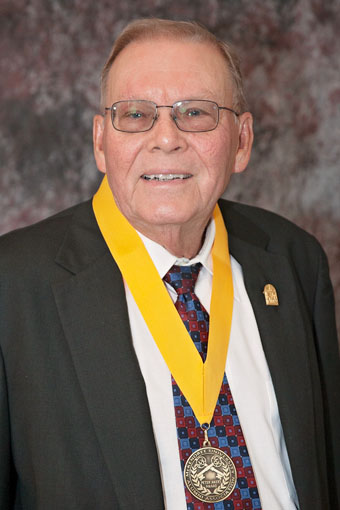 William "Bill" Blythe '63
Peter Akers Award

Bill received the highest alumni honor, the Peter Akers Award for professional success, outstanding service and loyalty. The Edwardsville, lll. resident majored in history and was involved in student congress, public affairs groups and the Platonian social society on campus. He earned a master's degree from SIUE and taught at Edwardsville Junior High School for 32 years. Bill served on the Edwardsville Plan Commission, Model A Restorers Club, and Illinois Oil and Gas Association. He is also the co-founder and president of Quad "B" Oil, Inc. The longtime McKendree supporter served on the Alumni Association board and is a William McKendree Society member, a FORWARD Campaign Donor and a Friend of the Hett.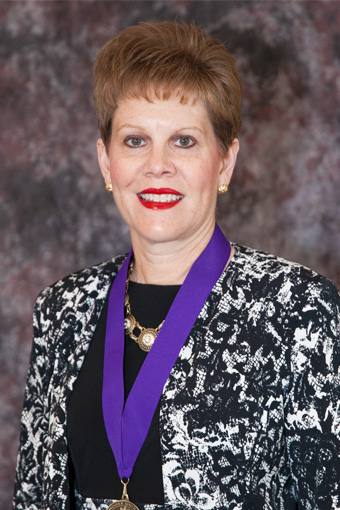 Susan Harbaugh '04
Loyal Service

Susan, who earned a business administration degree as a non-traditional student, has worked in accounting for more than 35 years. She is the chief financial officer for Human Support Services in Waterloo, Ill., where she has completed 26 years of service. Susan serves the University as a member of the William McKendree Society and the Old Main Society. The Red Bud, Ill., resident is a Ward IV alderwoman who has been very active in her community and school district. She is part of the Kaskaskia Valley Audubon Society, Clifftop Finance Committee, Weekend Gardener Committee and Board of Directors for the St. Clement Community Foundation. She is also an Illinois Notary Public, a Certified Illinois Master Naturalist with the University of Illinois Extension, and a National Weather Service storm spotter. She enjoys digital scrapbooking and traveling to the national parks.
Rising Stars

Rising Stars are McKendree University graduates of the past decade who have made significant achievements in their professions or chosen fields, and who have been highly involved with the University or their communities.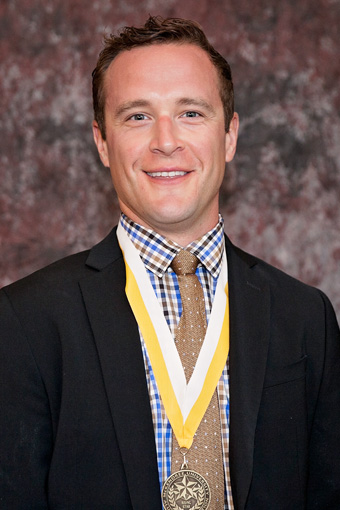 Kyle Eversgerd '07

Kyle enters his ninth year with the Rams NFL organization and third as director of external football affairs. He oversees the team's youth and high school football programs and the Rams' Legends community program. As fan development manager from 2013-2014, he developed and implemented the Rams Training Academy—a 20,000 square-foot indoor training and development facility. The National Football Foundation awarded him the 2014 Eddie Cochems' Award for his outstanding contribution to amateur football. Kyle earned a degree in organizational communication (marketing and sales). He was a member of the University's Campus Activities Board and captain of the Bearcats football team his senior year. Originally from Breese, Ill., Kyle now resides in Woodland Hills, Calif.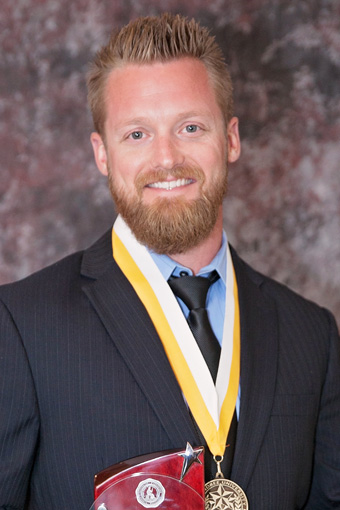 Josh Nimmo '07

Josh earned a degree in athletic training and went on to work as an athletic trainer and exercise specialist with Monroe Physical Therapy and The Training Room. He later became an athletic trainer for Freeburg High School while managing fitness operations at the training room and in 2012, opened CrossFit Metro East in Belleville. Josh's involvement with the Metro East Fellowship of Christian Athletes has allowed him to travel and share FCA's mission as far as the Ukraine. At McKendree, he played football for the Bearcats and participated in intramural sports. He resides in Maryville.
Academy of Excellence
Two alumni entered the Academy of Excellence for achievement, leadership and character in the humanities and in language, literature and communication.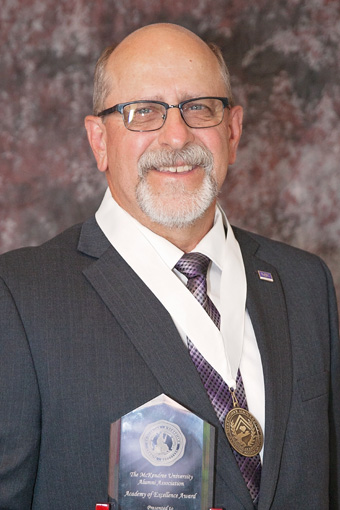 The Reverend Dr. Donald Wagner '84, Humanities

Don is a pastor and teacher at St. Paul United Church of Christ in Lebanon, Ill., where he resides. He graduated in 1984 with degrees in history and secondary education. In 1988, he earned a Masters of Divinity and Doctorate of Ministry at Eden Theological Seminary. Rev. Wagner serves on the board of the Rural Pastors Institute and is the charter chairperson of Family 4 Ministry, which provides individual and family counseling. In 2012 he hired the first parish nurse and continues to support this initiative today. He also serves on the McKendree Research Institutional Review Board.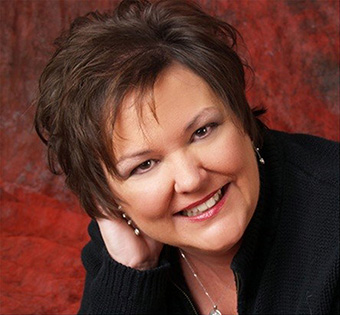 Lori (Rehmet) Moore '98, Language, Literature, and Communication
Lori, who graduated in 1998 with a business administration degree, went on to earn four masters degrees, and has completed course work for a Doctorate of Education. The Louisville, Ky., resident has taught as an adjunct instructor at many institutions including McKendree University's Kentucky campus. Lori is active in her community and an avid traveler who has visited all 50 states, 65 countries, and participated in mission trips to Kenya and Cuba. In recent years her writing has earned honors and awards from Readers Favorite for "From Zero to Christian in Just 35 Years," "Missing Andy" and "Grady the Gray Cat Gets Adopted."
SPORTS HALL OF FAME

Sam Hipple
Oku Satcher
Gary White
Andrew Sanchez
Entering the McKendree Bearcat Sports Hall of Fame in 2017 were Sam Hipple '62, men's basketball; Oku Satcher '02, football; Gary White, former coach of cross country, track and field, and bowling; and Andrew Sanchez '11, men's wrestling.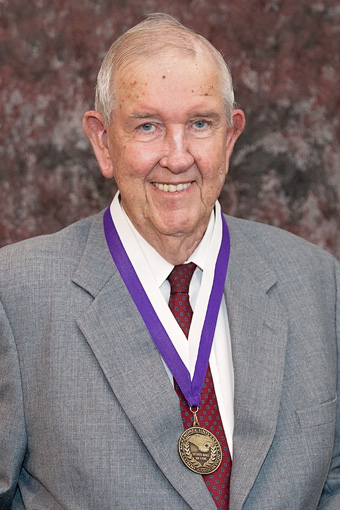 Sam Hipple was recruited by James (Barney) Oldfield to play basketball at McKendree in the late 1950s. By the time he completed his four seasons in a Bearcat uniform, he was not only a well-decorated student-athlete but also involved in numerous campus clubs and organizations at the highest level.

On the court, Sam was a four-year varsity letterman, starting in three of those seasons. McKendree enjoyed a successful run in the Prairie College Conference as the team won the league title in each of his four seasons on the roster. His stellar play on the court did not go unnoticed, as he was an honorable mention All-Conference selection following his sophomore campaign before collecting first-team All-Conference accolades as a junior and senior. Additionally, Sam grabbed second-team All-NAIA District 20 mention as a senior, the same year he won the Bearcats' Most Valuable Player Award.

Originally from Mascoutah, Ill., Sam now resides in Albuquerque, N.M.
Oku Satcher, of Tinley Park, Ill., arrived on campus in 1999, just a few years after the revival of Bearcats' football. He put fear in the eyes of many quarterbacks with his pass-rushing abilities and knack for making the big play at a big time. He was the first to rewrite the McKendree football defensive record book and set a standard of excellence along the Bearcats' defensive line that was unmatched for 15 years.

In that 1999 season, Oku set program records with 23 tackles for loss and 14 quarterback sacks from his defensive end position, as the Bearcats went 9-2 on the way to hosting their first NAIA home playoff game. As a senior in 2001, he helped McKendree return to the NAIA playoffs. He had 20 tackles for loss and 13 sacks among his 52 total tackles as the Bearcats registered eight wins and earned their second post-season berth in three years.

Oku led McKendree in tackles for loss and quarterback sacks in each of his three seasons. At the time of his induction, he was the only McKendree football player to record double-digit sacks in three different seasons.

When his three-year career ended, he reigned as the Bearcats' all-time leader in tackles for loss (59) and quarterback sacks (39), records that stood until 2016. Oku was a three-time first-team All-Conference selection in the Mid-States Football Association-Midwest League. He became the first Bearcat football player to garner first-team NAIA All-America accolades twice, in 2000 and 2001.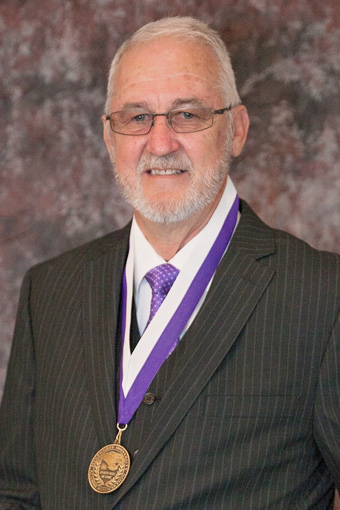 Gary White built several winning athletic programs in his 15 years on campus. His knowledge in teaching and coaching studentathletes from numerous disciplines displayed his versatility and helped him achieve success unmatched by any Bearcat coach during that period.

Gary arrived in 1996 to start the cross-country and track and field programs, and helped McKendree make an immediate impact in the NAIA. Women's track and field broke through first, taking top honors at the 1999 NAIA indoor national championship. It was a precursor of things to come. The 2001 squad had just five student-athletes on the national roster, but the quintet accounted for 66 total points in a winning effort. A year later, McKendree needed a victory in the 4 x 400-meter relay to capture its fourth consecutive title. It remains the only institution to win four consecutive NAIA women's indoor track and field national championships.

Gary also guided the women's squad to the 1999 NAIA outdoor track and field national championship and led the men's team to the 2001 NAIA indoor national title. He remains the only person to coach McKendree to a track and field national championship. In cross-country, he led the Bearcat men to a runner-up finish at the 1999 NAIA nationals and coached McKendree's lone individual national champion, Araya Haregot, in 2002.

In 2001 Gary took on head coaching duties for the Bearcats' newly-formed men's and women's bowling programs, recruiting top-notch talent to help make McKendree an immediate success on the lanes. He led the women's program to its first seven appearances—all consecutive—at the United States Bowling Congress (USBC) Intercollegiate Team Championships. The Bearcats were national runners-up in 2007 and 2010, and placed third in 2009.

In his final season as head coach, Gary led the women's squad to victory at the NAIA National Invitational in April 2011, which marked McKendree's first bowling national championship and the seventh in his storied career. He also guided the men's squad to its first-ever USBC Intercollegiate Team Championship appearance.

Andrew Sanchez was a dominant wrestler in the National Association of Intercollegiate Athletics (NAIA) during his four-year college career, helping elevate the Bearcats to new heights at the national level. Andrew posted at least 34 victories on the mat each season. He finished as a runner-up at 197 pounds in the 2008 NAIA Wrestling National Championship and won a national championship at 197 pounds at the 2009 NAIA meet.

Andrew ended his McKendree career with a flourish, going 38-1 overall during the 2010-11 season and capping the run with a victory at the 2011 NAIA Wrestling National Championship finals. That made him one of just two Bearcats to capture two wrestling national titles, and one of two McKendree grapplers to earn NAIA All-America honors four times in a career.

Following his senior season, Andrew was named the 2011 National Wrestling Coaches Association (NWCA)/NAIA National Wrestler of the Year—the only Bearcat to ever collect the honor. In 2016, the Fairfield, N.J., resident took on a new challenge in the mixed martial arts arena, battling his way through a field of 16 light heavyweight competitors to win Season 23 of "The Ultimate Fighter."

SAVE THE DATE!

HOMECOMING AND ALUMNI REUNION WEEKEND

OCT. 26-28, 2018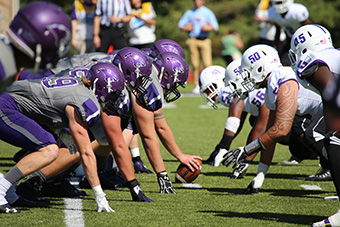 McKendree beat Southwest Baptist 28-7 in a "Battle of the Bearcats."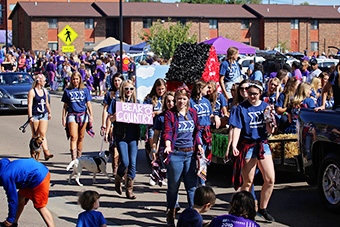 Homecoming parade on Saturday morning.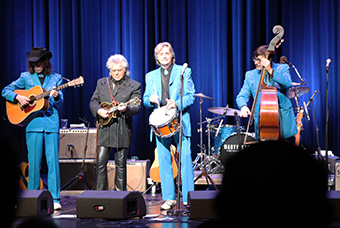 Marty Stuart and his Fabulous Superlatives played to a sold out crowd at the Hett.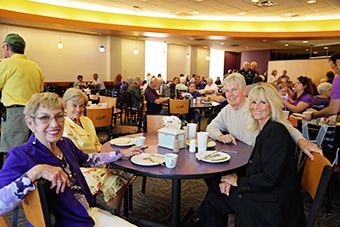 The William McKendree Society and Bearcats of the Last Decade (BOLD) breakfast.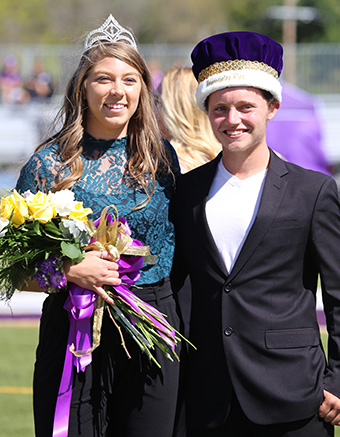 Seniors Melissa Dreisewerd and Cory Berberich, our 2017 Homecoming Queen and King.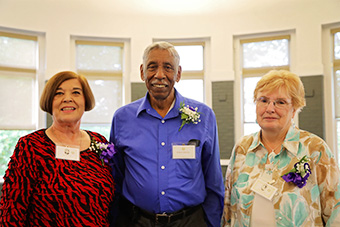 Dorothy "Dot" (Gruen) Heuman '67, Robert Mairley, Jr. '67 and Martha (Miller) Roy '67 at the Golden Reunion.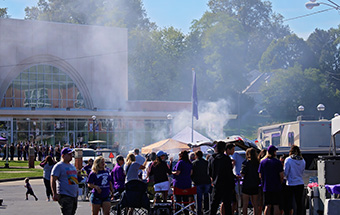 Pre-game tailgating always draws a crowd.