Arela Williams Kills it On the Court, in the Classroom

by Tobias Cook '18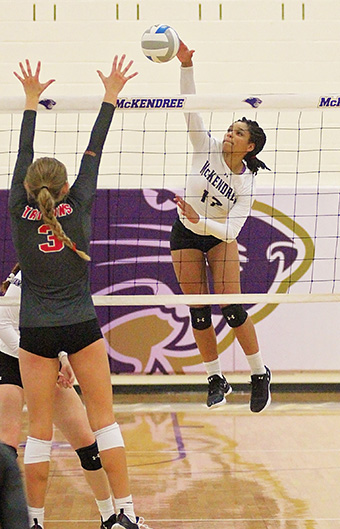 Arela Williams '18 was a four-year starter and outside hitter for the Bearcat women's volleyball team. Her success began in high school, where she played for LaJolla Country Day in San Diego, Calif. She started to gain recognition as she grabbed second-team All-League honors as a sophomore. Things only got better; her junior year she received first-team All-League selection and was a first-team All-California Interscholastic Federation (CIF) honoree. In her senior year, Arela left her mark as she earned first-team All-League and second-team All-CIF honors. She also received Division 5 Player of the Year accolades and was selected to play on the San Diego All-Star Team.

Having huge support from her parents, Benjamin Williams and Chandler Rand, to play collegiate volleyball, Arela chose to attend McKendree University. "The things I really liked about McKendree were the size of the school, the volleyball team, the coaches that recruited me, and the idea of being away from home," she said.

It turned out to be a great choice for Arela, as she received many awards and honors. She was named the 2014 American Volleyball Coaches Association (AVCA) Midwest Region Freshman of the Year. She also grabbed Great Lakes Valley Conference GLVC Freshman of the Year honors while killing it in the classroom, being named to the Academic All-GLVC team.

In 2015, Arela was named GLVC Player of the Year and Scholar of the Year. Leading the Bearcats to the post season, she was named AVCA DII honorable mention All-American, as well as to the AVCA and D2CCA All-Midwest Region first-team. In 2016, Arela was named GLVC Scholar of the Year for the second straight year. She was also an AVCA All-Midwest Region honoree and All-American honorable mention.

Entering her last season as a Bearcat, Arela faced a key injury—a stress fracture in her foot— that she was afraid would affect her style of play. Despite her early season injury, she collected All-GLVC first-team honors for the third straight year, was named to the AVCA Division II All-American third-team, earned AVCA All-Midwest Region team honors, was selected to the D2CCA All-Midwest Region second-team, and became the first Bearcat to be named the Sports Imports American Volleyball Coaches Association Player of the Week.

Arela is the Bearcats all-time program leader in kills, and led the GLVC in that category, averaging 4.52 per set, along with 327 digs. She helped lead the squad to their second appearance in the Division II NCAA Tournament in school history.

Arela plans to graduate this spring with a Bachelor of Science degree in exercise science and sports performance. Her plan is to attend graduate school to either become a strength and conditioning or head volleyball coach. She is hoping to get a chance to play professional volleyball overseas, which may delay her starting graduate school in the fall.

Arela has this advice for current and future bearcat athletes: "Go to bed early, stay focused, don't talk to boys/girls, stay organized, and talk to your coaches about any problems you are facing." This has been the key to her success on and off the field at McKendree.

Tobias Cook, a senior organizational communication-marketing major from Chicago, Ill., played defensive end on the Bearcats football team.