Summer 2018 Magazine
We have just opened another academic year and welcomed the Class of 2022. In the spring, our newest graduates joined the ranks of more than 20,000 alumni who share a place in the rich history of this University. On February 20, 2018, we marked the beginning of a yearlong celebration of the 190th anniversary of the founding of McKendree University. To observe this milestone, you will notice in this issue of the magazine the first in a series of articles entitled "Then and Now," which will focus on the history and traditions of the University. This series will culminate in the bicentennial celebration of McKendree University in February 2028.
Now is a great time to give! $32,234,475.61 raised toward our $40,000,000 goal (as of June 30, 2018).
A Place Where Science is Mastered

McKendree University students are making their mark in the sciences despite working in a building in need of renovation.
A Legacy of Scientific Excellence

Expert physicist Cyril Curtis '43, Ph.D., of Albion, Ill., had a professional career in the sciences that allowed him to experience many places in the United States and abroad, as well as impact countless lives through his research.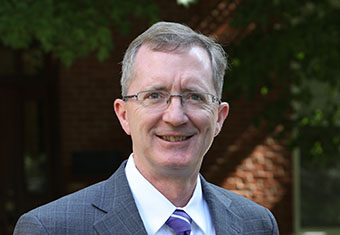 5 Minutes with Daryl Hancock, Chief of Staff »
As a highly decorated former senior officer in the U.S. Navy intelligence community, retired Capt. Daryl Hancock brings a wealth of military leadership experience to his new civilian role. In 2017, he joined the Office of the President as chief of staff to assist in day-to-day operations, to respond quickly and comprehensively to issues as they arise, and to work with the vice presidents to address important challenges.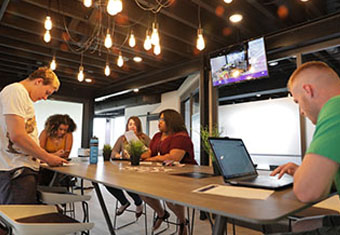 New Cyber Programs Encourage Innovation & Collaboration »
If you're like most people in this country, technology does more than just make your life easier; it's something our society has come to feel we can't live without. In the same way, technology's presence in academia has become a necessary tool for learning and pushing the boundary of what is possible in today's world. It has led to new ways of expressing creativity, problem solving, and connecting with people around the world to not only share knowledge, but also utilize one another's strengths to accomplish a common goal. Technology is one of the most powerful forces shaping our lives today, and McKendree's new cyber programs and high-tech facilities are inspiring students to continue making the "impossible" possible.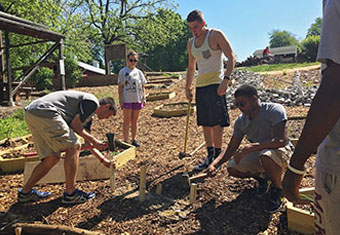 Bearcat Beehive Project is an Interdisciplinary Collaboration »
Over the past year and a half, a large group of McKendree University students, working across various disciplines, took part in a project to restore the pollinator plot at the Willoughby Heritage Farm and Conservation Reserve in Collinsville, Ill. Adopting the name the "Bearcat Beehive Project," eight different disciplines had a hand in the restoration, spanning 10 unique courses and involving 129 students.

"We were extremely pleased with the end result and impressed with the collaborative efforts of the staff and students," said Carol Frerker, Willoughby Farm supervisor.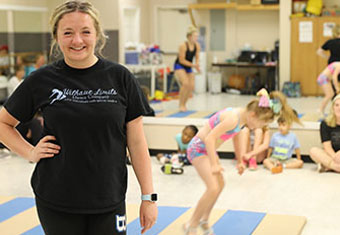 Alum Teaches Special Needs Children to Dance 'Without Limits' »

Taking a leap of faith is never easy, but when you have a passion like Kati Melton '15, M.A.Ed. '18, you find that sometimes fulfilling your own dream helps others reach theirs, too. As a longtime dancer and coach, Kati has discovered there is something more to the art of dance than competitive performances and skilled choreography.

Ultimately, "dance is an outlet," she said. "It allows people to just be themselves." In looking around at her students and fellow dancers, however, she couldn't help but notice that the opportunity to participate in such a healthy way of self-expression isn't easily available to everyone.
For the second time in three years, the men's bowling program claimed the Intercollegiate Team Championship (ITC) national title. The Bearcats defeated Robert Morris University (Ill.) three games to one in the best-of-five Baker finals at the 2018 ITC event at Sun Valley Lanes in Lincoln, Neb. After the teams split the first two games, the Bearcats rolled to a 181-151 win in game three before finishing off the tournament with a 195-160 triumph in the fourth game. This marked the team's third consecutive appearance in the ITC tournament finals. The Bearcats won the 2016 crown by rallying from a two-game deficit to defeat William Paterson University 3-2 for the program's first-ever national championship. Last spring, the team reached the finals again but were defeated by Webber International University (Fla.) in the championship match.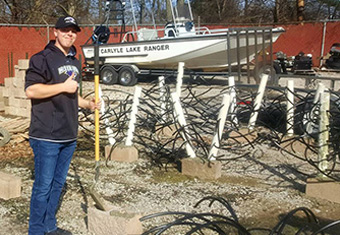 Bass Fishing Team Improves Lake Ecosystem for Future Generations of Anglers »
Volunteering in the community is an important part of what it means to be a Bearcat, but what if the future of your sport depended upon your efforts to preserve the environment? As one of the fastest-growing high school and collegiate sports in Illinois, bass fishing is also one of the most unique. Competitions usually last about eight hours, and much of the action plays out away from spectators, on miles of man-made and natural lakes. Perhaps even more important than the skill of the anglers and weight of their catch, however, is the health of the fish and waterways they inhabit.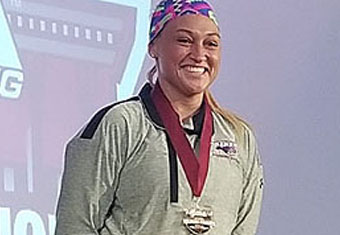 Powerlifting National Champion »

Lindsey Raker '18, a health and wellness graduate from Greenwood, Ind.,  made Bearcat history in April by becoming the University's first national powerlifting champion when she took first place in the women's 72kg weight division at the USA Powerlifting Collegiate Nationals. The progress that she made can be seen throughout her four years at McKendree, as she placed outside of the top 20 in her first year, achieved fourth her sophomore year, and came home with the third-place title as a junior.

"It feels very rewarding to walk away from McKendree with a national championship," Lindsey said about her senior performance.
Breanna Clemmer, an elementary education major from Clover, S.C., was only two years old when she first began to bowl. Showing great promise for the game, in her high school years Breanna picked up almost as many awards as pins she knocked down. Before her time at McKendree, she earned three U15 North Carolina All-Star Bowler of the Year titles, a 2012 U15 Junior Gold Championship title, and a 2014 U20 Junior Gold Championship title.

Since coming to McKendree, her records have not ceased, either. In Breanna's first year, she earned two gold medals at the 2017 Pan American Bowling Confederation Congress Youth Championships, was named both the 2017 National Tenpin Coaches Association (NTCA) DII/DIII Rookie of the Year and Bowler of the Year, and was a member of the Bearcats' NCAA National Championship title and ITC National Championship title squads.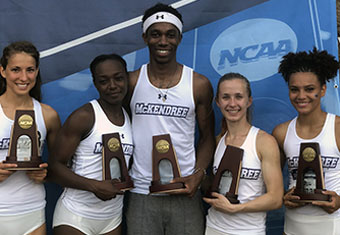 National Championships & All-Americans »
Ten Bearcat teams qualified for their National Championships and 40 All-Americans were honored in their respective sports during the winter and spring seasons.

♦ The bass fishing program finished in sixth place in the Cabela's School of the Year standings. The program had 11 boats qualify for three national championships this season—Cabela's, FLW and Bassmaster.

♦ Coming off a spectacular dual national championship title run in 2017, the women's bowling team won the Mid-America Intercollegiate Athletic Association (MIAA) Bowling Championship, and then had two runner-up finishes at both the 2018 ITC & NCAA National Collegiate Bowling Championships.
GLVC James R. Spalding Sportsmanship Awards

The men's swimming and diving program received the GLVC James R. Spalding Sportsmanship Team Award. They were also named to the DII College Swimming and Diving Coaches Association of America (CSCAA) Scholar All-America team standings for the Spring semester, with the women's team finishing seventh with an overall GPA of 3.65.

Ben Muller '18 and senior Adrian Brown were named the GLVC James R. Spalding Sportsmanship Award recipients in men's tennis and women's golf. Ben tied for the men's tennis team lead in victories during singles play this year, going 10-6 for the Bearcats.
Head men's wrestling coach Jim Kisgen was named the NCAA DII Coach of the Year by the National Wrestling Coaches Association, NCAA Central Super Region Coach of the Year and GLVC Coach of the Year. In his 15th season, he led the squad to a 17-5 dualmatch record with a first place finish at the GLVC Championships, second place finish at the NCAA Super Regionals and seventh place finish at the NCAA DII National Championships. Since transitioning to the NCAA, he has led the Bearcats to five top 10 national finishes.

Now in her fourth season as the head coach of the women's bowling program, Shannon O'Keefe guided the Bearcats to a strong regular-season campaign in 2017-18.
Representing 26 states and eight countries, the Class of 2018 graduates received their diplomas during the 178th commencement exercises on May 12 at the Lebanon, Ill., campus. The University conferred 714 degrees—17 doctorates, seven education specialists, 196 master's, 489 bachelor's and five associates—on students who completed their degree requirements in December 2017, and in May and July 2018. One-hundred-fifty-four graduated with honors: 20 summa cum laude, 81 magna cum laude and 53 cum laude. The Class of 2018 included the first graduates of the Doctor of Nursing Practice (DNP) in Ethical Leadership and the Master of Arts in Criminal Justice degree programs.
Internationally renowned opera soprano Christine (Burchyett) Brewer '76, of Lebanon, Ill., received an honorary Doctor of Fine Arts degree at the morning undergraduate ceremony and sang a favorite song, "Mira (Can You Imagine That?)" from the Broadway musical "Carnival," a cappella.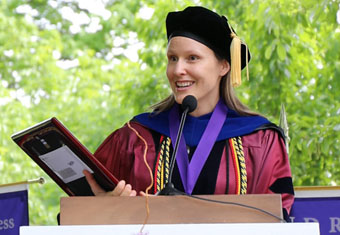 English Professor Wins Grandy Award »
An associate professor of English known for her cheerful, positive attitude and love of Shakespeare is the 2018 William Norman Grandy Faculty Award recipient. Dr. Nichole DeWall received the surprise honor at the undergraduate commencement ceremony. For 37 years, the Alumni Association has given the Grandy Award for commitment to students, the ideals promoted by the University, and community participation. Nichole, who joined the faculty in 2008, is an accomplished scholar who teaches courses in English composition, British literature, dramatic literature and research. Her primary area of expertise, as well as her personal passion, is in the teaching of Shakespeare.
The 2018 Technos International Prize for academic achievement and international understanding went to Jessica Lirios '18, a summa cum laude graduate from Greenville, Ill., who majored in psychology as an honors program student. Jessie is currently participating in the World Race, a discipleship trip to 11 countries in 11 months.
At the June 2 commencement ceremony at First Christian Church in Elizabethtown, Ky., Dr. Millard Dunn, a part-time associate professor, received the Outstanding Faculty Award. A published author of poems and short fiction, he has taught undergraduate English, writing, literature, art history and film courses to McKendree's Kentucky campus students since 1977. The "Spirit of McKendree Award" went to Jason Wade '18, a charge nurse at Hardin Memorial Hospital, who managed a full course load while working full-time and volunteering, and graduated with a Bachelor of Science degree in nursing. Daryl Hancock, chief of staff and executive director of the Kentucky campuses, presented both awards.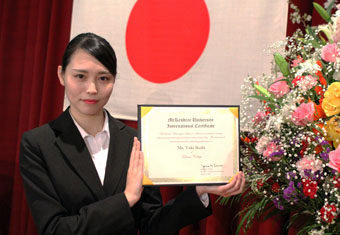 McKendree International Certificate

A month before the Technos International Prize was awarded at the Lebanon, Ill., campus, the McKendree University International Certificate was presented on April 13 during the Technos College Entrance Ceremony in Tokyo. The 2018 recipient, Yuki Ikeda, of Fuchu, Japan, is in her second year of a two-year airline course program at Tokyo Air Travel Hotel College, where she has maintained high grades and 99 percent attendance. Yuki is an on-campus advisor for prospective students at open house events and served on the school festival committee and the Technos International Week student staff.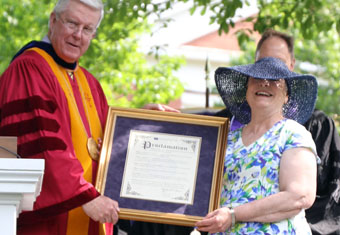 Drs. Gordon & Ozturk Retire as Professors Emerti »
The newest lifetime members of the University community are Dr. Betsy Gordon, professor of speech communication, and Dr. Feza Ozturk, professor of chemistry, who were awarded the honor and rank of professor emerita at the May 12 commencement ceremony.

After her retirement last December, Betsy was profiled in the Winter 2018 magazine. Feza, who retired in May, joined the faculty in 1988, becoming a full professor in 2010. She provided significant leadership for development of the chemistry curriculum and taught a wide range of courses. She received faculty professional development awards from the U.S. Department of Energy and the National Science Foundation, and served as a Fulbright Senior Lecturer at her alma mater, Ege University in Izmir, Turkey, during a 2007-2008 sabbatical.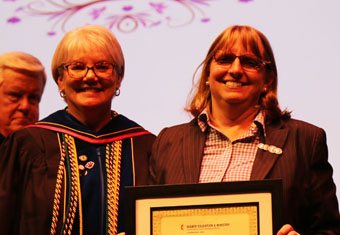 Honors, Achievements & Awards »
More than 65 academic achievers across all disciplines were recognized at the Honors Convocation, held during the fifth annual Academic Excellence Celebration on April 26. Accounting instructor Terese Kasson received the 2018 United Methodist Church Exemplary Teacher Award. Part-time instructors Scott Neill, who teaches health and wellness, and Dr. Marleis Trover, an education professor in the graduate program, accepted the Associate Faculty Awards for Excellence in Teaching. George Kriss, MBA '08 director of information technology, received the President's Award for Professional Excellence.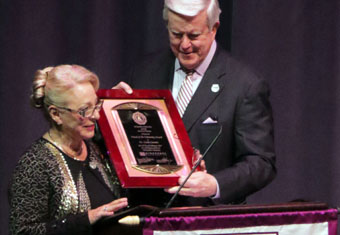 Linda Cassens is 2018 Friend of University »
Dr. Linda Cassens, a retired licensed psychologist from Edwardsville, Ill., received the 2018 Friend of the University Award for her commitment to education, cancer research and philanthropy in the region. It was presented during the 190th Founders' Day celebration on Feb. 20 at the Hettenhausen Center for the Arts.

Established in 2002, the award recognizes exemplary service to the University by a non-alumnus. Linda has spent her career helping others, particularly families who were struggling and in need of professional counseling.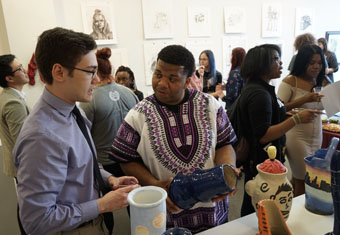 AEC Celebrates Achievement, Creativity »
The Academic Excellence Celebration is a day to applaud and appreciate the hard work, success, scholarly achievement and creative talent of students across all disciplines. At the fifth annual AEC on April 26, more than 380 students presented their original research and posters, exhibited their artwork or performed in recitals. Many honor society inductions were held later in the day, including ceremonies for three new chapters: Tau Sigma for transfer students, Pi Mu Epsilon for excellence in mathematics, and SALUTE for veteran and active duty military students.
Ileanisse "Lily" Soto planned fundraisers to assist hurricane relief efforts back home in San Sebastian, Puerto Rico, and helped organize activities and events to promote awareness of social justice issues as a member of the Define American chapter. The organizational communication-human resource major was selected as a 2018 Newman Civic Fellow by Campus Compact. The national coalition awarded fellowships to 268 students across the U.S.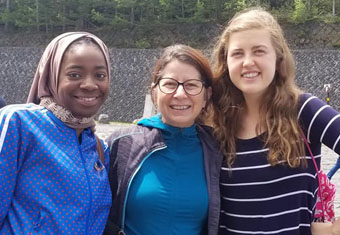 Technos International Trip to Japan

As guests of Technos International College, a professor and two sophomores visited Japan's Mt. Fuji, temples, shrines, kabuki theatre, and the world's first hedgehog café; tried new and unusual foods; and made new friends from other colleges and countries. Sharing the unforgettable two-week experience in Japan were Zahrah Dinkins, a biology major from Chicago, Ill.; Amy MacLennan, associate professor of art; and Emily Berry, a Spanish and psychology major from O'Fallon, Ill.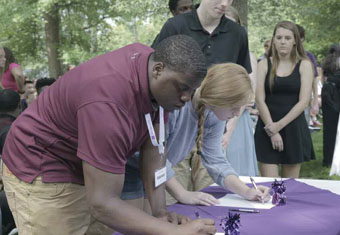 Welcome, Class of 2022

The University welcomed 375 first-year and 118 transfer students this fall. The Class of 2022's collective high school GPA is 3.5 and 10 percent have an alumnus family connection. While two-thirds of the new students are from Illinois, new Bearcats also hail from 23 other states, as well as the Bahamas, Brazil, Canada, Colombia, Denmark, Ethiopia, France, Germany, Italy, Hong Kong, Ireland, Kazakhstan, Kenya, Lithuania, Mexico, New Zealand, Norway, Sweden, the United Kingdom and Venezuela.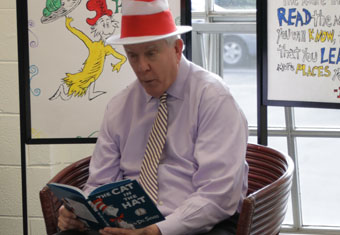 Oh, The Places He'll Go!

President Dennis captured the attention of little ones and their parents as a guest reader at the Bookstore's "Hats off to Reading" story time on March 1. Face painting, snacks and a photo booth were also part of the event to celebrate the late Dr. Seuss, author Theodor Seuss Geisel, who was born on March 2, 1904.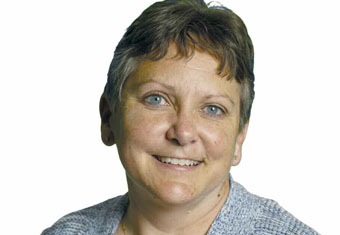 VP of Administration and Finance

Marilee Kaye Montanaro joined the University on Aug. 1 as vice president for administration and finance. She is the former director of finance and administration for Golisano Children's Hospital at the University of Rochester in New York, and was employed in financial management positions at the Rochester Institute of Technology in New York.

She earned a bachelor's degree and MBA from the University of Rochester and an Ed.D. from St. John Fisher College, also in Rochester. She succeeds Sally Mayhew, MBA '06, who retired in December, and Shari Keffer '11, MBA '13, who served as interim vice president.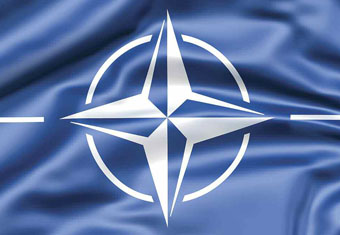 NATO Partnership

A new partnership with NATO enables the University to extend its reach abroad by offering an Allied Maritime Command Annual Scholarship (AMCAS) and a NATO Forces Scholarship for students enrolled in online degree programs. AMCAS is a renewable academic achievement scholarship covering up to 30 yearly credit hours of tuition and fees. The NATO Forces Scholarship program provides a discounted tuition rate applicable to all uniformed NATO military personnel from the 29 member nations of the Alliance.

To learn more, email inquiry@mckendree.edu.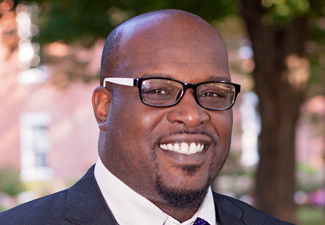 Letter from the Alumni Director, PJ Thompson, M.A.E.D. '17 »
Hello Alumni and Friends,

Thank you all so much for the love and support you give to McKendree University. School is back in session. During the summer months, camps were hosted for high school and middle-school students all over campus. It was a joy to experience the young campers exploring our campus as they considered their options for college.

The Alumni Association continues to host more events and activities every year as a way of reaching out to our alumni in their communities.
In the Centennial History of McKendree College, there contains a story of a great football game played in the year 1902. More than 600 visitors came to the field that day and, to welcome in the masses, what would be known as "yell leaders" accompanied a brass band and drum corps in celebration. By all accounts, this is the earliest mention of any form of pep band listed in McKendree's history.

It was not until over 20 years later, in the 1925–1926 school year, that McKendree would get a proper band on the field. Starting with 15 men leading the crowd, the band played for many years, adding new male and female performers and participating in events such as football and basketball games, parades, and special occasions on campus.
Make It McKendree