National Championships & All-Americans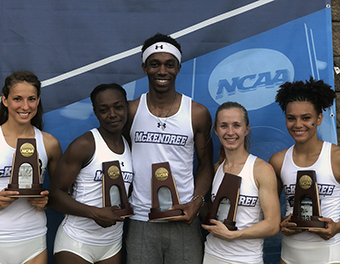 Ten Bearcat teams qualified for their National Championships and 40 All-Americans were honored in their respective sports during the winter and spring seasons.

♦ The bass fishing program finished in sixth place in the Cabela's School of the Year standings. The program had 11 boats qualify for three national championships this season—Cabela's, FLW and Bassmaster.

♦ Coming off a spectacular dual national championship title run in 2017, the women's bowling team won the Mid-America Intercollegiate Athletic Association (MIAA) Bowling Championship, and then had two runner-up finishes at both the 2018 ITC & NCAA National Collegiate Bowling Championships. Five bowlers received NTCA All-American honors, including seniors Sarah Wille and Jessica Mellott; junior Lauren Pate and sophomores Breanna Clemmer and Taylor Bailey.

♦ The softball team earned its first ever bid to the NCAA DII Softball Midwest Regional Championship. Brooke Gajewski '18 was named to the NCAA DII Nationals Fastpitch Coaches Association All-American second-team and Division II Collegiate Commissioner's Association (D2CCA) All-American third-team.

♦ The track and field program earned eight All-American titles at both the 2018 NCAA DII Indoor and Outdoor Track and Field Championships. Six athletes earned All-American honors, including Jordyn Looman '18; senior Melissa Calcara; juniors DeMontez McCray and Quincy McSweeney; sophomore Tsitsi Mahachi and first-year Kaylee Fann.

♦ The men's golf team finished in 18th place at its first ever NCAA DII Men's Golf Midwest/Central Regional Championship.

♦ The men's DII hockey team advanced to the American Collegiate Hockey Association (ACHA) Central Regional Championships after winning its second consecutive Mid-American Collegiate Hockey Association (MACHA) Gold Division Championship. The DIII team also won the MACHA Bronze Division Championship. Sophomore Dominic Naas was named to the ACHA DII All-American second-team.

♦ The women's powerlifting team finished in fifth place and the men's team in eighth place at the USA Powerlifting Collegiate Nationals. Six powerlifters earned All-American titles, including Lindsey Raker '18, Brianna Bogdan '18, and Kyle Franke '18; sophomore Emmet Metzger and first-years Katie Bochenek and Autumn Suchyta.

♦ The swimming & diving program had ten swimmers compete at the 2018 NCAA DII Swimming & Diving Championships. Six swimmers earned All-American honors, including sophomores Matija Pucarevic, Luca Simonetti, Sydney Rey, and Milica Sostarec and first-years Alexander Skinner and Throstur Bjarnason.

♦ First-year Emily Westlove was named to the NCAA DII Association of Collegiate Water Polo Coaches All-American second-team.

♦ The men's wrestling team claimed the 2018 NCAA Men's Wrestling Super Regional 3 Tournament Championship. The squad finished in seventh place at the NCAA DII Men's Wrestling National Championship. Five Bearcats had All-American finishes, including graduate students Ryan Strope '17 (157 lbs.) and Darren Wynn '17 (141 lbs.); junior Isaiah Kemper (149 lbs.) and sophomores Nick Foster (174 lbs.) and Marcus Povlick (125 lbs.).

♦ The women's wresting team finished in third place at the 2018 Women's Collegiate Wrestling Association National Championships. Nine wrestlers earned All-American nods, including graduate student Gabrielle Weyhrich '17 (116 lbs.); seniors Megan Black (130 lbs.), Destane Garrick (191 lbs.), and Brandy Lowe (191 lbs.); junior Alexis Porter (143 lbs.); sophomore Janelle Fuamatu (170 lbs.) and first-years Kori Bullock (170 lbs.), Brenda Reyna (123 lbs.), and Genae Sampract (101 lbs.).

Three women's wrestlers competed in the Junior Pan American Championships in Fortaleza, Brazil in August. Andrea Sennett (72 kg.) and Brenda Reyna (59 kg.) won individual silver medals and helped lead the U.S. team to a first-place team finish. First-year Felicity Taylor (50kg.) qualified for the Junior Pan American team, after winning first-place at 112 lbs. at the Junior Women's Freestyle National Championships in July.