McKendree Awards Honorary Doctor of Fine Arts to Christine Brewer
Operatic Soprano and Alumna Performs at Commencement Ceremony

(LEBANON, Ill., May 12, 2018) — McKendree University awarded a Doctor of Fine Arts degree to one of its most talented and accomplished alumni, Christine Brewer, at its 178th undergraduate commencement ceremony on May 12 in Lebanon, Ill. The honorary degree recognizes the operatic soprano's extraordinary lifetime accomplishments and continued commitment to her alma mater.

Graduates and their guests at the university's May 12 undergraduate commencement ceremony had the privilege of hearing her sing a favorite song, "Mira (Can You Imagine That?)," from the 1961 Broadway musical "Carnival." Brewer gave a poignant speech that reflected on her small town upbringing, the influence and support of her family and friends, and the McKendree music program where she got her start.

"She is a cultural jewel of the metro-east and St. Louis region," said Dr. James Dennis, university president. "As a lifelong ambassador for her alma mater, Christine never fails to recognize McKendree University when speaking with young people."

Christine Burchyett Brewer earned a bachelor's degree in 1976, graduating with honors in music education-vocal performance. She taught for several years at an elementary school in Marissa, Ill., before embarking on a professional performing career with the Saint Louis Symphony Chorus.

A 1981 audition for the chorus of Opera Theatre of St. Louis launched her operatic career. She has performed with the philharmonics and orchestras of major American and European cities on world's great stages, from Carnegie Hall and the Kennedy Center to the Royal Opera House at Covent Garden in London.

Named "one of the top 20 sopranos of all time" by BBC Music magazine, Brewer has built an illustrious reputation as a pre-eminent interpreter of composers Wagner and Strauss. She received the Metropolitan Opera Award and the Richard Tucker Award in 1989; the Dewar's Award in 1990; and as a first-time nominee, a Grammy Award in 2005 for Best Classical Album and Best Choral Performance. Her discography includes more than 25 recordings.

The Lebanon, Ill., resident takes time from her world travels and busy performance schedule to give master classes at McKendree University and elsewhere. She has performed at the university's Hettenhausen Center for the Arts many times, including at the Gala Opening and the 10th Anniversary Concert.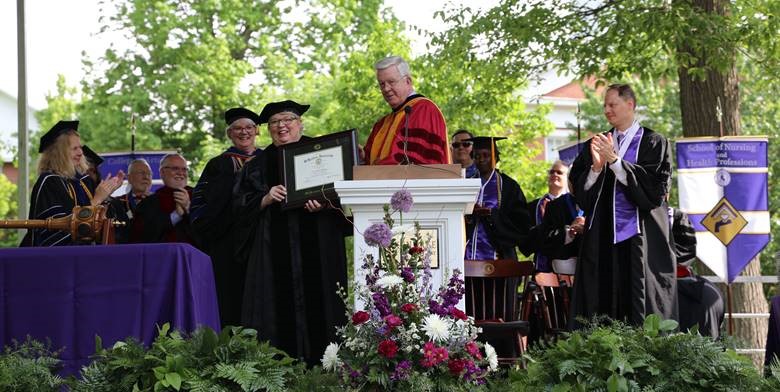 Christine Brewer, a class of 1976 alumna, accepts an honorary Doctor of Fine Arts degree from Dr. James Dennis, McKendree University president, on stage at the 2018 undergraduate commencement ceremony on May 12.
-McK-