Holistic Education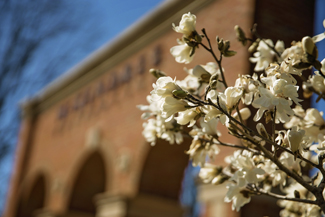 by Stephanie (Coartney) Dulaney '10

There are so many things to consider when choosing the right university. Location, class size, faculty experience, campus atmosphere, athletic offerings, research opportunities…the list is endless! So how do you decide which is most important to you?

We believe you shouldn't have to choose. Each of these components plays a vital role in giving you the perfect college experience, and it's why we've incorporated them all into our holistic approach to higher education. McKendree students are surrounded with opportunities to grow their intellect, creativity, physical health, and spirit. To us, your success is about more than gaining a diploma; it's about growing on a personal level too.

Whether you're presenting your original research to the university community, getting your hands dirty learning about sustainable eating habits, or connecting with people from different faith traditions, you're sure to develop a deeper sense of what you stand for at McKendree.

Academic Excellence Celebration

A well-rounded education means not only challenging yourself to explore new avenues of thought, but also sharing that knowledge with others. We believe in the value of our students' scholarly achievements, and our annual Academic Excellence Celebration is one important way that we recognize and share them on a grand scale.

This full-day event gives you the chance to showcase your own research, artwork, or performance abilities with the entire university community. More than 400 students present their work across campus, bringing together family, friends, professors, and administrators for a day of academic activities and appreciation. It's a unique way to get experience teaching others and sharing your work in a supportive, intellectual environment.

Business administration major Robert Watkins '18 recalls the excitement and nervousness he felt delivering a group presentation to a full audience that included the University President. "After I got over the initial nerves, I felt very confident in the work we all put into the presentation and was excited to share our findings with the audience, as well as field questions and gauge their responses," he said. "Academic Excellence Day provides a venue for students to hear the works of their peers in a format that's not usually accessible to everyone."

Gallery of Art

McKendree's Gallery of Art is another way the university helps foster students' creativity and appreciation for artistic expression. Opened in 2012, the Gallery features displays from students as well as local professional artists, and it's also the location of instructional seminars and poetry readings.



"They learn professional presentation methods, and it helps them assemble a portfolio for grad school or work in commercial design."

The venue is open to the public and gives art students the chance to not only share their work with the community, but also learn how to organize and implement an official art showing. "Students bring in their work and see it in this professional setting, and it really does transform the work for them," says Amy MacLennan, associate professor of art. "They learn professional presentation methods, and it helps them assemble a portfolio for grad school or work in commercial design."

Located in the heart of Lebanon's historic shopping district, the Gallery connects students with the outside community as they share their passion and talent for art with a wide audience.


Holman Library

While you might think a library is just another place to study, McKendree's Holman Library is so much more. You'll learn about censorship during Banned Book Week and gain research inspiration from displays featuring topics such as Black History, LGBT Pride, and Hispanic Heritage.

Fun library activities are designed to get students talking about everything from national events and philosophical questions to art and self-expression. Interact with an award-winning poet at a poetry reading or participate in a whiteboard discussion on one of many thought-provoking subjects. The library also helps students register to vote and provides ways to de-stress during finals week, including puzzles, bubble wrap, and therapy dogs.

For the Holman Library staff, it's about more than just helping you find the right book or article. They know academic success comes from caring for your well-being first and providing ways to nurture a spirit of lifelong learning.

Wonders of Wellness

Education goes beyond just feeding the mind, and the university's Wonders of Wellness (WOW) group encourages you to take care of your body too. This campus organization sponsors student events that promote healthy eating habits, physical activity, sustainable living, and so much more.

Through community gardens on campus, you'll learn how to grow food in your own backyard, creating a diet that's good for you and the environment. During Earth Week, WOW students use the food they grow as part of a Sustainable Lunch Demonstration. Their cooking classes also show you how it's possible to create healthy meals even in a dorm room.

McKendree students enjoy a host of opportunities to get moving and have fun with the campus' annual 5K Color Run, as well as dodgeball and sand volleyball tournaments throughout the year. WOW is one of the many ways the university seeks to inspire you to live a healthy life while improving the health of the planet.

Center for Faith & Spirituality

Our students come from a variety of different faith traditions, and the Center for Faith and Spirituality plays an important role in helping to cultivate spiritual well-being, no matter your religious background. The McKendree Campus Ministries team provides activities and worship services that promote understanding and give students a safe, welcoming environment for spiritual growth.

The "Better Together" student club is an interfaith group dedicated to making a positive difference in the lives of others while respecting all, regardless of religion. Several public chapel services throughout the year also celebrate a variety of religious traditions, such as Christmas and the traditional Jewish Seder Meal.

As a member of the Metro East Interfaith Fellowship, Rev. Tim Harrison, chaplain and director of church relations, works closely with a host of religious leaders throughout the area. He makes it a point to take his students out of the classroom to experience what it's like at local mosques or Hindu temples. For him, learning about different religions not only helps you grow spiritually, but also opens your mind to those who practice them.

"... our holistic education at McKendree helps students understand and connect with people of different faith traditions. It prepares you to live in a diverse world."

"The Center for Faith and Spirituality helps students learn to be global citizens," says Harrison. "So many people around the world are very involved in their faith, and our holistic education at McKendree helps students understand and connect with people of different faith traditions. It prepares you to live in a diverse world."

Through programs and activities that grow your mind, body, and soul, we're preparing you for that kind of world, where you can find that healthy balance for yourself and make a difference for others.
Make It McKendree