Academic Excellence Celebration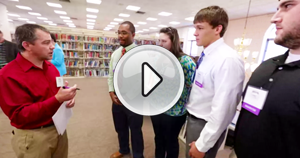 The 2019 Academic Excellence Celebration will be held on Thursday, April 25, 2019, throughout the Lebanon, Illinois, campus.
On that day, students will present their scholarly and creative work to the McKendree community. In addition, we will host the annual Honors Convocation that afternoon, and several honor societies will induct new members in the evening. Classes will not be held on the Lebanon campus that day or evening, but students will be expected to attend AEC events instead. 
The event promises to be one of the highlights of the academic year!
If you would like to share your scholarly or creative work with the McKendree community during the 2019 AEC, there are two options:
1. You may give a formal presentation or performance, a 30-minute oral presentation or performance showcasing your work to a small audience, OR
2. You may exhibit a research poster. During the poster session, you would stand next to your poster for about an hour and discuss your work informally with persons who stop by to view the poster.
If you wish to share your scholarly or creative work during the AEC on April 25, please submit one of the applications below:
Application to GIVE A PRESENTATION OR PERFORMANCE
Application to EXHIBIT A RESEARCH POSTER
Student applications must include the name of a faculty sponsor.
Deadline for applications: Friday, March 8, 2019
Also, faculty advisors for honor societies may submit applications to host honor society inductions that evening (6:00 p.m.). Faculty, please submit the application below:
Application to HOST AN HONOR SOCIETY INDUCTION
To see what students did last year, check out this link to last year's AEC program:
2018 Academic Excellence Celebration Program
Follow the McKendree Academic Excellence Celebration Twitter page at https://twitter.com/McKendreeU_AEC.


For questions, contact Dr. Chris Bahr, provost, cmbahr@mckendree.edu, 537-6809