Academic Excellence Celebration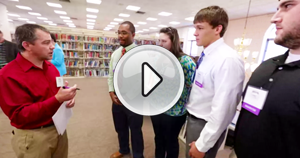 The 2018 Academic Excellence Celebration will be held on Thursday, April 26, 2018, throughout the Lebanon, Illinois, campus. On that day, students will have an opportunity to present their scholarly and creative work. Last year, 444 students showcased their academic accomplishments. We hope that YOU will be one of them this year!

You can showcase your work in one of two ways:
1. Give a 30-minute oral presentation or performance either individually or with some of your classmates. If you want to give a group presentation, the group should fill out just one application. Note that the student should fill out the application, but must list a faculty sponsor on the form.
Application to give a PRESENTATION or PERFORMANCE
2. Exhibit a poster about your research. You will stand next to your poster and attendees will ask you questions as they walk around to view student posters. 
Application to exhibit a research POSTER
Faculty Advisors for Honor Societies
If you want to host an honor society induction ceremony during the Academic Excellence Celebration, fill out this application:
Application to host an HONOR SOCIETY INDUCTION CEREMONY
The deadline for submission of all applications is Friday, March 9, 2018.

If you're not sure what you want to present, check out the 2017 Academic Excellence Celebration program, press release, and photo galleries for inspiration. 


For questions, contact Dr. Chris Bahr, provost, cmbahr@mckendree.edu, 537-6809