McKendree University Gallery of Art

Are you an Art major or minor?
Enter the Mural Design Contest!
All McKendree Art majors and minors are eligible to compete for cash awards. The winning design will be painted on the side of the building at 117 W. St. Louis Street in Lebanon, IL.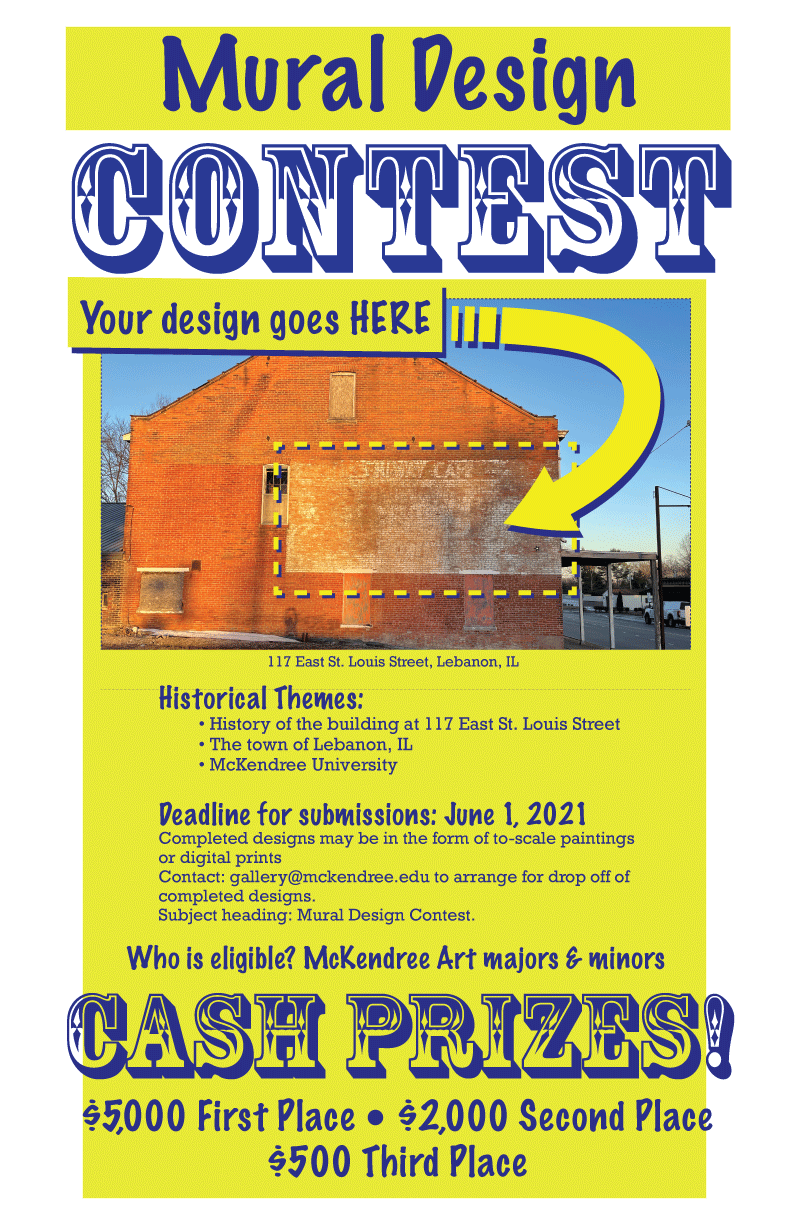 Congratulations to Summer Brooks and Shakayla Clark!
Summer and Shakayla represent McKendree University in 2021Varsity Art XXV.
Art Saint Louis presents "Varsity Art XXV," its 25th annual invitational exhibition featuring artworks by outstanding undergrad & graduate level art students representing 22 St. Louis regional universities and colleges from Missouri and Illinois. The exhibit is presented March 5-April 1, 2021. 

This multi-media exhibit features 44 student artists exhibiting artworks in a variety of media including ceramics, digital imaging, drawing, graphic design, mixed media, painting, photography, printmaking, sculpture, and video/time-based media. 
Please join us in congratulating Shakayla and Summer for their selection to exhibit with this stellar group of young artists.
The Art Saint Louis Gallery is free & open to the public six days a week: Monday-Friday 8 a.m.-3 p.m. and Saturday 9 a.m.-2 p.m. Closed Sunday & major holidays.
The McKendree University Gallery of Art is moving to a new, on-campus location at 305 Stanton Street. 
Our new space is under renovation and will open to the public in Spring 2020. We are excited that solo Senior Exhibitions will debut our new space. See dates for Summer Brooks, Shakayla Clark, Dea'veon Harden-Smith, and Meina Rice in the Spring 2021 gallery schedule.
Did you know?
The McKendree University Gallery of Art has hosted more than 60 artist exhibitions since opening in 2011?
More than 3,000 guests have attended our public receptions?
The gallery has installed exhibitions at Hettenhausen Center for the Arts lobby four times since 2011?
We've displayed McKendree student artwork in 21 separate exhibitions!
Artists from all over the country have painted the town over six times during our annual Get Out! Paint Out! plein air painting event!
Celebrate our 2020 seniors, Toinette Jones and Allison Woodhouse!
Hidden in Art, paintings and digital artworks by Toinette Jones and
Life Behind the Lens, photography by Allison Woodhouse are available online. 
The McKendree University Gallery of Art is located on the McKendree University campus at 305 Stanton Street. Hours: 1-4 Wednesday-Saturday. Summer & winter break hours may vary.
Exhibitions and artist receptions are free and open to the public.
 Contact gallery@mckendree.edu for more information.