Art Degree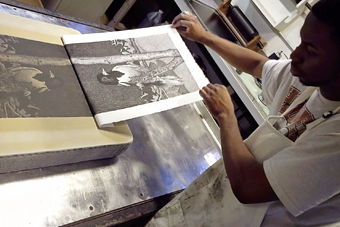 Discover, be challenged, get involved!

Explore your creative potential through courses in:


The Art curriculum at McKendree immerses students in the analysis and interpretation of visual arts in relation to society, culture, and tradition. McKendree Art faculty encourage students to make art that is honest, defines or redefines beauty, celebrates individuality, and engages the community. Our studio art majors prepare for graduate studies or for careers in areas such as Arts Administration, Design, Photography and Illustration.
Why a B.A. Degree in Art?

With a Bachelor of Arts degree, you'll stretch your creative potential through courses in ceramics, drawing, graphic design, painting, photography, printmaking, and sculpture. This engaging degree program will immerse you in the analysis of visual arts as it relates to society, culture, and tradition, and will prepare you for future graduate studies or careers in areas like design, photography, and illustration.


About the Art Major
Housed under the Division of Visual and Performing Arts, the B.A. in Art offers you a broad range of courses to prepare you for commercial production in design, layout, illustration, and photography. You will also receive extensive preparation for a career in teaching or furthering your study of art in graduate school.

Bachelor of Arts in Art

A minor in Art also offered.
Why McKendree?


McKendree University provides you with interactive learning opportunities through our small class sizes, experienced faculty, and unique internship experiences that move you beyond the classroom. We are committed to your success in the degree programs we offer, the internships and extracurricular activities that will set you apart, and the college experience you'll get here. Just 25 minutes from downtown St. Louis, Missouri, McKendree University is located in historic Lebanon, Illinois, and affords students a host of enriching cultural, career, and entertainment opportunities.


Program Highlights
Employment Opportunities

Art majors find employment in media, advertising and publishing, retail, fashion, and design. Many also pursue a career as a curator, archivist, or appraiser at a major museum or gallery. Some of our graduates have continued their careers as professional photographers, graphic designers, and other related fields in arts administration.
Club Information
Related Programs
Your Student Success Support Team