Mathematics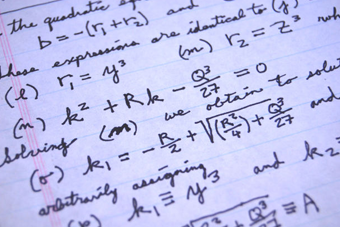 Mathematics Degree
A degree in Mathematics will prepare you with the skills you need to problem solve and communicate technical information in a variety of career fields.
Request Information
Mathematics is the study of quantities, patterns, and relationships that utilizes both abstract and concrete methods. Logical reasoning, the ability to use different forms of representation, and effective communication are necessary in order to master mathematics.

An increasing number of employers are hiring mathematics majors for careers in which their problem solving skills can be applied to other areas beyond those traditionally considered mathematical. A degree in mathematics focuses on problem solving and communicating technical information, both skills highly valued by employers.
Why a B.A. or B.S. Degree in Mathematics?

If you enjoy using logical reasoning to solve complex mathematical problems, then the bachelor's degree in Mathematics could be for you. Whether you envision yourself teaching the next generation, working in the banking or finance industry, or pursuing an advanced degree in law or medicine, a degree in Mathematics will prepare you with the skills you need to problem solve and communicate technical information in a wide variety of career fields.
About the Mathematics Major
Housed under the Division of Science and Mathematics, the degree program in Mathematics is offered in three different tracks.

Secondary Education in Mathematics:
If you enjoy teaching, consider the B.A. or B.S. in Mathematics for secondary education. This track gives you an extensive background in both mathematics and education and is specifically designed to meet the requirements of the State of Illinois.

Financial and Actuarial Sciences Track:
If you are considering a career in banking or finance, you may choose the B.S. in Mathematics for financial and actuarial sciences. In this track, you'll take courses that focus on Mathematics and Business. Specific courses focus on Mathematics for the first and second professional actuarial exams. These exams are the first licensing requirements to become a professional actuary as determined by the Society of Actuaries.

General Mathematics Track:
If you intend to pursue an advanced degree in Mathematics, law, or medicine, consider this track for its focus on problem solving, logic, and the communication of highly technical information. The General Mathematics track is available in a B.A. or B.S.

A minor in Mathematics is also available and is easily combined with a major in Chemistry or Computing.
Why McKendree?


McKendree University provides you with interactive learning opportunities through our small class sizes, experienced faculty, and unique internship experiences that move you beyond the classroom. We are committed to your success in the degree programs we offer, the internships and extracurricular activities that will set you apart, and the college experience you'll get here. Just 25 minutes from downtown St. Louis, Missouri, McKendree University is located in historic Lebanon, Illinois, and affords students a host of enriching cultural, career, and entertainment opportunities.


Program Highlights
Three different tracks give you the flexibility to gear your studies in Mathematics toward your specific desired career.

Our Mathematics majors have participated in Research Experience for Undergraduates (REUs) in Hawaii, Illinois, Massachusetts, Nebraska, Ohio, and South Carolina, and have had their research published in well-known scholarly journals.

Sigma Zeta Honor Society allows you to present your own research findings at a national conference, interact with others, and enhance your resume.

Local paid internships and experience tutoring in McKendree's Student Success & Advising Center provide Mathematics majors with important resume-building opportunities before graduation
Employment Opportunities
An increasing number of employers are hiring Mathematics majors for careers in which their problem solving skills can be applied to other areas beyond those traditionally considered mathematical. Graduates in Mathematics often find jobs utilizing their skills in computer or electrical technology, statistics, probability, consulting, and market research.

Some of the companies our recent graduates are working for include:


Allsup Inc.
Boeing
Northwestern Mutual Financial Network
State Farm Insurance
What Our Students & Alumni Are Saying
 

"Being a Mathematics major at McKendree is extremely rewarding. Professors genuinely enjoy teaching and interacting with students; they are academically, professionally, and emotionally supportive. The small class sizes and friendly, engaging professors makes the Mathematics faculty feel like a family."

~ Anthony Rhoads '14 is pursuing a Ph.D. in Biostatistics at the University of Iowa

 

"One of the best parts of being a student at McKendree was the relationships I was able to form with my professors. The Mathematics faculty at McK have such great personalities. They really care about the students and go out of their way to make learning fun!"

~ Dr. Maggie Rahmoeller '10 went on to earn a Ph.D. in Mathematics, specifically in the field of Lie Representation Theory, from North Carolina State University. She is currently Assistant Professor of Mathematics at Roanoke College in Virginia

 

"I could not have been happier with my choice to major in Mathematics at McKendree. The professors were outstanding, and I found their open door policy to be an invaluable piece of my learning experience."

~ Tyler Schwierjohn ASA, MAAA '08 currently works at Wellpoint in St. Louis and has recently become a Fellow in the Society of Actuaries

 

"As a Mathematics major at McKendree, I had the opportunity to develop mentor-mentee relationships with not just my advisor, but with the entire department. Those relationships molded me into the mathematician I am today. I will always look to them for advice as my career continues."

~ Aleesha Moran '13 is pursuing a Ph.D. in Pure Mathematics at Washington University in St. Louis

 

"At McKendree, I was not a face in the crowd. All my professors knew me personally, and I believe that was the key to my success in Mathematics. We embraced each other's unique set of talents and challenged each other to be better mathematicians."

~ Stephanie Thomas '10 received her master's degree in Mathematics from St. Louis University in 2012 and currently works for the Department of Defense near Baltimore, Maryland, as an applied research mathematician

Interesting Courses
Differential Equations and Modeling

Financial Mathematics

Applied Statistics


Club Information / Honor Societies
Sigma Zeta (National Science and Mathematics Honor Society) - The McKendree Beta Chapter is the oldest active chapter in Sigma Zeta and has been awarded the Founder's Cup five times for its activity at the national and local level. Each year, students and faculty attend the National Conference, where they present their independent research and network with peers and professors from universities across the nation.


McKendree MathCats - Have fun and meet other students in the campus mathematics club.


Related Programs
Student Support
Meet the Faculty
J. Alan Alewine, Ph.D.
Professor of Mathematics
Voigt Science Hall 115
(618) 537-6931
jaalewine@mckendree.edu
Associate Professor of Mathematics
Voigt Science Hall 102 B
(618) 537-6556
hadye@mckendree.edu
Dennis Ryan, Ph.D.
Professor of Mathematics
Voigt Science Hall 119
(618) 537-6937
dryan@mckendree.edu
Experience a higher quality education and discover endless opportunities. Apply Online!