Russel E. and Fern M. Hettenhausen Center for the Arts
"The Hett" is Southern Illinois' premier performing arts venue, presenting world class dance, drama, classical music and jazz. The 488-seat auditorium is located on the McKendree University campus in Lebanon, Illinois, 25 miles from St. Louis.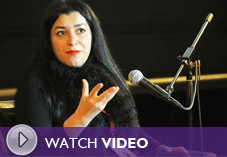 Marjane Satrapi: Distinguished Speaker Series
Monday, October 27 @ 7:30 p.m.

The Iranian born graphic novelist and filmmaker rose to international prominence with her acclaimed autobiographical work, "Persepolis."




The King's Speech (2010): Film Art Series
Wednesday, October 29 @ 7:00 p.m.

The story of Britain's George VI who unexpectedly ascends to the throne and must overcome a great obstacle to be the king his country needs.


 
Saint Louis Symphony Mondays 
Monday, November 17 @ 7:30 p.m.

An exquisite concert experience features smaller chamber ensembles of Saint Louis Symphony Orchestra musicians.