Golf Tournament

An Elite Golfing Experience ...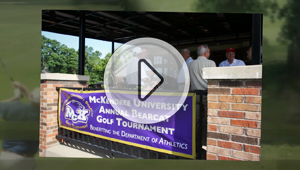 The 4th Annual McKendree University Bearcat Golf Tournament will be held on Friday, June 19 at the newly renovated golf course at St. Clair Country Club in Belleville, IL. Don't miss out on this memorable first-class experience and the opportunity to support McKendree University's Department of Athletics.

Each year, the Bearcat Golf Tournament benefits our outstanding student-athletes by upgrading athletic facilities, as well as purchasing new equipment for more than 800 student-athletes representing 28 sports. McKendree University is now a full member of the NCAA Division II and participates in the Great Lakes Valley Conference.

Please accept this letter as your invitation to participate in this year's Bearcat Golf Tournament. As you will see on this website, there are numerous playing and non-playing sponsorship opportunities available for you to support Bearcat Athletics. The student-athletes and coaches greatly appreciate your support of this wonderful event.

Previous Bearcat Golf Tournaments have been complete sellouts so don't delay. The field will be limited to the first 36 paid teams, so we urge you to send in your Sponsorship Agreement Form as soon as possible. Hope to see you on June 19th.
    
GO BEARCATS!