Break Housing
Needing to stay during a break period? We've got you covered.
---
Short Breaks
Students staying for Fall, Thanksgiving, Easter, or Spring Breaks are welcome to stay for the entire break period at no extra cost. During these breaks, Dining Services, and other campus offices may be closed. Please plan ahead to make sure all of your needs are taken care of.
---
Winter Break
Students needing to stay for the Winter Break are welcome to stay for the entire break period at no extra cost. However, students must sign-up to be approved to stay during the winter break. In addition, Dining Services and other campus offices will be closed during the break period. Students should plan ahead to make sure all of their needs will be taken care of over the entire break.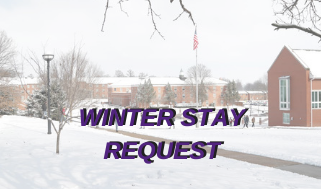 ---
 

Summer Break
Summer housing is located at McKendree West and will be available May 15 - August 2, 2020.
QUALIFICATIONS
Students must meet ALL of the following qualifications to be approved for summer housing:
Have a zero balance with McKendree University prior to May 8, 2020;
Be registered at McKendree University for a minimum of 12 credit hours for the following fall semester prior to May 8, 2020 unless graduating in July/August;
Have either lived in McKendree University housing in Spring 2020 or have a placement in housing for the Fall 2020 semester; and
Be in good judicial standing - students with a housing restriction, removal, or suspension will not be permitted to live in summer housing. Students on probation will be approved at the discretion of the Office of Residence Life.
ELIGIBILITY
Students must meet at least one of the follow reasons to be eligible to stay in summer housing:
Involved in University activities which require proximity (not employment)

Enrolled in summer classes at McKendree University or cooperative program

Registered for an internship through McKendree University's Office of Career Services

Employed on campus or off campus within 30 miles

Maintain international status through the Office of International Student Services
RATES
The Summer Housing rate is $10/day. This charge will be added to the student's McKendree bill.
CHECK IN PROCESS
Check in for Summer Housing will occur from Friday, May 15th - Thursday, May 21st.
During the week, students can obtain keys from the McKendree West clubhouse from 8:00am-5:00pm.
In the evenings and on weekends, students must call the McKendree West duty phone, 618-975-4386.
Students must complete the McKendree West Room Condition Report within three days of checking in to their assignment. Students who do not complete this form will be charged a $15 fine.
SUMMER HOUSING SCHEDULE
Friday, May 8, 2020, 12:00 PM

 

All Residence Hall Close

*Except for students registered for Summer Housing

---

---

---

Friday, May 15, 2020, 8:00 AM - 5:00PM

 

Students approved for Summer Housing can collect Summer Housing keys & begin moving in to their Summer Housing assignment

---

---

---

Thursday, May 21, 2020, 5:00 PM

    

Summer Housing students must complete their move to Summer Housing & check out of their Spring assignment

---

---

---

Wednesday, July 29, 2020, 8:00 AM - 5:00PM


                          

Summer Housing students can collect their keys for their fall assignment & begin moving in to their belongings

---

---

---

Sunday, August 2, 2020, 5:00PM

     

Summer Housing students must have their move to their fall assignment completed & have checked out of their Summer Housing assignment