Double Majors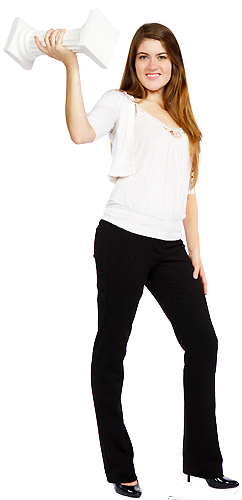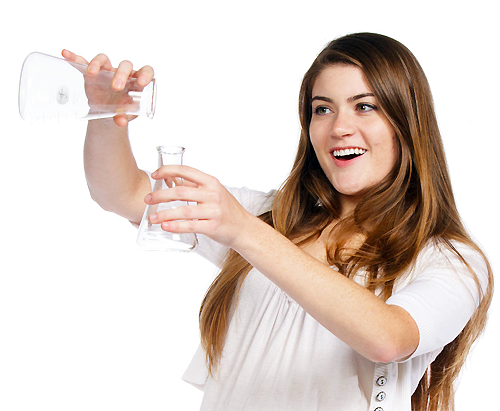 Sarah Brown
Philosophy & Chemistry
When students find themselves unable to decide between two majors, doubling up may be the answer. Some cross disciplines based on their talent, passion or aptitude. Others are motivated by a specific career goal.
"A double major can be extremely beneficial for many fields," said Jennifer Pickerell '99, director of career services. "For example, a student majoring in marketing and art can market both their business and creative skills. History or political science combined with communication could be beneficial for someone who wants to get into politics or go to law school."

The greater course load and more complicated class schedule of the double major student can be challenging. Advisers use program evaluations and four-year academic planning sheets to ensure that students take all of their required courses, explained Debbie Larson, registrar. Many take summer classes to complete their degree requirements in four years.

Meet five McKendree students whose parallel academic paths are somewhat unique. All are extremely focused, hard-working, high achievers who also participate in athletics or co-curricular activities.

"I get a lot of satisfaction out of the huge explanations in everyday life," says Sarah Brown '13, who is pursuing not only two majors but also double degrees—a Bachelor of Arts in philosophy and a Bachelor of Science in chemistry.

"The critical thinking you get from philosophy is really helpful in science. Philosophers back in the day were mathematicians and scientists," noted the senior from Maryville, Ill. Take Aristotle, Descartes, Einstein or Newton, for example.

Like the lesser known 19th century Scottish physicistmathematician and natural philosopher James Clerk Maxwell, Sarah studied at the University of Edinburgh. During the spring 2011 semester in Scotland, she took classes in the "the stuff of the universe" and the philosophy of time travel.

"I do like metaphysical philosophy," she said, comparing the questioning of existence, objects and their properties to the scientific measurement of empirical data. "If you question it, everything is measurable.

"Philosophy has rules of logic. That came super easy to me. Science requires more memorization. I love having the variety of classes, having the math in science but the papers and writing for philosophy."

Sarah was undecided on a major when she enrolled at McKendree four years ago but eventually found the right balance. "I knew I liked philosophy. In high school I was always interested in science. I decided on chemistry my second year." Her double degree requires 160 credit hours instead of the minimum 128 for a degree in one major.

McKendree's award-winning debate team provides a competitive outlet for Sarah's analytical nature. "I find debate incredibly valuable," she said. "You have to be able to put together logical arguments in philosophy to support or refute their claims. I tear other people's logic apart."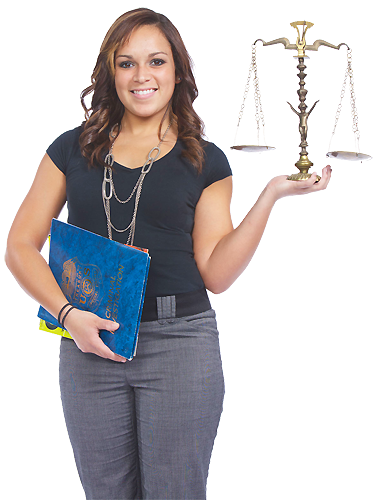 Jessica Spires
Sociology-Criminal Justice & Spanish
Jessica Spires '12 knows that fluency in Spanish can give her an advantage in the highly competitive career she seeks - an FBI investigator, preferably in Florida. "It's easier to get in if you speak two languages and it will be easier to find work in the southern states," said the New Lenox, Ill. native, who is ready to escape the harsh Midwest winters permanently for her dream job in a balmy climate.

Jessica originally chose Spanish as a minor to complement her major in sociology with a criminal justice emphasis. "I took it in high school and picked it up easily," she said. Taking a job in a largely Spanish-speaking community near her hometown offered opportunities to practice her bilingual skills. Needing just six more credit hours to add Spanish as a full second major, she added the classes.

Jessica will conclude her college career far from McKendree, immersed in Spanish language coursework in Central America. Two months after she graduates in May with a sociology-criminal justice degree, she will be off to Universidad Nacional in Costa Rica for six months. The study abroad experience will complete the degree requirements for her Spanish major in December.

The senior is focused on her career goal with the same drive and determination she brings to the Bearcats' defending national champion women's bowling team. She hopes to continue on the women's bowling tour when she returns to the U.S. to pursue a career as a federal agent. Jessica has enjoyed academic as well as athletic success, as a member of the Phi Kappa Phi national honor society and the Alpha Kappa Delta sociology honor society. She is also a student ambassador and a member of the Spanish Club.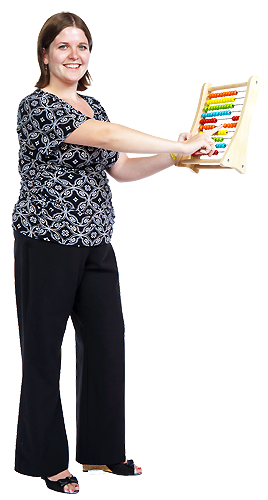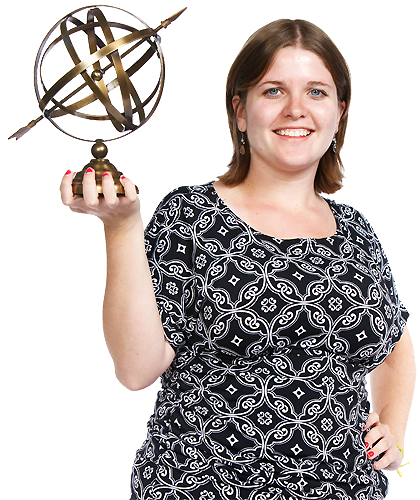 Andrea Jenkins
Math Finance Actuary & International Relations
"It is possible to apply game theory to international relations," maintains Andrea "Annie" Jenkins '13, who can link the mathematical analysis of strategic interaction to global economics and politics. Majors in international relations and mathematics combine Annie's innate curiosity about other countries with a practical "plan B."

Annie may be proficient with numbers but travel is clearly her passion. Taped to the inside back cover of her day planner is a neatly typed "bucket list": Go to New York City for New Year's Eve. Visit all 7 continents. Visit the 7 wonders of the world (she's
been to three). See all 50 states (26, check). Sleep in a castle. Go to Wimbledon.

"I have a longer version at home on my dream board," says the super-organized, ambitious junior from Fairview Heights, Ill. "I want to go to every country. I've even looked up cruises to Antarctica." Since the age of 15, trips to Switzerland, Italy, France, Monaco and Vatican City have fueled her wanderlust.

"The first three pages of my passport are awesome," says Annie. In 2011 she spent a week in China, a day in Japan and a month in Brazil—on one trip. She is eager to return to Japan, having spent two weeks in Tokyo as McKendree's Technos International Exchange student in 2008.

The president of the campus Green Team environmental group and the vice president of the International Student organization would like a career in international volunteerism or diplomacy. Adept at math, she knows she could also be successful as an actuary.

"I've always been good at math, always enjoyed it. I make math
references all the time. It's good to have a backup plan."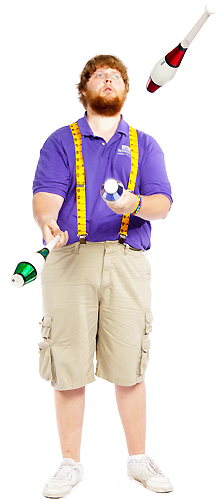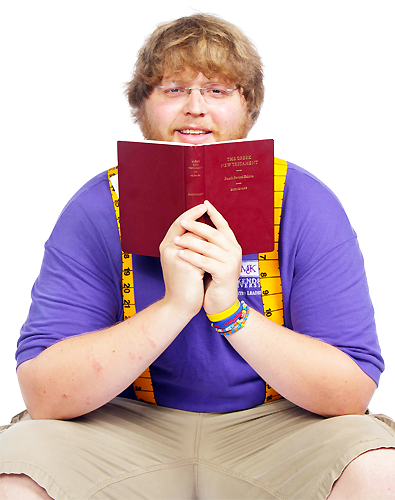 Brad Gebben
Religion & Theatre
Brad Gebben '12 makes a wry comparison between his two academic majors, theatre and religion. "In one, you learn how to 'lie.' The other teaches you that lying is bad."

The senior from Effingham, Ill., balances a deeply spiritual nature with a flair for the dramatic. Brad, who contributes at least community service 200 hours each semester, has felt called to service since his final year of high school.

In two years at McKendree he completed all but two classes required of religion majors. Within one year, he learned to read Biblical Greek and mastered a basic command of Greek words.

With ample time to pursue a second major, the stage beckoned. Brad had participated in high school theatre productions and has acted in several plays at McKendree.

His two majors complement each other. "My theatre background gives me the ability to stand in front of a crowd and speak for a long time. Also, the lighting and sound equipment that a lot of churches have are the same things we use for theatre."

While at ease in front of a crowd, Brad doesn't plan to preach from a pulpit. When he enters the seminary next fall, he will concentrate on pastoral care and chaplaincy. He wants to specialize in homeless and special needs ministry, offering spiritual counseling and Bible study in group homes or one-on-one with the mentally disabled.

In the meantime, the six-foot, five-inch gentle giant is perfecting his juggling moves, lately with cigar boxes. It's a skill he picked up in a body control and movement class, where drama students juggle pins to integrate mind and motion.

Brad has kept a lot of balls in the air during four years at McKendree, as a member of three fraternities, the bowling team, new Frisbee club, student safety patrol, Interfaith Council, Campus Ministries and Philosophy Club, to name just a few.

Miriah McCaffrey
Speech Communication & Music Business
With two largely performance-based majors, Miriah McCaffrey '14 knows the pressure of singing and speaking before an audience.

The music business and speech communication major believes the experience onstage will give her an edge in a career offstage in the entertainment industry. Miriah wants to work behind the scenes in public relations for a talent company, performing artist or music-related business.

As a performer, "music gives me an understanding of the field I want to represent," she said. "Everybody wants to be famous. I'm doing the thing I love now but I'd like to have a paycheck once I leave here."

The outgoing sophomore soprano from Clearwater, Fla., has taken voice lessons since the age of nine. Her high school voice teacher, Derek Weston, is from a family of McKendree alumni and he encouraged her to consider the University. "When I came here to visit it was instant love," said Miriah, who admits she is "not a fan" of winter in Lebanon.

Whether rehearsing a speech or memorizing a 10-page German opera, Miriah believes "practicing is harder than homework. You have to be linguistic to work with these kinds of things. You have to research and study what (language) you're singing." She has sung in German, Italian and French as well as English, working with a vocal coach on the foreign translations.

Miriah performs in McKendree's Concert Choir, in local churches and occasionally just for fun. She hones her speaking skills as a member of the debate and individual events team. She also works for the campus Public Safety Department and as a nanny.