National Champions
For the third consecutive year, the women's wrestling team won the National Collegiate Women's Wrestling (NCWWC) Championships team title. The team totaled 188 points, 22 more than No. 1 ranked King University, who finished in second place. Fifteen wrestlers competed with twelve earning All-American accolades for their top-five efforts and two winning national championship titles.

No. 1 ranked senior Sydnee Kimber from Sitka, Alaska, won her third straight NCWWC national title at 191lbs. by pinfall. She posted a 4-0 record, with two pinfalls and two technical falls. Sydnee improved her career record to 75-4 and extended her two-year winning streak to 45. She also took the top prize at the NCWWC Southwest Regional in February, was named the Alaska Athlete of the Week on March 14, and was a finalist for the Alaska Sports Hall of Fame Pride of Alaska award.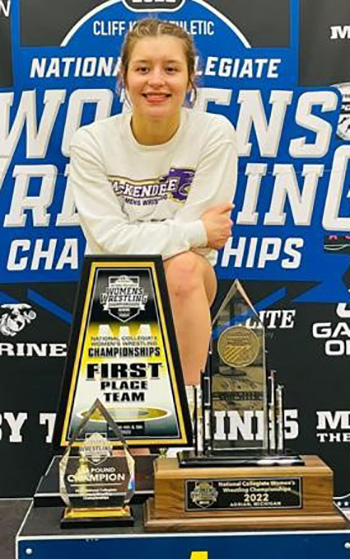 Sophomore Cameron Guerin from Yakima, Wash., defended her 130lb. crown from 2021 by posting a 4-0 record, with a pinfall and three tech falls. She was awarded the Most Outstanding Wrestler at the tournament. Cameron also won first place at the NCWWC Southwest Regional and was the NWCA Southwest Region's Women's Wrestler of the Month in November 2021.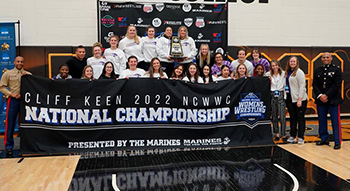 Second Place
• Senior Joye Levendusky (170lb.), Clarksville, Tenn.
• Senior Kayla Marano (156lb.), Jefferson, Ga.
• Senior Felicity Taylor (116lb.), Spillville, Iowa
• Junior Alara Boyd (143lb.), Muncie, Ind.
• First-year Jaycee Foeller (191lb.), De Soto, Mo
Third Place
• Sophomore Lizette Rodriguez (101lb.), Fremont, Calif.
Fourth Place
• Graduate senior Natalie Reyna (109lb.), Hesperia, Calif.
• Senior Grace Kristoff (170lb.), Belleville, Ill.
• First-year Skye Realin (136lb.), Mililani, Hawaii
Fifth Place
• First-year Emmily Patneaud (136lb.), Newark, Calif.
Qualified
• Junior Pauline Granados (109lb.), Rialto, Calif.
• Junior Aliyah Rollins (116lb.), Granada Hills, Calif.
• Sophomore Caitlyn Thorne (123lb.), St. Charles, Mo.

McKendree entered the national tournament with a second-place team finish at the National Wrestling Coaches Association (NWCA)/NUWAY National Duals and the NCWWC Southwest Regional team title.

Off the mat, eight women's wrestlers were named NWCA Scholar All-Americans, including Natalie, Felicity, Joye, Aliyah, Cameron, Lizette, Emmily and first-year Hannah Hall from Tampa, Fla. As a team, the Bearcats finished second in the nation with a team GPA of 3.776.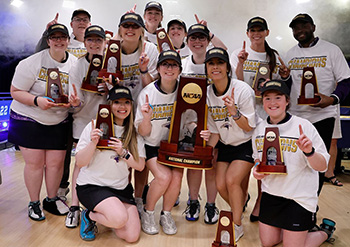 The No. 1 women's bowling team capped off the 2022 season by capturing the program's second-ever NCAA Collegiate Bowling National Championship title, as the Bearcats downed eighth-ranked Stephen F. Austin, 4-0, in a best-of-seven Baker match play format. The Bearcats, who faced elimination after falling 2-1 in the opening mega-match, responded by winning three straight matches to secure a spot in the championship final. On the year, the Bearcats claimed six NCAA tournament titles, including the GLVC Tournament, NCAA Erie Regional championship titles.

Members of the National Championship squad included graduate student Cassidy Courey from Brooklyn Center, Minn.; fifth-year senior Isabella Correa Sarmiento from Cali, Colombia; seniors Hope Gramly from Prosper, Texas and Britaney Myers from Mechanicsville, N.Y.; juniors Rebecca Hagerman from Loves Park, Ill., Maranda Pattison from Redwood Valley, Calif., and Kayla Smith from Salem, Ill.; sophomores Isabel Allen from Tamworth, England and Keyla Covarrubias from Mexico City, Mexico; and first-year Anna Warkel from Cedar Rapids, Iowa.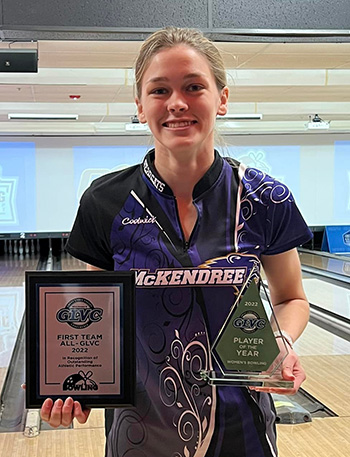 Hope earned multiple national and conference awards in 2022. She was named a repeat NCAA Division II/III Player of the Year, National Tenpin Coaches Association (NTCA) Division II Player of the Year, National Collegiate Bowling Championship (NCBC) Tournament's Most Outstanding Player, and GLVC Player of the Year. Hope recorded a 211.8 overall average on the season and in 1,115 total frames, she averaged 21.17 per frame, which was sixth among all NCAA women's bowlers. In addition, she bowled 31 200-plus traditional games, had five Top 10 individual tournament finishes, and was tied for the top nationally in strike percentage at 55.9 percent on the season.

Hope, Rebecca and Maranda earned NTCA All-American first team, second team and honorable mentioned nods, respectively. Hope and Rebecca were named to the NTCA All- Central Region first team and second team, and Hope earned a National Collegiate Bowling Coaches Association (NCBCA) All-American second team accolade.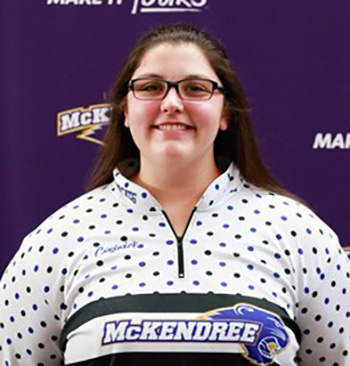 Rebecca won two major academic awards this season. She was named the recipient of the NCAA Elite 90 Award for having the highest cumulative GPA of the student-athletes participating in the finals of the 2022 National Collegiate Women's Bowling Championships. She also was named the GLVC Scholar Athlete of the Year for women's bowling. She carried a season-high 3.87 GPA as a biopsychology major. Rebecca posted a 210.8 overall average and was tied with Hope for first nationally in strike percentage at 55.9 percent on the season.

The Bearcats also qualified for the United States Bowling Congress (USBC) Intercollegiate Team Championships, after winning the Dayton Sectional. They fell three wins shy after falling to Mount St. Mary's in their fifth-round match to end their season. Four bowlers competed for the Intercollegiate Singles Championship title, including Hope, Rebecca, Britaney and Anna.

In the classroom, the team earned an NTCA All-Academic team award with a 3.585 cumulative GPA. Fifteen women's bowlers were named NTCA Academic All-Americans, including Cassidy, Isabella, Hope, Britaney, Rebecca, Maranda, Anna; junior Jessica Crowley from St. Marys, Ga.; sophomores Rhian Dobinson from Farmborough, England, Dominique Donegan from Midlothian, Ill., and Peyton Gonzales from Denver, Colo.; and first-years Sonia Halabi from South Barrington, Ill., Kira Johnson from Perham, Minn., Macy Kasperik from Gillette, Wy., and Lexus Petrich from Boardman, Ohio.