National & Regional Highlights
73 athletes and 12 teams qualified for Nationals, 3 individuals and 2 teams won national championships, 4 players won major national awards, 52 athletes earned All-American honors, and 69 scholar-athletes were named Academic All-Americans.

Baseball

Three baseball players earned regional honors this season. Senior Alex Steinbach from Plainfield, Ill. and sophomore Joseph Copeland from Glen Carbon, Ill. earned spots on the Division II Conference Commissioner's Association (D2CCA) All-Midwest Region second team and the National Collegiate Baseball Writers Association Midwest Region honorable mention team. Senior Corey Price of Bethalto, Ill. was named to the American Baseball Coaches Association/Rawlings All-Midwest Region second team.

Basketball

Men's basketball junior Bryson Bultman from Nashville, Ill. was named to the D2CCA Men's Basketball All-Midwest Region second team. He was also named to the College Sports Information Directors of America (CoSIDA) Academic All-District 4 At-Large team. He carries a 3.62 cumulative grade point average in accounting.

Bass Fishing

Six Bearcat boats competed at the Major League Fishing College Fishing National Championships at Fort Gibson Lake on March 29-31. Fifth-year senior Nate Doty '21 from Decatur, Ill. and senior Bailey Bleser from Burlington, Wis. led the Bearcat teams by reeling in 14 fish weighing a total of 39 lbs., 7 oz. and finished third overall. With their third place finish, they earned co-angler spots in the Professional Series Toyota Championship on Nov. 3-5, 2022.

First-years Lane Stephens from St. Louis, Mo. and Kyle Hopping from Lake St. Louis, Mo. finished in 13th place overall. Other Bearcat duos that competed were seniors Tyler Christy from Bolingbrook, Ill. and Trey Schroeder from Crestwood, Mo.; junior Trey Budach from Morris, Ill. and sophomore Colton Hill from Patoka, Ill.; junior Devon Rathbun from Springfield, Mo. and sophomore Harmon Marien from Eagle River, Wis.; and junior Nick Holtgrave from Trenton, Ill. and first-year Jaxson Freeman from Loda, Ill.

Five boats competed in the 2022 BoatUS Collegiate Bass Fishing Championship presented by Bass Pro Shops on Pickwick and Wilson Lakes on May 26-27.

The team finished in 7th place, with Bailey and Harmon leading the way with a 28th place finish. Trey Schroeder and Tyler; Lane and sophomore Colsyn Head from Poland, Ind.; senior Alec Berens from Channahon, Ill. and graduate student Joseph Bruener from Douglas, Texas; and first-years Jack Stephens from St. Louis, Mo. and Maxwell Trotter from Decatur, Ill., also competed. The Bearcats ended the tournament and season in third place in the national School of the Year Standings.

Men's Bowling

The men's bowling team punched its ticket to the USBC Intercollegiate Team Championships after winning the Dayton Sectional Qualifier of the USBC Regionals. Junior Seth Gass from Dix, Ill. was the lone men's bowler to qualify for the Intercollegiate Singles Championships; however, he fell in the quarterfinal round. Junior Jorge Rodriguez from Yauco, Puerto Rico earned a NCBCA All-American honorable mention team nod.

Cheerleading & Dance

The cheerleading team finished fifth in the All-Girl division and 12th in the Coed Division at the National Cheerleaders Association College Nationals in April in Daytona Beach, Fla. The competitive dance team finished ninth for team routine at the National Dance Alliance Collegiate Competition.

Golf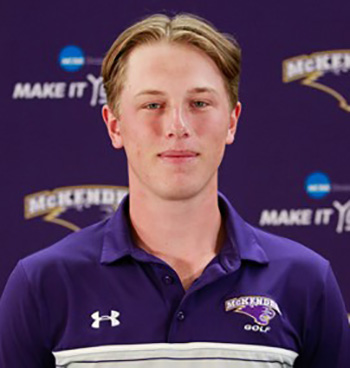 Ranked fourth in the nation for NCAA Division II Midwest, the men's team finished seventh at the NCAA II Central/Midwest Regional and fourth at the GLVC Championships. First-year Fabian Wennerlof of Onsala, Sweden was named the GLVC Freshman Men's Golfer of the Year.

He averaged a 73.74 on the season in 22 rounds and 11 events. He was tied for second on the team with nine rounds of par or better golf and recorded team-best 36 and 54-hole scores. He captured three individual medalist honors and had two other Top 5 finishes.

The women's golf team finished 14th at the NCAA II Central/Midwest Regional and sixth at the GLVC Championships.

Women's Hockey

The women's hockey team earned the No. 8 seed in the American Collegiate Hockey Association (ACHA) Division I Women's Hockey National Championships before falling to the University of Massachusetts in the second round.

Seven Bearcats were named to the ACHA Academic All-American team, including seniors Brittany Koch from Bloomfield Hills, Mich. and Naomi Leasck from St. Louis, Mo.; juniors Quinn Atchison from Victoria, British Columbia, Juliana Davis from Onanole, Manitoba, Madison Puffalt from Moose Jaw, Saskatchewan, and Camryn Scully from Prince George, British Columbia; and first-year Larissa Gorgevska-Sharpe from West Palm Beach, Fla.

Lacrosse

Junior attackers Kat Albrecht from Louisville, Ky. and Sydney Tiemann from Eureka, Mo. were named as Intercollegiate Women's Lacrosse Coaches Association All-Midwest Region second team selections.

Powerlifting

The men's powerlifting team finished in fifth place at the 2022 USA Powerlifting Collegiate Nationals in Lombard, Ill. The women's team competed for the first time as a team and had three women finish in the Top 10.

Fifteen powerlifters competed in the national championships with junior Jordon Spence from Corinth, Miss. leading the way with his first national championship title in Men's Raw 125.

He was joined in the top ten by junior Kolby Pierce from Ionia, Mich. (4th place in Men's Raw 56), sophomore Kailee Carr from St. Peters, Mo. (9th place in Women's Raw 56), and first-years Jake Waltzer from Elkton, Md. (8th place in Men's Raw 75), Isabelle Rivera from Lake in the Hills, Ill. (5th place in Women's Raw 60), and Zariah Valentine from Monroe, La. (4th place in Women's Raw 48).

Other national qualifiers included graduate student Daniel Filipek from Warrenton, Mo., senior Atticus Harris from Sullivan, Ill., junior Jared Trantina from Sibley, Ill., sophomores Dominique Donegan from Midlothian, Ill. and Maurice Mendenhall from Mahomet, Ill. and first-years Marissa Barauskas from Bolingbrook, Ill., Cadin Colehour from Lanark, Ill., Maxon Karnes from Edwardsville, Ill., and Shanyn Simmerman from Clinton, Mo.

Softball

Junior Olivia Stansbury from Lafayette, Ind. was named the 2022 NCAA Division II Softball Statistical Champion for slugging percentage. She recorded a school record and NCAA Division II best slugging percentage of 1.052. Olivia was named the D2CCA Midwest Region Player of the Year and the GLVC Softball Player of the Year.

A finalist for the Schutt Sports/NFCA Division II National Player & Pitcher of the Year, she also earned CoSIDA D2CAA All-America and National Fastpitch Coaches Association (NFCA) All-America first team honors, and D2CCA and NFCA All-Midwest Region first team accolades.

Thirteen Bearcats were named Easton/NFCA All-America Scholar Athletes, including graduate student Paige Hayden from Independence, Mo.; seniors Allison Carnell from Jackson, Mo., Chelsea Reinier from Anna, Ill.; juniors Morgan Andrews from Creal Springs, Ill., Skyler Davis from Muncie, Ind., and Kelsey Sachs from Troy, Mo.; sophomores Katie Nuetzel from Hereford, Ariz., Jessica Poirot from Smithton, Ill., Ellie Quaethem from Washington, Mo., and Natalie Schellert from Wentzville, Mo.; and first-years Sydney Bires from Carlinville, Ill., Brianna Sarver from Pana, Ill., and Austen Vickery from O'Fallon, Ill.

Swimming & Diving

Graduate student men's swimmer Xander Skinner from Namibia, Africa headlined the 2021-22 CoSIDA Academic All-America® Division II Men's At-Large Team by being named Team Member of the Year, the first student-athlete in McKendree's history. He was also named to the CoSIDA Academic All-District 4 At-Large first team. The 21-time NCAA Division II All-American graduated in May with his MBA and carried a 3.88 cumulative GPA in graduate school and a 3.86 GPA as an undergraduate, where he earned his bachelor's degree in exercise science and sport performance in 2021.

At the 2022 NCAA Division II National Championships, the men's team took home fourth place honors for the second consecutive season and the women's team scored a program-best 56 points. The Bearcats had nine individual and five relay All-American finishes. Sophomore Regan Gubera from Jamestown, Ind. became the first two-time All-American in women's swimming & diving in school history by finishing in fifth place in 3-meter diving and sixth place in 1-meter diving. Highlights for the men's team included runner-up finishes in the 200 butterfly by first-year Jackson Lustig from Milwaukee, Wis.; 400 medley relay by Xander, senior Gregg Lichinsky from West Des Moines, Iowa, junior DaVante Carey from Nassau, Bahamas, and sophomore Filipe Pinherio from Rio de Janeiro, Brazil; and 800 freestyle relay by Xander and first-years Leo Gandaria-Hernandez from Milwaukee, Wis., Arthur Souza from Belo Horizonte, Brazil, and Alireza Yavari from Isfahan, Iran.

Additional All-American finishers included Gregg (third in the 100 butterfly and fourth in the 100 freestyle); Xander (fourth in the 200 freestyle and sixth in the 100 freestyle); Filipe (fifth in the 200 breaststroke); Alireza (sixth in the 200 freestyle); Gregg, Xander, Alireza and first-year Emilio Perez from Milwaukee, Wis. (third in the 400 freestyle relay); Gregg, Xander, Emilio and junior Caleb Law from Anchorage, Alaska (fourth in the 200 freestyle relay); and Gregg, DaVante, Filipe and Caleb (fifth in the 200 medley relay).

Eight individuals and three relay teams earned honorable mention All-American honors for finishing in 9th-16th place. Other Bearcats who competed at nationals included seniors Lilia de Oliveira Pelaez from Ile Perrot, Quebec, Hallie Dixon from Jeffersonville, Ind., Noah Javens from West Lafayette, Ind., Ethan Larson from Anchorage, Alaska, and Abigail Rumpp from Knoxville, Tenn.; juniors Grace Credit from La Grange Highlands, Ill. and Andrea Menard-Cordoba from Montreal, Quebec; sophomore Alexis Kachkin from Glenview, Ill.; and first-years Aurora Abbruscato from Reggio Emilia, Italy, Patryk Rozenek from Radlin, Poland and Karley Sonnenberg from Plainfield, Ill., Both the men's and women's teams earned Scholar All-America honors from the College Swimming and Diving Coaches Association of America. The women's team had a cumulative 3.46 GPA and the men had a 3.26 GPA during the spring semester.

Tennis

The men's tennis team finished the season ranked No. 22 in the ITA Division II Collegiate Tennis Rankings and No. 3 in the ITA Midwest Regional Rankings. The team made history by winning its first-ever GLVC Championship by beating No. 12 ranked UIndy 5-4 in the finals. The team advanced to the NCAA Division II Midwest Regional Tournament for the second time in school history and won its first ever NCAA Tournament match to advance to the round of 32, where they fell to UIndy in the finals 4-0. Junior Leonardo Frederico Schmitz from Tijucas-Santa Cantrina, Brazil was named to both the CoSIDA Academic All-America® Division II Men's At-Large Team and CoSIDA All-District 4 At-Large Team as first team selections. He carried a 3.94 cumulative grade point average in economic & finance and sport management. He was also named the GLVC Men's Tennis GLVC Scholar Athlete of the Year and Player of the Year. He posted a 20-4 overall record as the Bearcats' No. 1 player in the lineup.

He ended the season winning 12 straight matches and was also ranked 53rd overall nationally by the ITA and second in the Midwest Region. In addition to his prowess in singles, he posted a 18-7 record in doubles on the year as partnered with No. 39 nationally ranked graduate student Boriss Kamdem from Ghent, Belgium at the No. 1 doubles spot. Leonardo and Boriss ended the season ranked 25th overall nationally by the ITA.

Both the men's and women's tennis teams were named 2021-22 NCAA Division II ITA All Academic Teams with 3.281 and 3.475 cumulative GPAs, respectively. Along with earning All Academic Team accolades, 14 players were named NCAA Division II ITA Scholar-Athletes, including Leonardo, Boriss; juniors Mariana Caicedo Mora from Cucuta, Colombia, Viola Cipriani from Arezzo, Italy, Ryan Fung from Miami, Fla., and Anna Marison from Belleville, Ill.; sophomores Garrett Brunner from Pontiac, Ill., Griffin Brunner from Pontiac, Ill., Rhyan Cook from Pickerington, Ohio, Nanase Ebisu from Osaka, Japan, Bailey Grigg from Marine, Ill., Emily Kettering from Bloomington, Ill., Julappagari Anurag Reddy from Dubai, UAE and Maria Vitoria Salomao from Minas Gerais, Brazil.

Track & Field

Sophomore sprinter Malachi Carroll from Omaha, Neb. was named to the All-Midwest Region team by the U.S. Track & Field and Cross Country Coaches Association.

Men's Volleyball

The men's volleyball team closed out the season with a 14-11 overall record and were ranked in the Top 15 of the AVCA Coaches' Poll for a total of six weeks. Graduate student Patrick Ross from Anthem, Ariz. was named to the American Volleyball Coaches Association All-American honorable mention team.

The men and women's volleyball teams were recognized by the United States Marine Corps (USMC) and the American Volleyball Coaches Association (AVCA) with a USMC/AVCA Team Academic Award for the 2021-22 school year. Both teams also earned Team Academic Honor Roll accolades for being in the Top 20 percent of team GPAs from each division. The men's team, with a 3.39 GPA, was the only Division II school recognized. The women's team, with a 3.64 GPA, was one of 29 NCAA Division II schools to be selected.

Women's Water Polo

Six women's water polo players earned Association of Collegiate Water Polo Coaches (ACWPC) Academic All-American honors, including graduate student Jaleh Moaddeli from Newport Beach, Calif., seniors Maddy Bolton from Alta Loma, Calif. and Abigail Burton from Chino, Calif., sophomore Kaitlyn Kasper from Thomasville, Ga., and first-years Sofia Dominguez from Long Beach, Calif., and Sydney Kane from Bradley, Ill.

Men's Wrestling

Six wrestlers competed at the NCAA National Championship, including Ian, graduate senior Daniel Filipek (184lb.) from Warrenton, Mo., junior Joshua Jones (174lb.) from Chicago Heights, Ill., redshirt sophomore Christian Mejia (125lb.) from Elkhart, Ind., redshirt first-years Ian Kuehl from Lena, Ill. and Cory Peterson (165lb.) from Valmeyer, Ill., and first-year Brody Norman (141lb.) from Washington, Ill. Cory finished third in the 165lb. class and Daniel finished fourth in the 184lb. class to both take home All-American honors.

Ian was named the GLVC Wrestler of the Year after finishing the season with a 15-1 conference record at 285lb. Ian collected a total of three wins by fall, one via tech fall, and 10 via decision. He helped lead the men's wrestling team to a fifth place finish at the National Wrestling Coaches Association (NWCA) National Duals, ninth place at the NCAA Division II National Championships and the GLVC Championship title for the fourth time in five years.

Five men's wrestlers earned NWCA Scholar All-American nods, including graduate senior Vincenzo Scaletta from Harwood Heights, Ill.; sophomore Logan Kvien from Mundelein, Ill.; redshirt first-year Ryan Haynes from Pekin, Ill.; and first-years Zane Phillips from Pittsfield, Ill., and Noah Villarreal from Plano, Ill.



James R. Spalding
Sportsmanship Awards

Graduate student men's golfer Will Postlethwaite from Carlisle, England and junior women's bowler Rebecca Hagerman from Loves Park, Ill., were named the University's overall recipients of the GLVC James R. Spalding Sportsmanship Individual Awards. Each school chooses one overall male and female winner for the Individual Sportsmanship Award from a group of honorees named by the coach of each sport during the season.

International Highlights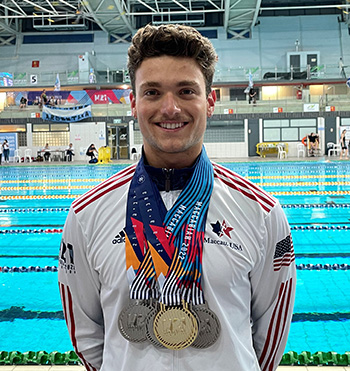 Graduate student Gregg Lichinsky from West Des Moines, Iowa, competed on the U.S. Open Swimming Team at the 21st Maccabiah Games in Israel from July 12-26. He joined 20 other U.S. swimmers and more than 10,000 other Jewish athletes from 85 countries in the quadrennial event, which is the third largest international athletics competition in the world. The 22-time NCAA Division II All-American earned a gold medal in the 100-meter freestyle, with a career best time of 50.28, and swam the second leg on Team USA's gold medal winning 4 x 50 freestyle relay that recorded a time of 1:33.38. Along with his two gold medals, Gregg also earned seven silver medals in the 100-meter butterfly, 50-meter freestyle, 4 x 100 freestyle relay, 4 x 50 mixed freestyle relay, 4 x 100 mixed freestyle relay, 4 x 50 medley relay, and 4 x 100 medley relay.

Five additional swimmers also qualified for international competitions this summer, including senior Davante Carey from the Bahamas; Xander Skinner '21, MBA '22 from Namibia; and incoming first-year Olivia Fuller from Antigua, who all competed at the Commonwealth Games in Birmingham, England from July 28-Aug. 8. Sophomore Alireza Yavari from Iran will compete at the Islamic Solidarity Games in Konya, Turkey from Aug. 9-18. Incoming first-year Keianna Moss from the Bahamas will compete at World Juniors in Lima, Peru from Aug. 30-Sept. 4.

Two women's wrestlers, senior Alara Boyd from Muncie, Ind. and junior Cameron Guerin from Yakima, Wash. competed for Team USA at the 2022 Pan-American Championships from May 5-8 in Acapulco, Mexico. Cameron finished in fifth place at 57kb.

Three bowlers competed at the International Bowling Federation U21 World Championships in Helsingborg, Sweden in June. Juniors Isabel Allen from Tamworth, England and Rhian Dobinson from Farnborough, England, were selected to participate on Youth Team England. Junior Nicholas Blagojevic from Brighten, Ontario qualifed for Canada's Junior National Team after winning gold at the Canadian Ten Pin Federation Team Trials and being awarded the 2021 Canadian Junior Bowler of the Year.

Junior bowler Jeremy Kinealy from St. Louis, Mo., earned an automatic qualification spot on the 2023 Junior Team USA after finishing in second at qualifying at the 2022 Junior Gold Championships in July.

All-Conference Academics

12 Squads earned Team Academic All-GLVC honors, including baseball, women's basketball, women's cross country, men's and women's golf, men's and women's soccer, softball, men's and women's swimming and diving, women's track and field, and women's volleyball.

46 Bearcat seniors received the GLVC Council of Presidents' Academic Excellence Award for maintaining at least a 3.5 GPA throughout their academic career. Senior women's swimmer Hallie Dixon from Jeffersonville, Ind. Received a perfect 4.0 GPA over all four years.

33 Athletes received the GLVC Brother James Gaffney Distinguished Scholar Award for achieving a 4.0 GPA during the academic year.

320 Bearcats were named to Academic All-Conference squads. The Bearcats had a total of 307 Academic All-GLVC honorees. Thirteen men's volleyball players also earned All-MIVA academic honors.



ICYMI

| Athletic Staff News

Hailie Sample-Erlinger was promoted to assistant athletic director and senior woman administrator. She moves into an administrative role after spending the past five years as an assistant women's basketball coach. 

Tyler Aulbur is the new director of athletic performance.

Alexio Garcia is the new head women's wrestling coach.

Brydon Groves-Scott is the new head men's and women's cross country coach and assistant men's and women's track & field coach.

Zach Mittman '21 is the new competitive cheerleading head coach. 

Natalie Simpson is the new head lacrosse coach.

Bob Vollmer is the inaugural head coach of the women's beach volleyball program and the JV head women's volleyball coach.

GLVC All-Sports Trophy

For the second consecutive school year, McKendree finished fifth overall in the GLVC All-Sports Trophy standings. The Bearcats totaled 140.5 points during the 2021-22 school year.

GLVC Commissioners Cup

McKendree finished ninth in the 2021-22 GLVC Commissioner's Cup, scoring 52 points this year in the league's core sports.

NCAA Learfield Cup

McKendree tied for its best finish in the final 2021-22 LEARFIELD NCAA Division II Directors' Cup with a 29th placement. The Bearcats tallied the most points (436.50) since joining the D-II ranks in 2013.

Coach of the Year

Head Women's Bowling Coach Shannon O'Keefe made history in receiving her seventh consecutive NCAA Division II Women's Bowling Coach of the Year award. She also won her third PWBA Player of the Year title, her 15th PWBA championship at the Twin Cities Open, and a gold medal in singles and a silver medal in doubles at the 2022 World Games in Birmingham, Ala.

Head Men's Wrestling Coach Jim Kisgen was named the 2022 GLVC Coach of the Year after his program won its fourth GLVC title in five seasons.

Head Men's Tennis Coach René Vidal was named the 2022 GLVC Coach of the Year after leading the team to its first-ever program GLVC championship title.

CoSIDA Lifetime Achievement Award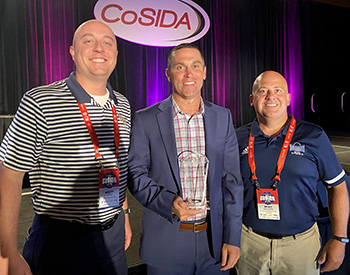 Former Sports Information Director Scott Cummings was awarded a CoSIDA Lifetime Achievement Award on June 27 at the 2022 CoSIDA Convention in Las Vegas, Nev. In attendance to accept on his behalf were three of his former assistants: Chris Mitchell '99, manager of district communications at Granite City School District; Brian Lovellette '00, associate commissioner at the St Louis Intercollegiate Athletic Conference; and Austin Lagesse '17, assistant sports information director at Bethel University.