National & Regional Recognitions
In addition to Bass Fishing, 13 other Bearcat athletic programs were represented at national and/or regional championships and seven athletes won national championships or national/regional awards. Ninety-two athletes had All-American (59) and/or All-Region (33) performances.

BOWLING

The men's bowling team finished in third place and the women's bowling team finished as national runner-up at the Intercollegiate Team Championships in April. The women's team also qualified for the NCAA National Tournament in April after winning its second straight Mid-America Intercollegiate Athletic Association (MIAA) Championship in March.

Breanna Clemmer became the first bowler in program history to win an Intercollegiate Singles Championship title. She won with a 32-pin triumph over Jordan Newman from Vanderbilt University. The 2018-19 National Tenpin Coaches Association (NTCA) Division II/III Player of the Year,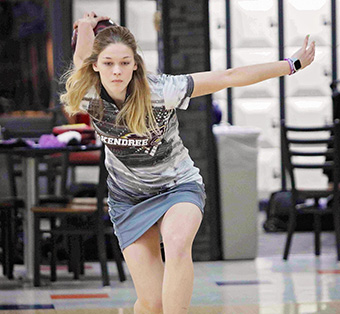 Breanna had eight top-20 outings, including a quartet of top-five finishes during the regular season. She also earned her second MIAA Bowler of the Year honor in three years and a spot on the 2019 Team USA woman's squad.

Hope Gramly collected NTCA Division II/III Rookie of the Year accolades and was named the MIAA Freshman of the Year. She finished third on the McKendree squad in traditional average during the season at 202.71 and earned two top-5 finishes.

SWIMMING & DIVING

The men's and women's swimming and diving teams finished in eighth and 40th place at the NCAA Division II National Championships. Alexander Skinner led the way with six All-American awards. In total, the Bearcats captured 15 All-American and 14 All-American Honorable Mention awards.

WOMEN'S GOLF

Natasha Ainsley-Thomas competed in the 2019 NCAA Division II Women's Golf East Super Regional and carded a 236, for a tie for 24th place.

WRESTLING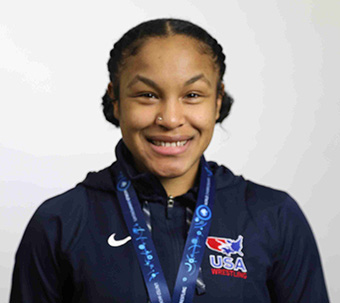 The women's wrestling team finished third at the Women's Collegiate Wrestling Association (WCWA) National Championships.

Alexandria Glaude captured her first-ever national title by a 6-2 decision win over Menlo's Iman Kazem in the 155-pound weight class, while Destane Garrick '19 defeated Emmanuel's Kaylee Seabolt 10-5 to also secure her first-ever title in the 191-pound weight class. Felicity Taylor and Brenda Reyna finished as national runner-ups in the 116-pound and 130-pound weight classes.

The men's wrestling team finished third at the NCAA Division II National Tournament. Michael Pixley secured his first-ever national title with a 4-1 decision over Notre Dame's Tony Vazzetti in the 184-pound weight class. Nick Foster finished as national runner-up in the 174-pound weight class. Five other Bearcats qualified for nationals, including Isaiah Kemper, Marcus Povlick, Nate Smalling, Dan Filipek and Ryan Vasbinder. The squad won its first NCAA Division II Midwest Super Region IV title, with four different Bearcats, Nick, Isaiah, Dan and Ryan, winning their respective weight classes.

TRACK & FIELD

Three athletes qualified for the NCAA Division II Indoor Track and Field National Championships. DeMontez McCray, Quincy McSweeney, and Tsitsi Mahachi earned second-team All-American honors. Tsitsi finished tenth in the triple jump at the NCAA Division II Outdoor Track and Field National Championships, garnering another second-team All-American nod.
POWERLIFTING

The men's and women's powerlifting teams placed third and 20th at the USA Powerlifting National Championships. Caleb Rankin won bronze medals in the 59kg. and 120+kg. weight classes.

HOCKEY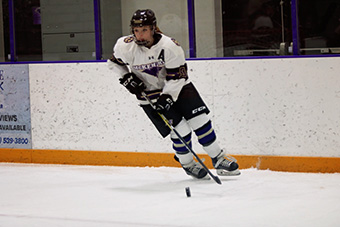 The women's hockey team competed in its first American Collegiate Hockey Association (ACHA) Division I National Championship Tournament, losing in the first round to Adrian College, 3-1.

Jana Garrow received the ACHA Division I Women's Hockey Community Playmaker award for her work in the community. Jana, an honors program student, is a volunteer tutor at Whiteside Elementary School, the Stick It To Cancer Relay for Life team captain, and team leader for the Holiday Adopt-A-Family initiative. She was instrumental in McKendree's "Charity of the Game" fundraisers. On the ice, Jana is an alternate captain, registered six assists on the season, and anchored the Bearcat defense.

The men's Division II hockey team advanced to the ACHA Division II Central Regional finals for the third consecutive year, losing to Marian University, 4-2.

Forward Tyler Wilson was named the ACHA Division II All-Central Region Player of the Year and Mid-American Collegiate Hockey Association (MACHA) Gold Division Forward of the Year. He dominated on the offensive end totaling 33 goals, 52 assists, and 85 points. He led the Bearcats to a 26-6-1 season record and a third consecutive MACHA Gold Division Championship title.

ALL-STAR GAMES

Four men's Division II hockey players, Tyler Wilson, goalkeeper Andrew Best, forward Ty Watt, and defenseman Ryan Reader competed on the MACHA All-Star team at the ACHA Division-II All-Star Challenge. The MACHA team won the All-Star Challenge by going 4-0-1.

Attackers Hannah Sugarman and Emily Nelson were selected by the Intercollegiate Women's Lacrosse Coaches Association to participate in the 2019 Division II All Star Game. The South All-Stars defeated the North team by a score of 14-13 when Emily broke the tie with 21 seconds remaining to help her team to victory. She was named the MVP of the contest.

WORLD NEWS

Goalkeeper Jazmin Malinowski competed on the U.S. Women's National University Hockey Team at the 2019 Winter World University Games from March 1-9 in Krasnoyarsk, Russia. She helped lead Team USA to a fourth-place finish. She was in goal for three games, most notably game 2 where she made 19 saves on 21 shots as the U.S. team defeated Switzerland, 5-2.

Women's wrestler Andrea Sennett earned the silver medal at the Germany Grand Prix in February.

Kori Bullock and Alara Boyd competed on Team USA at the Junior World Women's Wrestling Championships in Tallinn, Estonia from Aug. 12-18.

Felicity Taylor made the 2019 U23 World Women's Wrestling Team. She will compete in Budapest, Hungary from Oct. 28-Nov. 3.

Throstur Bjarnason won bronze medals for Iceland in the 200-meter freestyle and 4x200-meter freestyle relay at the 2019 Games of the Small States of Europe in Podgorica, Montenegro.

John Bodden competed for the Cayman Islands national swim team at the Pan American Games in Lima, Peru and the 2019 NatWest International Island Games in Gibraltar.

Davante Carey represented the Bahamas national team at the 2019 Central American and Caribbean Amateur Swimming Confederation Swimming Championships, where he won gold medals in the 50-meter backstroke, 100-meter butterfly and 100-meter backstroke, a silver medal in the 50-meter butterfly, and a bronze medal in the 400-meter medley relay. In July, he finished fifth in the 400-meter freestyle relay at the Pan American Games in Lima, Peru. In August, he competed at the 7th FINA World Junior Swimming Championships in Budapest, Hungary.

Cole Morgan won a silver medal for the Cayman Islands in the 4x50-meter freestyle relay at the 2019 NatWest International Island Games in Gibraltar.

Alexander Skinner competed on the Namibia national swim team at the 18th FINA World Championships in Gwangiu, South Korea and the Africa Games in Casablanca, Morocco.

Bryan O'Keefe, director of bowling, coached the US Junior Team at the 2019 World Bowling Junior Championships in Paris, France from March 17-24.

Shannon O'Keefe, head women's bowling coach, won a gold medal in women's doubles along with Stefanie Johnson, at the 2019 Pan American Games in Lima, Peru in July. In August, she won a silver medal in singles for Team USA at the 2019 World Women's Championship in Las Vegas, Nev.

Sam Schmitz, head women's wrestling coach, coached the U.S. women's freestyle team at the 2019 Cadet Pan American Championships in Morelia, Mexico from June 28-30.

Chris Foster, head men's basketball coach, was the head coach of the USA Sports Tours and Events Division II Men's Basketball Team, which competed in Brazil from July 22-31.

CONFERENCE HONORS

Ninety-five All-Conference finishes were earned by Bearcat bowlers, golfers, swimmers, powerlifters, wrestlers, track and field athletes, lacrosse, basketball, softball, volleyball, water polo and hockey players.

Setter Ryan Serrano was selected as the Midwestern Intercollegiate Volleyball Association (MIVA) Freshman of the Year, and named to the All-MIVA freshman team and 2019 Off the Block Freshman All-American Team. He led the Bearcats in assists with 856 recorded on the season, placing him fourth in the program's record book for most career assists and most assists in a single season. He also tallied 56 kills, 16 service aces, 164 digs, and 66 total blocks on the season.

Defenseman Daniel Nordlander was named the MACHA Gold Division Defensemen of the Year. He recorded 12 goals, 34 assists, and 46 points on the season.

Tyree Allen was named GLVC Outdoor Track Athlete of the Year. He medaled in four events at the GLVC Championship, including first-place finishes in the men's 200m dash and the men's 4x100m relay. He placed second in the men's 100m dash and the men's 4x400m relay.

The men's swimming and diving program received the GLVC James R. Spalding Sportsmanship Team Award.
BEARCAT ACADEMICS
6 teams were recognized with national team academic awards from their national organizations. including swimming and diving, women's water polo, men's volleyball, lacrosse, track and field, and women's basketball.

12 squads earned Team Academic All-GLVC honors, including softball, men's and women's soccer, women's cross country, men's and women's golf, women's basketball, baseball, women's track and field, men's and women's swimming and diving, and women's volleyball. The women's soccer team achieved the highest team GPA in the conference with a 3.79.

27 Bearcat seniors received the GLVC Council of Presidents' Academic Excellence Award for maintaining at least a 3.5 grade-point average throughout their academic career. Two honorees, Blake Benoist (football) and Morgan Melchert (women's volleyball) received a perfect 4.0 GPA over all four years.

34 athletes received the GLVC Brother James Gaffney Distinguished Scholar Award for achieving a 4.0 grade-point average during the academic year.

61 athletes were named Academic All-Americans.

269 Bearcats were named to Academic All-Conference squads by maintaining a 3.30 gradepoint average during the academic year.