FORWARD Campaign Update


UNIVERSITY'S LARGEST GIFT ANNOUNCED AT SPRING CELEBRATION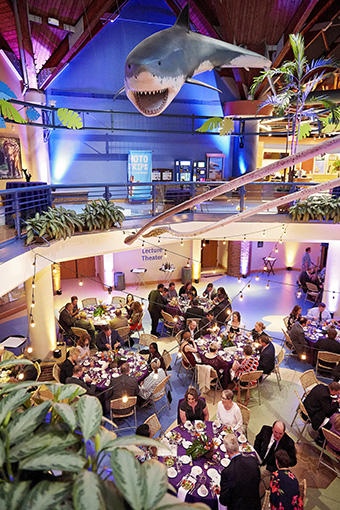 John Bailey '76, of Dallas, Texas, a longtime member of the Board of Trustees, has pledged $6 million to be paid over a period of time to FORWARD: The Campaign for McKendree University. The contribution—the largest gift in the University's history and the largest from an alum—significantly moves the campaign closer to completion.

Launched in May 2016, the $40 million campaign is raising funds for renovations to Voigt Science Hall and Holman Library, including improved technology for teaching, learning, research and collaborative study. It also supports endowed scholarships, endowed faculty positions and upgrades to older buildings, some of which are more than 100 years old.

"This extraordinary gift is a great example of how our alumni are successful, engaged and invested in McKendree University, its mission and objectives," said Dr. James Dennis, president.

As the campaign moves closer to its goal, funding opportunities remain for the modernization of Voigt Science Hall, built in 1965, said Victoria Dowling, senior vice president. "We are still actively raising funds for an addition and much needed improvements to our science building," she said. "We hope Mr. Bailey's generosity will inspire more alumni and others to make gifts as well."

John, a former Mascoutah, Ill., resident, earned a degree in business administration from McKendree in 1976 and went on to become a successful real estate magnate and philanthropist. He has served on the Board of Trustees since 2004 and, as a longtime member of the William McKendree Society for donors, has supported the Annual Fund, Bearcat athletic program, and other fundraising campaigns.

"It is my philosophy that you should earn money honestly and that you should use your wealth to do good works," John said. "As someone who has been successful, I believe it's my responsibility to benefit the people, places and things I care about. In a time of so much strife and upset in our country and our communities, I hope this serves as a reminder that everybody has the opportunity, within their means and ability, to contribute for the good of others."

The contribution was announced at the 2019 William McKendree Society Spring Celebration held on May 3 at the Saint Louis Zoo. Held annually, the event honors and celebrates the University's most generous contributors and welcomes its newest members.

The academic adventure continued with educational, informative and educational presentations by three esteemed faculty presenters. More photos from the event are posted at mckendree.edu/photos.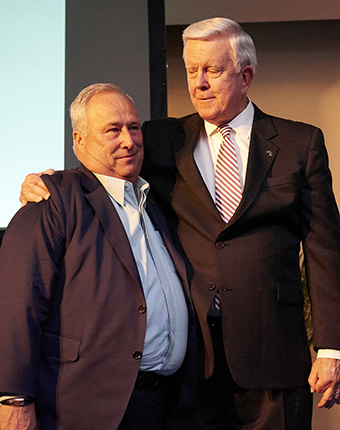 Trustee and William McKendree Society donor John Bailey '76 with President James Dennis at the William McKendree Society Dinner in May.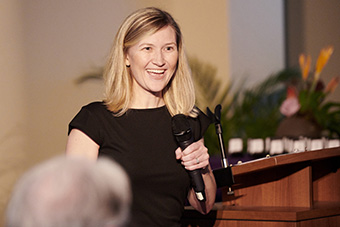 Dr. Mickey Schutzenhofer '03, associate professor of biology and chair of the Division of Science and Mathematics, spoke about "Bee-utiful Interactions."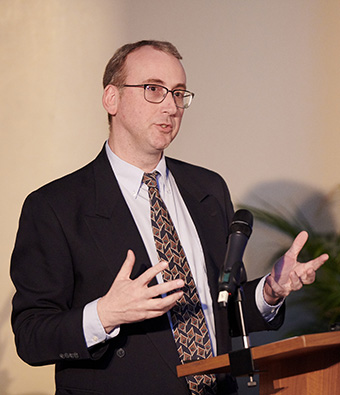 Dr. Brian Frederking '90, professor of political science, discussed "Transitional Justice Mechanisms."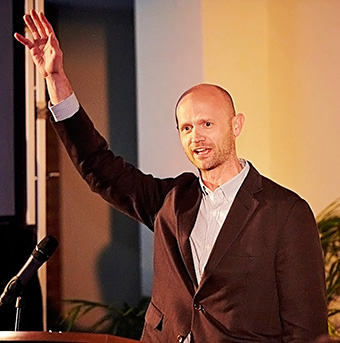 Dr. Guy Boysen, professor of psychology, concluded with "The Scholarship of Teaching and Learning."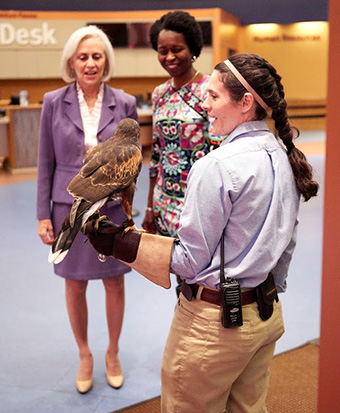 As guests arrived at the Living World center, they were greeted by Zoo staff with a Harris' Hawk.



Pushing
FORWARD

As the University celebrates the largest gift in its 191-year history, the need remains to secure funds to complete the renovation and addition to Voigt Science Hall.

"Students come to McKendree to get an education so they can be prepared for a career or for graduate school. We owe it to them to provide them the same types of experiences that they will encounter when they leave," said Dr. Christine Bahr, University provost.

That is the goal of the renovation and addition to Voigt Science Hall included in FORWARD: The Campaign for McKendree University: to create a space that meets the needs of our students and keeps pace with the scientific advances they will encounter after graduation.

The renovated building will feature smaller classrooms and labs designed to allow the space to adapt to the needs of the course, dedicated student research space, conference space, a rooftop observatory, faculty offices, and informal meeting spaces to foster interdisciplinary work and collaboration among students and faculty. The renovation will also allow the use of updated equipment and technology by upgrading the electrical capabilities of the building. Faculty and students will no longer be hindered by electrical demands of new equipment on a dated facility.
"SCIENCE, TECHNOLOGY, ENGINEERING AND MATH ARE POPULAR FIELDS RIGHT NOW, SO WE ARE GROWING OUR PROGRAMS TO MEET THE NEEDS OF THE FUTURE WORKFORCE."
—DR. CHRISTINE BAHR, UNIVERSITY PROVOST

"From a practical teaching point of view, you have to have a space that just allows you to expand in the ways that we know we can," explained Dr. Robb Van Putte, the Harvey C. Pitt and Winifred Ann Pitt Professor of Biology. "We know that if we are afforded the opportunity to renovate this space, things will happen that just can't happen now."

The new design will take advantage of the notion that each room does not have to be dedicated as lab or lecture hall. Space will be multi-purposed to maximize the efficiency of the building as a whole, addressing all of the University's current needs, while allowing the flexibility to expand in the future.

Visit the website at McKendree.edu/Forward to learn more about the Campaign and make your contribution to move McKendree FORWARD.